Lexington
Revision as of 23:43, 3 January 2020
Revision as of 23:42, 16 January 2020
Line 13:
Line 13:
 
 
 
*Torpedo bombers
 
*Torpedo bombers
?
American torp planes aren't as good as IJN ones as they lack speed(35kts) and range(3.9k). However, you have more durable planes that allow you to drop your payload at a closer distance. When you upgrade to SB2C Helldivers, they drop 3 torps instead of 2: giving you more chances in succeeding the drop. Make sure you give enough lead as these are slow torps.
+
American torp planes aren't as good as IJN ones as they lack speed(35kts) and range(3.9k). However, more you to drop your payload at a closer distance. When you upgrade to SB2C Helldivers, they drop 3 torps instead of 2: giving you more chances in succeeding the drop. .
 
 
 
*Dive bombers
 
*Dive bombers
?
You would want to use dive bombers to attack destroyers as attack rockets need time to aim, making it difficult to use them as soon as you spot enemy dds. They are also effective against all bbs and cruisers as you can use HE bombs to cause multiple fires. But beware of grouped ships as your bombers have to fly over them in order to drop their payload. Upgrading to SB2C Helldiver will increase your attacking flight from 2 to 3 and bombs you to drop 1 more bombs per payload(amounting to 6 bombs droped at a time).
+
They are effective against all bbs and cruisers as you can use HE bombs to cause multiple fires. But beware of grouped ships as your bombers have to fly over them in order to drop their payload. Upgrading to SB2C Helldiver will increase your attacking flight from 2 to 3 and bombs you to drop 1 more bombs per payload(amounting to 6 bombs at a time).
 
 
 
Interestingly — perhaps in a nod to her battlecruiser origins — ''Lexington'' has a greater amount of armor than would be expected of a carrier, even retaining almost a proper armor belt. Captains should be advised, though, that while her armor may bounce the odd destroyer shell, it also means cruiser and battleship armor-piercing rounds have a greater chance of causing full penetration or citadels damage that would overpenetrate on softer targets.
 
Interestingly — perhaps in a nod to her battlecruiser origins — ''Lexington'' has a greater amount of armor than would be expected of a carrier, even retaining almost a proper armor belt. Captains should be advised, though, that while her armor may bounce the odd destroyer shell, it also means cruiser and battleship armor-piercing rounds have a greater chance of causing full penetration or citadels damage that would overpenetrate on softer targets.
Line 24:
Line 24:
 
* Planes with large health pools.
 
* Planes with large health pools.
 
* Matches the same speeds as cruisers of her tier.
 
* Matches the same speeds as cruisers of her tier.
?
* HE bombs highly effective against destroyers and ships of other types.
+
* and .
?
* Finally gets the Tiny Tim rockets, allowing a higher damage ouput against large surface ships
+
* Finally gets the Tiny Tim rockets, allowing a higher damage against large surface ships
 
 
 
|Cons=<!-- write list of negative points below. use * as in ordinary wiki-list. -->
 
|Cons=<!-- write list of negative points below. use * as in ordinary wiki-list. -->
 
* Very easy to detect at 14.96 km.
 
* Very easy to detect at 14.96 km.
?
* Strike planes can be quickly wrecked by enemy anti-aircraft fire at high tiers, particularly cruiser AA.
+
* Strike planes can be quickly wrecked by enemy anti-aircraft fire , particularly cruiser AA.
 
* Bad rudder shift time and turning circle radius.
 
* Bad rudder shift time and turning circle radius.
 
* Armor is just thick enough to let incoming armor-piercing shells from an enemy battleship land as regular penetrations (or citadel hits) rather than over-penetrate.
 
* Armor is just thick enough to let incoming armor-piercing shells from an enemy battleship land as regular penetrations (or citadel hits) rather than over-penetrate.
?
* Secondaries are unreliable since she will be shot at way before the secondaries can even fire.
+
* are the .
?
* Plane dropped torpedos lack range and damage compared to IJN counterpart.
+
* to .
 
 
 
|Research=<!-- write text about priority sequence of research below -->
 
|Research=<!-- write text about priority sequence of research below -->
Revision as of 23:42, 16 January 2020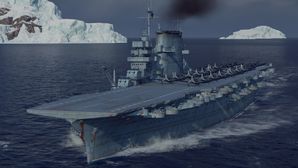 Tech Tree Position
127 mm/38 Mk24
8 х 1 

pcs.
Firing Range
4.5 

km.
Rate of Fire
10 

shots/min.
Reload Time
6 

sec.
HE Shell
127 mm HE Mk32 
Maximum HE Shell Damage
1,800 
Initial HE Shell Velocity
792 

m./s.
Chance of Fire on Target Caused by HE Shel
5 

%
127 mm/38 Mk32
4 х 2 

pcs.
Firing Range
4.5 

km.
Rate of Fire
10 

shots/min.
Reload Time
6 

sec.
HE Shell
127 mm HE Mk32 
Maximum HE Shell Damage
1,800 
Initial HE Shell Velocity
792 

m./s.
Chance of Fire on Target Caused by HE Shel
5 

%
20 mm Oerlikon Mk4
52 х 1 

pcs.
. . . Average Damage per Second
187.2 
. . . Firing Range
2.01 

km.
40 mm Bofors Mk2
9 х 4 

pcs.
. . . Average Damage per Second
143.1 
. . . Firing Range
3.51 

km.
127 mm/38 Mk24
8 х 1 

pcs.
. . . Average Damage per Second
64 
. . . Firing Range
5.01 

km.
127 mm/38 Mk32
4 х 2 

pcs.
. . . Average Damage per Second
60.4 
. . . Firing Range
5.01 

km.
Maximum Speed
33 

knot
Turning Circle Radius
1 180 

m.
Rudder Shift Time
21.9 

sec.
Surface Detectability Range
14.96 

km.
Air Detectability Range
10.02 

km.
Battle Levels
Lexington — American Tier VIII aircraft сarrier.
When commissioned, Lexington was one of the largest aircraft carriers in existence. She was converted from an unfinished battlecruiser. The ship had good armor and advanced torpedo protection. Owing to her dimensions, the aircraft carrier was equipped with a very spacious hangar and was armed with numerous AA and dual-purpose artillery. The ship's powerful propulsion created very high speeds.


Modules
Compatible Upgrades
Player Opinion
Performance
Overall, Lexington is a strong Tier VIII aircraft carrier. She is fast — 33.6 knots — but she turns like a brick, and her huge size advertises her presence for miles around. Although she has a strong wing of aircraft, careful usage of her bomber aircraft is vital as the anti-aircraft power of most Tier VIII ships and above that she will encounter begins to be very competitive. The higher health pool of its planes will help immensely in survival and in attack potential. The CV itself has a large detection radius of 14.5k, so carful positioning behind islands and such is vital in survival.
You have two choices in upgrading attack planes: the HVAR 127mm rockets or the Tiny Tims. The HVAR 127mm have a HE pen of 32mm but launches the payloads more densely, making it easier to hit dds even when mistargeted. They somewhat less effective in attacking larger targets due to lack of penetration(ex. Izumo, GK, etc; useful for Republique, Alsace, most cruisers) and less damage(max 2000) then the Tiny Timsmax 5,400). The Tiny Tim are heavy rockets that hit hard(68mm pen) but only 6 rockets are launched. You'll have to aim carefully in order to be successful in hitting dds with these rockets. Hitting larger targets would be easier and more effective. But if you can hit dds with these, it will reward you greatly.
American torp planes aren't as good as IJN ones as they lack speed(35kts) and range(3.9k). However, they deals more damage when all of them hit. They have a good number of hp, which allows you to drop your payload at a closer distance. When you upgrade to SB2C Helldivers, they drop 3 torps instead of 2: giving you more chances in succeeding the drop. Closing the distance when attacking is recommended to maximize the damage and flood chance.
They are effective against all bbs and cruisers as you can use HE bombs to cause multiple fires. They're not recommended to be used against dds because they are not accurate (unless the target is low hp). But beware of grouped ships as your bombers have to fly over them in order to drop their payload. Upgrading to SB2C Helldiver will increase your attacking flight from 2 to 3 and bombs you to drop 1 more bombs per payload(amounting to 6 bombs dropped at a time).
Interestingly — perhaps in a nod to her battlecruiser origins —
Lexington
has a greater amount of armor than would be expected of a carrier, even retaining almost a proper armor belt. Captains should be advised, though, that while her armor may bounce the odd destroyer shell, it also means cruiser and battleship armor-piercing rounds have a greater chance of causing full penetration or citadels damage that would overpenetrate on softer targets.
Pros:
Excellent anti-aircraft suite.
Planes with large health pools.
Matches the same speeds as cruisers of her tier.
Torpedoes deals more damage than the ones found on Implacable, and their chance to cause flooding is higher than Shokaku torpedoes.
Finally gets the Tiny Tim rockets, allowing a higher damage output against large surface ships.
Cons:
Very easy to detect at 14.96 km.
Strike planes can be quickly wrecked by enemy anti-aircraft fire when uptiered, particularly cruiser AA.
Bad rudder shift time and turning circle radius.
Armor is just thick enough to let incoming armor-piercing shells from an enemy battleship land as regular penetrations (or citadel hits) rather than over-penetrate.
Tiny Tims are hard to use against destroyers, due to the low number of rockets in payload.
HE bombs are rather inaccurate, the aiming circle should always be at the maximum accuracy to make good drops.
Research
Upgrade to SB2C Helldiver(Torpedo or HE bomber as one prefers).
Upgrade to F4U-1D Corsair(Attack aircraft) : choose between HVAR 127mm(for anti-dd) or Tiny Tim(for anti-cruiser/BB).
Upgrade to Hull(B) for AA, CV health and rudder shift.
Optimal Configuration
Upgrades
The recommended upgrades for Lexington are as follows:

Upgrade Slot 5 offers players Concealment System Modification 1 (

), which stacks with Concealment Expert and Camouflage to bring Lexington`s surface detection down to a decent range of 11.8km. However, you would want Flight Control Modification 1 (

) for more plane output.
Commander Skills
Recommended Commander Skills
Cost
(points)

Endurance

Attack

Support

Versatility



1

 

Χ

Χ

★★★

 

★★

Χ

★★



2

★

 

Χ

★★★

Χ

★★★

 

Χ



3

 

★★★

Χ

★★★

★

 

★

Χ



4

Χ

 

Χ

★★★

 

Χ

Χ

★★

Key: ★★★ - Extremely Useful      ★★ - Frequently Useful      ★ - Occasionally Useful     No stars - Meh     

Χ

- Not recommended
Consumables
Lexington has access to the following consumables:
All aircraft carrier consumables are automatically activated.
Attack Aircraft:
Torpedo Bombers:
Bombers:
Camouflage
Type 1, 2, or 5 camouflage can be equipped for credits; Types 1 or 5 are recommended at a minimum to reduce detectibility range.
Players who wish to spend doubloons can equip Lexington with Type 18 camouflage that lowers her detection radius, reduces the accuracy of incoming shells, reduces her repair costs, and increases the amount of experience she earns.
Lexington also has an alternate premium camouflage called "Nobilium", in which she appears as she does during the Halloween scenario "Sunray in the Darkness".
Lexington has another alternate premium camouflage called "Ice and Fire - Lexington", which was sold as a collaboration between World of Warships and the famous hockey player Alexander Ovechkin.
Signals
India Delta (

) increases the HP recovery of Torpedo bombers when its repair party is active.
Players should mount Equal Speed Charlie London (

), Zulu Hotel (

), November Echo Setteseven (

), and Juliet Whiskey Unaone (

). Players can also choose to equip the Dragon Flag (

) for faster commander (re)training.
Recommended Signal Flags
Combat

★★★

 

 

★★★

 

 

 

★

★★

 

 

 

Economic

★

 

★★★

★★★

 

Special

★

★

★

 

★

 

 

 

Key: ★★★ - Extremely Useful       ★★ - Frequently Useful       ★ - Occasionally Useful      No stars - Not Useful
Gallery