Minotaur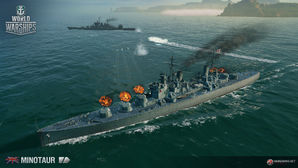 Tech Tree Position
152 mm/50 Mk XXVI
5 х 2 

pcs.
Rate of Fire
18.75 

shots/min.
Reload Time
3.2 

sec.
Rotation Speed
38 

deg./sec.
180 Degree Turn Time
4.74 

sec.
Firing Range
15.76 

km.
Maximum Dispersion
141 

m.
Chance of Fire on Target Caused by HE Shell
0 

%
AP Shell
152 mm AP Mk V 
Maximum AP Shell Damage
3,200 
Initial AP Shell Velocity
768 

m./s.
AP Shell Weight
58.85 

kg.
533 mm QR Mk II
4 х 4 

pcs.
Rate of Fire
0.63 

shots/min.
Reload Time
96 

sec.
Rotation Speed
25 

deg./sec.
180 Degree Turn Time
7.2 

sec.
Torpedo
533 mm Mk IXM 
Maximum Damage
16,767 
Torpedo Speed
62 

knot
Torpedo Range
9.99 

km.
152 mm/50 Mk XXVI
5 х 2 

pcs.
. . . Average Damage per Second
118 
. . . Firing Range
6 

km.
20 mm Oerlikon Mk V
10 х 2 

pcs.
. . . Average Damage per Second
61 
. . . Firing Range
2.01 

km.
76.2 mm/70 Mk VI
8 х 2 

pcs.
. . . Average Damage per Second
315.2 
. . . Firing Range
3.99 

km.
Maximum Speed
33.5 

knot
Turning Circle Radius
750 

m.
Rudder Shift Time
10.4 

sec.
Surface Detectability Range
11.52 

km.
Air Detectability Range
8.52 

km.
Battle Levels
Minotaur — British Tier X cruiser.
A light cruiser design with a more powerful and sophisticated AA system. Developed after the end of World War II from the Neptune-class cruisers. She carried dual-purpose main guns placed in new turrets, allowing for a higher rate of fire.


Modules
Compatible Upgrades
 Slot 1 
 Slot 2 
 Slot 3 
 Slot 4 
 Slot 5 
 Slot 6 
Player Opinion
Performance
Atop the British cruiser line stands Tier X's Minotaur. She has a very different — and very unique — turret configuration compared to that of Neptune, and her main battery guns have a reload speed that gives Gearing a run for her money.

Minotaur's main battery is comprised of five quick-turning turrets, each with a pair of Mk XXVI 152mm rifles. The Mk XXVI is a further upgrade over the Mk XXV deployed aboard Neptune, and the reload time drops to 3.2 seconds (or 2.8 seconds with Main Battery Modification 3 installed in Upgrade Slot 6). Minotaur spits out 152mm shells at a rate that has to be seen to be believed; as insane her rate of fire is, however, its impact is somewhat mitigated by the British light cruiser line lacking high-explosive shells. Like her immediate predecessor, her main battery guns are dual purpose and contribute to her anti-aircraft suite, but while Minotaur's overall AA impact on the battlefield will be significant, it will be less than that of a Neptune whose commander has the Manual Fire Control for AA Armament skill. Most of Minotaur's AA punch comes from her middle ring of 76.2mm guns, leaving her with only her dual-purpose main battery guns eligible for the bonus from Manual Fire Control for AA Armament.

Her torpedoes and torpedo launcher configuration remains identical to what was found on Neptune: two four-tube launchers per side equipped with 10.0 km range torpedo that reload relatively quickly (96 seconds). She is the stealthiest of all the Tier X cruisers, able to drop her detection radius down to 8.9 km when fully rigged for stealth. Minotaur's armor remains roughly equivalent to that of Neptune — which is to say that there isn't very much of it — and she is further hampered by how high her citadel space rides amidships. Minotaur will be punished severely for exposing her broadside to enemy battleships and heavy cruisers. Fortunately, she handles slightly better Neptune in exchange for giving up a bit of maximum range on her main battery.

Just like all of her predecessors, playing Minotaur well comes down to efficient and timely use of her various consumables. She can equip Surveillance Radar (

) or Smoke Generator (

); neither is a bad choice, depending on how individual captains wish to play the ship. She also has the over-sized Repair Party (

) that Edinburgh and Neptune do, as well as carrying Hydroacoustic Search (

) by default.

She's fragile and requires careful positioning and play, but
Minotaur
is deadly to enemy destroyers and a threat to enemy cruisers when helmed by a captain with their head in the game who doesn't expose their citadel unnecessarily.
Pros:
Unrivaled rate of fire amongst Tier X cruisers.
Exceptionally low detection radius.
Fast turret traverse.
Very powerful anti-aircraft suite; if kitted out for anti-aircraft duties, she has the largest AA bubble of any cruiser to go with potent damage output from her AA guns.
Jack of all trades; can shred destroyers, deal with her cruiser peers, give battleships something to fret about, and be another detriment to carriers.
Highest torpedo range and best torpedo reload of all Tier X cruisers.
Has access to an enhanced version of Repair Party () that allows her to regenerate large amounts health.
Radar-equipped Minotaur can do stealth radar; she has 1.0 km radar buffer from range to her surface detection.
Have radar with 9.9 km range and long activation time, in addition of high rate of fire means she is a destroyer nightmare.
Cons:
Large citadel size.
Initial shell velocity is the same as Neptune; however, at maximum range, her shells fall back to earth slowly.
Lightly-armored turrets that are disabled easily (if not outright destroyed).
Cannot equip the Defensive AA Fire () consumable to increase the anti-aircraft suite's potency even further.
As with the rest of the British cruiser line, her reliance on armor piercing shells is at times frustrating, as they will either bounce or deal consistently low damage.
Torpedo tubes are somewhat exposed, and are disabled frequently when under fire.
Very weak armor; she can bounce 152mm rounds at certain angles, but will be easily penetrated by shells larger than that. A lack of internal vertical protection also means that overmatch hits through the bow are very likely to citadel her.
Cannot equip Smoke Generator () and Surveillance Radar () simultaneously; captains must choose their role before going into battle.
Research
As a Tier X ship, Minotaur has no additional modules to research.
Optimal Configuration
Upgrades
The recommended upgrades for Minotaur are as follows:

Anti-air Build:
Currently the most popular build for this ship. Captain wishing to focus their
Minotaur
to have better AA will opt for
Template:AA Guns Modification 3
for the
Slot 6
to add more AA DPS. Although her AA is completely scary, her usefulness is depends whether there is a carrier in the game. This build, however, is great on divisioning with a Tier 9 or Tier 10 carrier to make sure that the carrier division has AA as a cover.

Gun Build:
Captain wishing to focus their
Minotaur
to have better guns will opt
Main Battery Modification 3
(

) for the
Slot 6
to shorten her reload up to 2.8s or even lower with
Adrenaline Rush
skill. Her AA is still scary even without AA Guns Modification 3, yet she gain more DPM because faster gun reload.

Keep in mind that Minotaur can also be equipped with Surveillance Radar Modification 1 (

) to extend her radar activation time up to 56s. She also can be equipped with Hydroacoustic Search Modification 1 (

) to extend her hydroacoustic activation time up to 120s, allowing captains to do a Radar-Hydro-Radar combo if the captain choose to equip Radar. Both are available on the Slot 2.

Commander Skills
Recommended Commander Skills
Cost
(points)

Endurance

Attack

Support

Versatility



1

★★★

★

 

 

 

 

★

 



2

★

★★★

 

 

★★

 

★★★

 



3

 

★★

 

 

★★

★★★

 

★



4

 

 

 

 

★★★

 

★

★★★

Key: ★★★ - Extremely Useful       ★★ - Frequently Useful       ★ - Occasionally Useful      No stars - Meh    

Χ

- Not recommended
Consumables
Minotaur can equip the following consumables:
As she is a high-tier cruiser, it is recommended to equip all consumables with the premium one, which can be bought with Credits 

or Doubloons 

.

Most Minotaur captains will automatically equip Smoke Generator II (

) for the Slot 2 just like any other Royal Navy cruiser at tier lower. This is good on solo playing or when divisioning with carrier to do a smoke AA. Surveillance Radar II (

) can give more challenge and better utility as she has 9.9 km range and 8.9 km detection. Divisioning with a destroyer for a smoke generator is the easiest way to do radar Minotaur setup. Solo playing radar Minotaur has high skill floor and ceiling, thus is harder to do because captains need know absolute situational awareness.

Camouflage
Type 1, 2, or 5 camouflage can be equipped for Credits 

; Types 1 or 5 are recommended at a minimum to reduce detection range.

Captains can also equip Minotaur with Type 20 camouflage for 5000 

that lowers her detection range, reduces the accuracy of incoming shells, reduces her repair costs, increases her credit earnings, and increases the amount of experience she earns.

Signals
Similar to Edinburgh and Neptune, India Delta (

) and November Foxtrot (

) are highly recommended regardless of how her commander skills and upgrades are configured. Captains invested in the Anti-Aircraft Build will want to equip a November Echo Setteseven (

).
Recommended Signal Flags
Combat

★★★

 

 

 

 

 

★★★

★★★

★★★

 

 

★★

Economic

★

★★★

 

★

 

Special

 

 

 

 

 

 

 

 

Key: ★★★ - Extremely Useful       ★★ - Frequently Useful       ★ - Occasionally Useful      No stars - Not Useful
Gallery
References