Moltke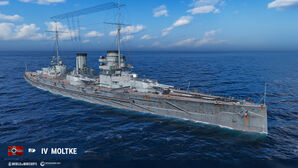 Tech Tree Position
283 mm/50 SK L/50 on a Drh LC/1908 mount
5 х 2 

pcs.
Rate of Fire
2 

shots/min.
Reload Time
30 

sec.
Rotation Speed
4 

deg./sec.
180 Degree Turn Time
45 

sec.
Firing Range
13.55 

km.
Maximum Dispersion
173 

m.
HE Shell
283 mm Spr.Gr. L/3.6 
Maximum HE Shell Damage
3,200 
Chance of Fire on Target Caused by HE Shell
19 

%
Initial HE Shell Velocity
855 

m./s.
HE Shell Weight
302 

kg.
AP Shell
283 mm P.Spr.Gr. L/3.2 
Maximum AP Shell Damage
7,200 
Initial AP Shell Velocity
855 

m./s.
AP Shell Weight
302 

kg.
88 mm/45 Flak on an MPL C/13 mount
4 х 1 

pcs.
Firing Range
4.8 

km.
Rate of Fire
15 

shots/min.
Reload Time
4 

sec.
HE Shell
88 mm Spr.Gr. 
Maximum HE Shell Damage
1,000 
Initial HE Shell Velocity
890 

m./s.
Chance of Fire on Target Caused by HE Shell
4 

%
150 mm/45 SK L/45 on an MPL C/06 mount
12 х 1 

pcs.
Firing Range
4.8 

km.
Rate of Fire
7 

shots/min.
Reload Time
8.57 

sec.
HE Shell
150 mm HE K Gr 18 
Maximum HE Shell Damage
1,800 
Initial HE Shell Velocity
835 

m./s.
Chance of Fire on Target Caused by HE Shell
10 

%
88 mm/45 Flak on an MPL C/13 mount
4 х 1 

pcs.
. . . Average Damage per Second
6.8 
. . . Firing Range
3.99 

km.
Maximum Speed
28.4 

knot
Turning Circle Radius
650 

m.
Rudder Shift Time
17.1 

sec.
Surface Detectability Range
10.53 

km.
Air Detectability Range
8.83 

km.
Battle Levels
Moltke — German Tier IV battleship.
The Moltke-class battlecruisers embodied a further development of Von der Tann. Compared to her predecessor, she had larger dimensions, a larger number of main battery guns, and more durable armor protection.

Moltke was first released for Prime Gaming subscribers in Sept 2021 and for Early Access with Update 0.10.9.
Modules
Compatible Upgrades
Player Opinion
Performance
Warning. The data presented in the AA Defense sidebar section may be incorrect.
Background
As the naval race between Britain and the German Empire intensified, the British navy launched the Indefatigable class battlecruisers which posed a serious threat to the German Empire's naval superiority. To counter this threat, the Moltke class battlecruisers were launched. Designed with the same requirements as Von der Tann, the Moltke class battlecruisers featured heavier armor than their British counterparts but sacrificed a larger main battery to retain their speed, a theme developed among all the German battlecruisers.
Features
Moltke Is the second battlecruiser in the German battlecruiser tech tree. She is an upgrade over Von der Tann, featuring one (1) more turret bringing the total to five (5) twin 283mm turrets, good range, fastest speed at 28.4km base of all the Tier IV battleships, best concealment of the battleships at the tier sitting at 10.9km base, and an improved secondary armament with a max range of 6.05km.
Armor
Moltke as a German design battlecruiser, opts for heavier armor and a lighter armament. Her lower fore and entire aft end armor belt is 100mm thick, with the upper fore end belt a lighter 80mm plate. She also has a second fore armor plate behind the 100mm belt with a 120mm plating. Higher up on the bow and stern however only has 19mm plating, making it easier for smaller caliber guns to penetrate and the possibility for enemy battleships to penetrate and hit the citadel. Her main armor belt consists of a lower 200mm belt, 270mm plating along the waterline, and a larger 200mm plate that goes up to the secondary battery mounts. That is then followed by a 150mm upper belt surrounding the secondary battery mounts and center main armament, making it difficult for larger shells to penetrate if players are angled to incoming fire. Moltke's superstructure covered in 13mm plating, however there is very little superstructure on the ship, making it difficult for smaller guns to cause damage without setting fires.
Armament
Moltke is armed with five (5) twin 283mm turrets in a very odd layout. commanders with experience in Konig Albert and Kaiser will be familiar with this gun layout, one (1) turret is on the centerline facing forward, with two (2) more facing aft. The remaining two (2) are mounted en echelon at the center of the ship, allowing each side's gun to fire across the ship at narrow angles to allow a full broadside shot. The guns have a range of 14.9km, which is average for the tier. A special feature of the German battlecruisers is the battlecruiser dispersion formula featured on Graf Spee and Alaska, leading to an overall more accurate main battery than battleship counterparts. However with a poor sigma of 1.5, and a turret traverse of 45 seconds, the risk and time it takes to show a large amount of broadside may outweigh the reward for having all guns on target. The guns reload in 30 seconds and have an alpha strike of 72,000, with each AP shell having an alpha damage of 7200. Due to the tier and small caliber of the guns however, HE may be the preferred ammo choice in most situations. The HE has a max damage of 3200 but has a 19% fire chance, further supporting the use of HE shells.
Moltke is also equipped with an impressive secondary battery that features improved accuracy and range. Fully upgrading the secondaries can bring the range to 6.05km, which is more than both the detection and torpedo ranges of most destroyers at the tier.
Anti-Aircraft
Moltke has subpar AA, with an average damage per second of 13 and a range of 3.99km. To put Moltke at a further disadvantage, she only has one (1) flak explosion to aid the continuous AA. This leaves her vulnerable to multiple attacks by an enemy carrier with minimal loss of planes.
Battle Performance
Moltke
should use fast speed and concealment to get to a flank early in the battle. Due to the lack of large caliber guns HE should be fired on all angled targets, with AP being used only on broadsides.
Moltke
can use its concealment to get in closer than the other Tier IV battleships to surprise enemies. The concealment can also be used to disengage and reposition if a flank becomes unwinnable or if
Moltke
is being heavily focused by the enemy team. If a flank is winnable however, players can move in close to use the secondary battery to aid in finishing low health targets, setting fires, or damaging lightly armored ships and superstructures.
Pros:
Fastest battleship at the tier
Lowest concealment of the Tier IV Battleships
Powerful secondary battery
Cons:
Slow turret traverse
Feeble main battery with small caliber guns
Slow rate of fire for a low caliber main battery, and thus low damage output
Small HP pool
Research
Availability of researchable upgrades for Moltke is as follows:
Hull: Upgrade to Hull (B) for for more health, improved maneuverability, and AA. Research of this module unlocks progression to Derfflinger.
Gun Fire Control System: Upgrade to FKS Typ. 4 Mod 2 for an extra 10% range on the main battery.
Optimal Configuration
Upgrades
The recommended upgrades for Moltke are as follows:
Commander Skills
  Recommended Commander Skills  
Cost
(points)

Attack

Defense



1

 

 

 

 

 

★★



2

★★

★★

 

 

★★

 



3

 

★★★

★★

★★

 

 



4

 

★★★

 

★★

★★

★★

Key: ★★★ - Extremely Useful      ★★ - Frequently Useful      ★ - Occasionally Useful     No stars - Not Useful
Consumables
Moltke can equip the following consumables:
Signals
Note: Use of the Juliet Charlie signal makes detonation impossible.
Gallery
References
See here for links to Update notes.

Available for testing by supertesters in the game starting from Update 0.10.7.
DevBlog 176:

Preliminary characteristics.

DevBlog 194:

Main battery firing range decreased from 14.0 to 13.5 km.

DevBlog 203:

Main Battery reload time increased from 28 to 30 s.
Maximum Main Battery firing range decreased from 14.9 to 14.3 km.
Update 0.10.8:

Available to players in pre-early access through Twitch Prime rewards.

Update 0.10.9:

Available from sequential bundle #2 of the German Battleships event (for German Tokens).

Introduced into the game as a researchable ship in Update 0.10.11.