Montana
Revision as of 20:08, 13 November 2017
Revision as of 22:03, 27 November 2017
Line 181:
Line 181:
 
The propulsion system consisted of eight boilers providing steam for four turbines, with installed power of 172,000 SHP and a design top speed of 28 knots. As the ''Montana''-class were expected to regularly operate in a 27 knot battle line rather than with 30+ knot fleet carriers, the design reduced power output from 212,000 SHP to 172,000 SHP in 1941 to reduce some weight. Compared to the ''North Carolina'', ''South Dakota'', and ''Iowa'' classes, the machinery spaces of the ''Montana''s featured extensive longitudinal subdivisions reminiscent of the arrangement found on the ''Lexington''-class battlecruisers; the designers had sufficient confidence in the stability characteristics to accept the risk of asymmetric flooding and include such longitudinal subdivisions.
 
The propulsion system consisted of eight boilers providing steam for four turbines, with installed power of 172,000 SHP and a design top speed of 28 knots. As the ''Montana''-class were expected to regularly operate in a 27 knot battle line rather than with 30+ knot fleet carriers, the design reduced power output from 212,000 SHP to 172,000 SHP in 1941 to reduce some weight. Compared to the ''North Carolina'', ''South Dakota'', and ''Iowa'' classes, the machinery spaces of the ''Montana''s featured extensive longitudinal subdivisions reminiscent of the arrangement found on the ''Lexington''-class battlecruisers; the designers had sufficient confidence in the stability characteristics to accept the risk of asymmetric flooding and include such longitudinal subdivisions.
 
 
?
Whereas the ''Iowa''-class was only designed to be protected from the regular 2,240 lb 16" Mark 5 shells, the ''Montana''-class armor scheme was designed to provide substantial protection zones against the newer and much more powerful 2,700 lb Mark 8 Superheavy Shells. With the beam restriction relaxed, the ''Montana''-class design returned to a more conventional external belt inclined at 19 degrees; the increased beam meant that the loss of waterplane area from external belt inclination was no longer a stability concern as it was for the ''Iowa''-class. The main belt was 409mm thick cemented armor, with a separate lower belt 183mm thick mounted on one of the torpedo bulkheads. The horizontal protection consisted of a 57mm weather deck, 178mm main armor deck, and 19mm splinter deck. The traverse bulkheads were 457mm thick forward and 387mm thick aft. Turret protection was also increased over that of the ''Iowa''-class, with turret faces up to 572mm thick.
+
Whereas the ''Iowa''-class only designed to be protected from the regular 2,240 lb 16" Mark 5 shells, the ''Montana''-class armor scheme was designed to provide substantial protection zones against the newer and much more powerful 2,700 lb Mark 8 Superheavy Shells. With the beam restriction relaxed, the ''Montana''-class design returned to a more conventional external belt inclined at 19 degrees; the increased beam meant that the loss of waterplane area from external belt inclination was no longer a stability concern as it was for the ''Iowa'' . The main belt was 409mm thick cemented armor, with a separate lower belt 183mm thick mounted on one of the torpedo bulkheads. The horizontal protection consisted of a 57mm weather deck, 178mm main armor deck, and 19mm splinter deck. The traverse bulkheads were 457mm thick forward and 387mm thick aft. Turret protection was also increased over that of the ''Iowa''-class, with turret faces up to 572mm thick.
 
 
 
===Historical Inaccuracies===
 
===Historical Inaccuracies===
Line 187:
Line 187:
 
* The final design had a 57mm weather deck instead of the 38mm in game.
 
* The final design had a 57mm weather deck instead of the 38mm in game.
 
* The final design had steering gears and shafts behind the citadel protected by a separate compartment and armor tubes, rather than an extension of the armored as on previous classes of US fast battleships and as depicted in game.
 
* The final design had steering gears and shafts behind the citadel protected by a separate compartment and armor tubes, rather than an extension of the armored as on previous classes of US fast battleships and as depicted in game.
 
+
 
 
 
|HistoricalGallery=<!-- write below list of files with description (if necessary) separated with | --><gallery>
 
|HistoricalGallery=<!-- write below list of files with description (if necessary) separated with | --><gallery>
Revision as of 22:03, 27 November 2017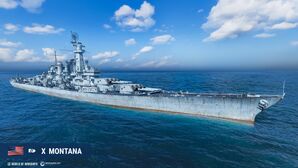 Tech Tree Position
406 mm/50 Mk7
4 х 3 

pcs.
Rate of Fire
2 

shots/min.
Reload Time
30 

sec.
Rotation Speed
4 

deg./sec.
180 Degree Turn Time
45 

sec.
Firing Range
23.65 

km.
Maximum Dispersion
296 

m.
HE Shell
406 mm HE/HC Mk13 
Maximum HE Shell Damage
5,700 
Chance of Fire on Target Caused by HE Shell
36 

%
Initial HE Shell Velocity
820 

m./s.
HE Shell Weight
862 

kg.
AP Shell
406 mm AP Mk8 
Maximum AP Shell Damage
13,500 
Initial AP Shell Velocity
762 

m./s.
AP Shell Weight
1225 

kg.
127 mm/54 Mk41
10 х 2 

pcs.
Firing Range
6 

km.
Rate of Fire
15 

shots/min.
Reload Time
4 

sec.
HE Shell
127 mm HE Mk41 
Maximum HE Shell Damage
1,800 
Initial HE Shell Velocity
808 

m./s.
Chance of Fire on Target Caused by HE Shel
9 

%
20 mm Oerlikon Mk20
20 х 2 

pcs.
. . . Average Damage per Second
122 
. . . Firing Range
2.01 

km.
40 mm Bofors Mk2
20 х 4 

pcs.
. . . Average Damage per Second
318 
. . . Firing Range
3.51 

km.
20 mm Oerlikon Mk4
20 х 1 

pcs.
. . . Average Damage per Second
72 
. . . Firing Range
2.01 

km.
127 mm/54 Mk41
10 х 2 

pcs.
. . . Average Damage per Second
157 
. . . Firing Range
5.19 

km.
Maximum Speed
30 

knot
Turning Circle Radius
950 

m.
Rudder Shift Time
22.2 

sec.
Surface Detectability Range
17.82 

km.
Air Detectability Range
12.91 

km.
Battle Levels
Montana — American Tier X battleship.
One of the largest battleships in the world. She was slightly inferior to the Iowa-class ships in terms of speed, but had more main guns and significantly stronger torpedo protection. Montana's armor was conventionally arranged and considerably reinforced.
Modules
Compatible Upgrades
Player Opinion
Performance
Tier X's Montana is, at first glance, basically a supersized Iowa with an additional triple mount turret and thicker belt and deck armor. Her offensive capability relies on her heavy broadside to smash enemy battleships or destroy anything smaller should the rounds connect. She has the heaviest broadside and the best dpm of any battleship in the game. While her guns are the smallest of the tier 10 battleships her American AP rounds do as much damage as the 420mm guns on the Kurfürst (while firing faster and more accurately) and exceed the AP damage of the Conqueror. Her HE rounds are also decent, but nothing special, characteristically weaker than IJN and RN HE but stronger than the high explosive found on German battleships. She also has an extremely powerful anti-aircraft suite and is more than capable of protecting herself from lower tiered aircraft carriers, but will likely require the assistance of teammates to fend off a determined strike by a Tier X flattop.
While she can reach a top speed of 30 knots, her large size and slow rudder shift time make her vulnerable to torpedo attack. Further, her main battery of 16-inch guns are not able to overmatch the 32mm thick bow armor found on most Tier IX and X battleships like Yamato's main battery can. This means that Montana captains may sometimes be forced into firing high explosive shells at well-angled enemy battleships.
The dispersion of her main guns has been improved since the game launched, but her dispersion is still worse than Yamato's even after the Artillery Plotting Room Modification 2 upgrade is installed. They are, however, more accurate than Großer Kurfürst's main battery at range while having a slower turret traverse (45 seconds versus Kurfürst's 40 seconds). Her secondaries are not as numerous as those of her Tier X counterparts, but they are better armored. This means that cruisers firing purely high explosive rounds are far less likely to destroy her secondary battery turrets, something that Yamato and Kurfürst cannot claim. Additionally, they have have the best rate of fire and the highest fire chance of all Tier X battleship secondary guns.
Montana
is a ship that does not excel at any one thing for a battleship (most players don't count AA as it is purely a defensive ability). With that said, in a close-range fight she will easily outpace
Yamato
's turret traverse (but not that of
Kurfürst
), while at range she will be more accurate than
Kurfürst
(but not as accurate as
Yamato
). Flexibility is her strength, but it is also her weakness.
Pros:
Twelve main battery guns generally means that something will hit even if a captain's aim is slightly off.
Can seriously damage destroyers without swapping ammunition simply due to volume of shells.
Phenomenal broadside killing power exceeds Yamato and can one-salvo anything that floats; losing or masking a turret still leaves her with Iowa broadside firepower.
One of the best anti-aircraft suites in the game.
Secondaries have the best fire chance (9%) and rate of fire (15 rounds per minute per gun) of Tier X battleships.
Quick turret traverse speed.
Two turrets still deliver 6 shells, allowing Montana to fire effective salvos at two targets simultaneously.
Faster than her Tier X counterparts.
Unparalleled flexibility when compared to her Tier X counterparts.
Cons:
Uses same guns as Iowa, no real upgrade for a ship one tier higher.
Dispersion is frustrating even with Artillery Plotting Room Modification 2 is equipped.
Very sluggish to accelerate.
Bow armor is overmatched by Yamato's 460mm shells. Belt armor angling can still work but is shells will sometimes randomly sneak through anyway.
AA advantage is only useful in match that has carrier.
Largest citadel among tier 10 Battleships, though they are below the water line.
Research
As a Tier X ship, Montana doesn't have any upgrades to research.
Optimal Configuration
Upgrades
Maximizing Montana's stealth is never a bad choice. With the Concealment Expert commander skill, Concealment Modification 1 in Upgrade Slot 6, and appropriate camouflage, her detection range drops down to 13.4 km. While still long enough for destroyers or cruisers to spot her before she is spotted, it gives Montana more leeway for turning due to the placement of her citadel. Steering Gear Modification 2 is recommended in Upgrade Slot 5 and will reduce her rudder shift time down to 17.8 seconds.
Upgrade Slot 3's best choice is Artillery Plotting Room Modification 2 to give her guns more accuracy; this will make it so that at ranges of ~12-13 kilometers Montana is exceptionally accurate, much more so than either of her contemporaries due to how dispersion works. In this configuration, she gives up damage to battleships that have equipped Main Battery Modification 3 to improve their rate of fire at the expense of her turret traverse. Main Battery Mod 3 will improve Montana's damage-per-minute — already the highest of the Tier X battleships — and may surprise a cruiser who still expects her to be reloading.
Upgrade Slot 2 offers several options. AA Guns Modification 2 will boost her maximum AA bubble out to 6.2 km (7.5 km if stacked with the Advanced Firing Training commander skill), while Secondary Battery Modification 2 will boost the range and accuracy of her secondaries instead, and with captain skills and flags those can reach out to 9.1 km. Artillery Plotting Room Modification 1 will increase her already impressive range and give her secondaries a slight boost in range and accuracy, but is a weaker choice than the other two.
Upgrade Slot 1 is most commonly filled with Main Battery Modification 1, though Auxiliary Armaments Modification 1 is a popular pick for captains who go for a full AA build with her other upgrades and commander skills. Damage Control System Modification 1 is the easy pick for Upgrade Slot 4.
Commander Skills
Recommended Commander Skills
Cost
(points)

Endurance

Attack

Support

Versatility



1

★★

★

★

 

 

 

★

 



2

★★

★

★★★

 

 

 

★★

 



3

★★

 

 

 

★★

★★★

★

★



4

★★

★★

 

 

★★★

 

 

★★★

Key: ★★★ - Extremely Useful       ★★ - Frequently Useful       ★ - Occasionally Useful      No stars - Meh    

Χ

- Not recommended
Camouflage
Type 1, 2, or 5 camouflage can be equipped for credits; Types 2 or 5 are recommended at a minimum to reduce the accuracy of incoming shells.
Players who wish to spend doubloons can equip Montana with Type 20 camouflage that lowers her detection radius, reduces the accuracy of incoming shells, reduces her repair costs, increases her credit earnings, and increases the amount of experience she earns.
Signals
Recommended Signal Flags
Combat

★★

★★

 

 

 

★

★

★

★★★

★

★★★

★

Economic

★★★

★★★

 

★★

★

Special

★★★

★★

★★

★★

★★

 

 

 

Key: ★★★ - Extremely Useful       ★★ - Frequently Useful       ★ - Occasionally Useful      No stars - Not Useful
Gallery