Omaha
Revision as of 05:05, 20 May 2017

cons

Revision as of 15:11, 31 May 2017
Line 25:
Line 25:
 
* Being a light cruiser, it has only slightly more armor than a destroyer, can suffer from criticals and citadel hits from American and USSR destroyers' AP
 
* Being a light cruiser, it has only slightly more armor than a destroyer, can suffer from criticals and citadel hits from American and USSR destroyers' AP
 
* Torpedoes are rather slow at 56 knots, having a range of only 5.5 km and half of the torpedo tubes are lost with the (C) hull
 
* Torpedoes are rather slow at 56 knots, having a range of only 5.5 km and half of the torpedo tubes are lost with the (C) hull
?
* Inferior to [[Murmansk]] in almost every aspect
+
* Inferior to [[Murmansk]] in almost every aspect
 
 
 
|Research=<!-- write text about priority sequence of research below -->
 
|Research=<!-- write text about priority sequence of research below -->
Revision as of 15:11, 31 May 2017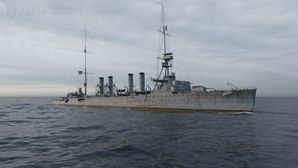 Tech Tree Position
533 mm Twin
4 х 2 

pcs.
Rate of Fire
1.36 

shots/min.
Reload Time
44 

sec.
Rotation Speed
25 

deg./sec.
180 Degree Turn Time
7.2 

sec.
Torpedo
Mk11 
Maximum Damage
11,733 
Torpedo Speed
56 

knot
Torpedo Range
5.49 

km.
76 mm/50 Mk.22 on a single mount
4 х 1 

pcs.
. . . Average Damage per Second
11.2 
. . . Firing Range
3.51 

km.
Maximum Speed
34 

knot
Turning Circle Radius
600 

m.
Rudder Shift Time
7.5 

sec.
Surface Detectability Range
13.5 

km.
Air Detectability Range
5.35 

km.
Battle Levels
Omaha — American Tier V cruiser.
A high-speed scout cruiser carrying torpedo armament and relatively powerful artillery, with part of the guns placed in turrets. She was the first cruiser in the U.S. Navy to receive aircraft handling equipment.
Modules
Compatible Upgrades
Player Opinion
Performance
Note that the third hull upgrade actually reduces your guns and torpedo tube numbers in exchange for better AA performance and better range. The long range is needed in open seas, and the extra AA is needed at higher tiers where carriers become a more prevalent problem.
The Omaha has a gun range of 14.8km fully upgraded, It has more guns than the Phoenix and they are placed in more strategic places, having an eight gun broadside, seven with the C hull and being able to aim 6 guns forward, which is great for chasing targets like aircraft carriers or low health vessels while presenting a smaller silhouette.
The torpedoes of the Omaha leave something to be desired, having a range of 5.5km. There are two launchers on each side that start initially as double barreled, they become triple barreled with the B hull and one launcher on each side is lost with the C hull. These torpedo launchers should be used when the guns can't do enough damage per minute or you get in very close to another ship. Alternatively, you could use the torpedo launchers to cause enemy ships to scatter when they see them. However, if a torpedo salvo hits, it will do massive amounts of damage. They become very useful when ambushing in close quarters.
The armor on the Omaha is also something to be questioned. It has been known for a ship with full health to blow up with one well placed salvo. The rear of the ship where turret 10 (turret 8 on the C hull) is the most vulnerable part of the ship. If struck correctly, it can permanently destroy the rear turrets and take out the steering and engine. The Omaha relies mainly on speed to avoid damage from other ships, and dodging shells and torpedoes is key to surviving.
As a team member, the Omaha is the perfect escort for battleships, providing decent AA cover, extra firepower and the very useful sonar equipment to see where torpedos are coming from in advance.
Pros:
High damage per minute, even without firing with a broadside.
Speed that matches destroyers of that tier and above.
Good AA for its tier.
Excellent support ship for battleships.
Can aim 6 guns forward, which is very good in pursuits.
Cons:
Being a light cruiser, it has only slightly more armor than a destroyer, can suffer from criticals and citadel hits from American and USSR destroyers' AP
Torpedoes are rather slow at 56 knots, having a range of only 5.5 km and half of the torpedo tubes are lost with the (C) hull
Inferior to Murmansk in almost every aspect except FREEDOM and CAPITALISM
Research
Get the (B) hull first, adds 3,700 hit points & leads to guns upgrade
Next the guns upgrade which adds 1.2 rounds per minute ROF
Next the Fire Control System for increase of range from 11.5 to 12.7km
The "C" hull last. Most will not even bother buying the (C) hull. Mounting causes loss of 2 main battery turrets and 2 torpedo tubes for addition of 9 AA mounts. Hardly worth the offense loss unless you play it often in an air defense role, which at this Tier seems unlikely. Hull C extends the maximum range to 14.8 km.
Research of the (C) hull is required to move on to the Cleveland.
Optimal Configuration
Commander Skills
Recommended Commander Skills
Cost
(points)

Endurance

Attack

Support

Versatility



1

★★★

★★★

★

 

 

 

★★

 



2

★★

★★

★★

 

 

 

★★

★★



3

★

★

★★

 

★★

★★

★★★

★★



4

 

★

★★★

 

★★

 

★★

★★★

Key: ★★★ - Extremely Useful       ★★ - Frequently Useful       ★ - Occasionally Useful      No stars - Meh    

Χ

- Not recommended
Gallery