Kawachi
Revision as of 06:00, 28 July 2015
Revision as of 06:32, 28 July 2015
Line 3:
Line 3:
 
 
 
|InTheGame_performance= First thing to note is that this ship has odd gun placement, thus you can't fire two of your main turrets depending which direction you are shooting at, so you can only fire four. Also its rate of fire is pretty bad, and once you fire your going to have to wait quite a while to reload, in that time the enemy can put anywhere to 2-10 clips into you. (1.8 rounds a minute per gun) you are somewhat fast with a max speed of 20.4 knots, at least for a battleship. your armor is what is expected from a tier 3 battleship, great for its tier, and you should only fire HE at it unless you are a higher tier BB... The Kawachi really isn't the best BB in the world or in the game, but use your still very much large amount of guns to your advantage, and make sure you only engage 1v1, as your RoF is really bad and will hinder you greatly...you will generally get pummeled by the lower tier cruisers or mid tier because of their much higher RoF and speed, sometimes even torpedoes. pick your fights and this can be a very formidable machine.
 
|InTheGame_performance= First thing to note is that this ship has odd gun placement, thus you can't fire two of your main turrets depending which direction you are shooting at, so you can only fire four. Also its rate of fire is pretty bad, and once you fire your going to have to wait quite a while to reload, in that time the enemy can put anywhere to 2-10 clips into you. (1.8 rounds a minute per gun) you are somewhat fast with a max speed of 20.4 knots, at least for a battleship. your armor is what is expected from a tier 3 battleship, great for its tier, and you should only fire HE at it unless you are a higher tier BB... The Kawachi really isn't the best BB in the world or in the game, but use your still very much large amount of guns to your advantage, and make sure you only engage 1v1, as your RoF is really bad and will hinder you greatly...you will generally get pummeled by the lower tier cruisers or mid tier because of their much higher RoF and speed, sometimes even torpedoes. pick your fights and this can be a very formidable machine.
 
+
 
+
 
+
 
+
 
+
 
+
 
+
 
+
 
+
 
+
 
+
 
+
 
+
 
 
 
|InTheGame_research=
 
|InTheGame_research=
Revision as of 06:32, 28 July 2015
Overview
Mobility
18.4 kt
Max Speed
13.4 s
Rudder Shift Time
560 m
Turn Radius
Armor
-1 - -1 mm
Hull Armor
-1 - -1 mm
Citadel Armor
-1 - -1 mm
Deck Armor
-1 - -1 mm
Extremities Armor
Primary Armament
Secondary Armament
Torpedoes
Aircrafts
Visibility
6.6 km
Aerial Detection Range
9.5 km
Surface Detection Range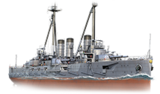 The first dreadnought of the Imperial Japanese Navy. Boasted a sufficiently powerful armor belt. Kawachi's fire control capabilities were strongly affected by the diversity of calibers of her numerous guns. Similar to other warships of her time, Kawachi had insufficient horizontal armor protection and weak torpedo protection.

Main Battery
| Main Battery | Cost, | artilleryShotspeed | artilleryRotationtime | artilleryDamagehe | artilleryDamageap |
| --- | --- | --- | --- | --- | --- |
| 305 mm/45 Type41 | 34000 | 2 | 40 | 5100 | 8100 |

Hull
| Hull | Cost, | health | planesAmount | artilleryNumbarrels | atbaNumbarrels | aaNumbarrels |
| --- | --- | --- | --- | --- | --- | --- |
| Kawachi (A) | 72000 | 35800 | 0 | 2 | 1/1/1 | 0 |
| Kawachi (B) | 160000 | 38700 | 0 | 2 | 1/1/1 | 1 |

Gun Fire Control System
| Gun Fire Control System | Cost, | suoMaxdist | suoIncreasedistpercent |
| --- | --- | --- | --- |
| Type3 mod. 1 | 20000 | 9.9 | 0 |
| Type3 mod. 2 | 80000 | 10.9 | 10 |

Engine
| Engine | Cost, | mobilityMaxspeed |
| --- | --- | --- |
| Propulsion: 22,500 hp | 18000 | 18.4 |
| Propulsion: 27,300 hp | 40000 | 20 |












Performance
First thing to note is that this ship has odd gun placement, thus you can't fire two of your main turrets depending which direction you are shooting at, so you can only fire four. Also its rate of fire is pretty bad, and once you fire your going to have to wait quite a while to reload, in that time the enemy can put anywhere to 2-10 clips into you. (1.8 rounds a minute per gun) you are somewhat fast with a max speed of 20.4 knots, at least for a battleship. your armor is what is expected from a tier 3 battleship, great for its tier, and you should only fire HE at it unless you are a higher tier BB... The Kawachi really isn't the best BB in the world or in the game, but use your still very much large amount of guns to your advantage, and make sure you only engage 1v1, as your RoF is really bad and will hinder you greatly...you will generally get pummeled by the lower tier cruisers or mid tier because of their much higher RoF and speed, sometimes even torpedoes. pick your fights and this can be a very formidable machine.

Pros: While it has less armor than the South Carolina, it is still good for its teir, but will be quickly outmatched by higher teirs
large amount of guns, even though two cant be fired at all times
Cons: Bad mobility, though better than the South Carolina's and most other BBs
Worse gun range than the South Carolina along with worse gun handling in general
Awful gun reloading speed
Almost no AA power, though not as important at its teir
Early Research
First priority research for the Kawachi is to upgrade the firing control module to increase her gun range from 8.8 km to 9.8 km. The South Carolina has the advantage in gun range at 11 km when fully upgraded. However, the IJN Kawachi has the advantage in having more main caliber guns. When playing the Kawachi it is always very important to take advantage of the ship's 21 knot speed. When Compared to the South Carolina the speed of the Japanese Battleship has the advantage to close the distance quickly to get into a gunnery dual. Since the ship's turrets are not super-firing like the S. Carolina, always fight and turn to keep your winged turrets ready to fire.
Like the South Carolina, the shell dispersion is very wide and maybe even worse. So while your wing turrets are still loading always try to move and turn to alternate between the two sets of loaded wing turrets.
Kawachi (河内?) was the lead ship of the two-ship Kawachi-class dreadnought battleships built for the Imperial Japanese Navy (IJN) in the first decade of the 20th century. Following the Japanese ship-naming conventions, Kawachi was named after Kawachi Province, now a part of Osaka prefecture. During World War I she bombarded German fortifications at Tsingtao during the Battle of Tsingtao in 1914, but saw no other combat. She sank in 1918 after an explosion in her ammunition magazine with the loss of over 600 officers and crewmen.
Sources and External Links