Phoenix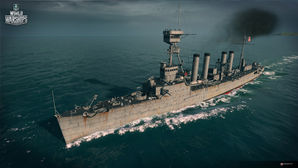 Tech Tree Position
152 mm/50 Mk8
6 х 1 

pcs.
Rate of Fire
6 

shots/min.
Reload Time
10 

sec.
Rotation Speed
11 

deg./sec.
180 Degree Turn Time
16.36 

sec.
Firing Range
13.88 

km.
Maximum Dispersion
128 

m.
HE Shell
152 mm HE 105 lb 
Maximum HE Shell Damage
2,100 
Chance of Fire on Target Caused by HE Shell
7 

%
Initial HE Shell Velocity
853 

m./s.
HE Shell Weight
47.7 

kg.
AP Shell
152 mm AP 105 lb 
Maximum AP Shell Damage
3,000 
Initial AP Shell Velocity
853 

m./s.
AP Shell Weight
47.7 

kg.
533 mm Twin
2 х 2 

pcs.
Rate of Fire
1.36 

shots/min.
Reload Time
44 

sec.
Rotation Speed
25 

deg./sec.
180 Degree Turn Time
7.2 

sec.
Torpedo
Mk11 
Maximum Damage
11,733 
Torpedo Speed
56 

knot
Torpedo Range
5.49 

km.
76.2 mm/50 Mk10
2 х 1 

pcs.
. . . Average Damage per Second
4.2 
. . . Firing Range
3 

km.
7.6 mm Hotchkiss Mk1
2 х 1 

pcs.
. . . Average Damage per Second
2.6 
. . . Firing Range
0.99 

km.
Maximum Speed
35 

knot
Turning Circle Radius
630 

m.
Rudder Shift Time
7 

sec.
Surface Detectability Range
13.14 

km.
Air Detectability Range
5.38 

km.
Battle Levels
Phoenix — American Tier IV cruiser.
A scout cruiser design whose distinctive features were very high speeds and a torpedo armament. In contrast to most cruisers of her time, the cruiser's artillery was placed in open mounts. Phoenix never materialized, but served as a prototype for development of the Omaha-class cruisers.


Modules
Compatible Upgrades
Player Opinion
Performance
A very fast cruiser with top speed of 35 knots (as fast as destroyers), coupled with a rudder shift time of 5.4 makes Phoenix a very maneuverable ship. The long range guns (15.27 km upgraded) are great for setting fires on enemy ships, especially battleships (which are a favorite target of the Phoenix). Meanwhile, avoid showing the broadside because a battleship can severely punish your hitpoints. It is best to stay close to allies and support and protect battleships by scaring off destroyers and cruisers. Keep in mind that the Pheonix has a weak AA suite, so it cannot protect them against aircraft.
You can surprise enemies that come from behind an island with the 5.5 km range torpedoes, sometimes they can be used later on in game when you are in duel with a battleship, to destroy it eventually. That may cost your own life if that battleship has time to fire a salvo of AP on your broadside when you release your torpedoes, though.
Pros:
Good main battery firepower (when fully upgraded) - can fire forwards as well as she can backwards; good turret traverse, good reload time, and great firing range
Has defensive torpedoes - may also be useful in ambushing unsuspecting enemy ships
Very good maneuverability - 35 knots top speed and 5.4 seconds rudder shift time
Cons:
Poor survivability - very thinly armored and prone to rudder and engine incapacitations, coupled with her very low hit points for a Tier IV cruiser.
Poor torpedo range - can only reach out to 5.5km and thus are for last resort occasions
Poor concealment - can be easily spotted as she can rain on her enemies
Underwhelming AA firepower - can easily be targeted by aircraft carriers with little to no resistance
Research
This is a suggested research path:
Phoenix (B) Hull
152 mm/53 Mk14 main batteries
Phoenix (C) Hull
Mk4 FCS mod. 2
Due to
Phoenix
's low number of main armaments and fragility, it is highly recommended to research to the (C) Hull as quickly as possible to gain access to more armaments and the
Hydroacoustic Search
(

) consumable.
Optimal Configuration
Upgrades
Slot 1: Main Armaments Modification 1 () - lowers chance of destroyed armament and faster repair. Useful because the enemy can easily destroy armament.
Slot 2: Steering Gears Modification 1 () - comes in handy to prevent steering gears being incapacitated and faster repair. Use together with captain skill Last Stand. This will help prevent you giving broadsides to enemy ships and better odds of avoiding torpedoes.
Commander Skills
Recommended Commander Skills
Cost
(points)

Endurance

Attack

Support

Versatility



1

★★★

★★★

★

 

 

 

★★

 



2

★★

★★

★★

 

 

 

★★★

★★★



3

★

★

★★

 

★

 

★★★

★★



4

 

★

★

 

★

 

★★

★★★

Key: ★★★ - Extremely Useful       ★★ - Frequently Useful       ★ - Occasionally Useful      No stars - Meh    

Χ

- Not recommended
Consumables
Phoenix can equip the following consumables:
Camouflage
Type 1, 2, or 5 camouflage can be equipped for credits; Types 2 or 5 are recommended at a minimum to reduce the accuracy of incoming shells.
Signals
Recommended Signal Flags
Combat

 

 

★★★

 

★★★

★

★★

★★★

 

 

★★

★★

Economic

 

 

★★★

★★★

 

Special

 

 

★★

 

 

 

 

 

Key: ★★★ - Extremely Useful       ★★ - Frequently Useful       ★ - Occasionally Useful      No stars - Not Useful
Gallery
Phoenix torpedoes devastate an enemy Wakatake.