Phoenix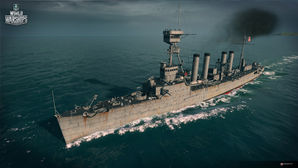 Tech Tree Position
152 mm/50 Mk.8 on a Mk.10 mount
6 х 1 

pcs.
Rate of Fire
6 

shots/min.
Reload Time
10 

sec.
Rotation Speed
11 

deg./sec.
180 Degree Turn Time
16.36 

sec.
Firing Range
13.88 

km.
Maximum Dispersion
128 

m.
HE Shell
152 mm HE 105 lb 
Maximum HE Shell Damage
2,100 
Chance of Fire on Target Caused by HE Shell
7 

%
Initial HE Shell Velocity
853 

m./s.
HE Shell Weight
47.7 

kg.
AP Shell
152 mm AP 105 lb 
Maximum AP Shell Damage
3,000 
Initial AP Shell Velocity
853 

m./s.
AP Shell Weight
47.7 

kg.
533 mm Twin
2 х 2 

pcs.
Rate of Fire
1.36 

shots/min.
Reload Time
44 

sec.
Rotation Speed
25 

deg./sec.
180 Degree Turn Time
7.2 

sec.
Torpedo
Mk11 
Maximum Damage
11,733 
Torpedo Speed
56 

knot
Torpedo Range
5.49 

km.
76.2 mm/50 Mk.10 on a Mk.11 mount
2 х 1 

pcs.
. . . Average Damage per Second
4.2 
. . . Firing Range
3 

km.
7.62 mm Hotchkiss
2 х 1 

pcs.
. . . Average Damage per Second
2.6 
. . . Firing Range
0.99 

km.
Maximum Speed
35 

knot
Turning Circle Radius
630 

m.
Rudder Shift Time
7 

sec.
Surface Detectability Range
12.76 

km.
Air Detectability Range
5.38 

km.
Battle Levels
Phoenix — American Tier IV cruiser.
With the outbreak of World War I, the U.S. found itself in need of a stronger navy. The new shipbuilding program also included cruisers—squadron scouts. Some of the requirements were a speed of 35 knots, a narrow hull, and a relatively small portion of displacement allocated for defense. The main battery artillery was placed in casemates on the bow and stern, which could provide anti-splinter protection only. The design also featured two guns placed on each side of amidships and torpedo tubes in gun ports at the stern casemate.
Modules
Compatible Upgrades
Player Opinion
Performance
Warning. The data presented in the AA Defense sidebar section may be incorrect.
For a graphic summary of ships Tiers VIII thru XI see LittleWhiteMouse's "Actual AA DPS".
The Phoenix is a rather solid upgrade of a high speed scout cruiser coming from the St. Louis at Tier III. Despite losing on the firepower that the St. Louis carries, as well as the heavier armor set that the Tier III ship carries, the Phoenix makes up for it by gaining nearly 15 knots of speed and vast amounts of maneuverability, as well as boasting a 2 second quicker reload on her 152mm guns, although interestingly her relative DPM is still short of the St. Louis. Her armor is another weakness, having very little in the way of vertical protection and overall plating, making her extremely vulnerable to getting pummeled by both High Explosive and Armor Piercing shells, meaning that the best defense for her is her high speed and not getting hit.
The Phoenix does carry some other tools such as having access to Hydroacoustic Search and torpedo armament, both of which are quite useful should you find yourself in a close range gun duel against enemy cruisers or destroyers, or if you indeed need to find a way to deal with enemy Battleships that pop out of nowhere at close range ( and believe me it does happen )
Overall, the Phoenix is a solid cruiser, but one that needs some time to actually work, using her high DPM combined with her high speed and range to work as a low-tier annoyance that can distract and kill battleships with a combination of chip damage and fires ( and torpedoes if needed )
Pros:
Good main battery firepower (when fully upgraded) - can fire forwards as well as she can backwards; good turret traverse, good reload time, and great firing range
Has defensive torpedoes - may also be useful in ambushing unsuspecting enemy ships
Good maneuverability - 35 knots top speed and 5.4 seconds rudder shift time
Access to Hydroacoustic Search 
Cons:
Poor survivability - thinly armored and prone to rudder and engine incapacitations, coupled with her very low hit points for a Tier IV cruiser.
Poor torpedo range - can only reach out to 5.5km and thus are for last resort occasions
Poor concealment - can be easily spotted as she can rain on her enemies
Underwhelming AA firepower - can easily be targeted by aircraft carriers with little to no resistance
Research
This is a suggested research path:
Phoenix (B) Hull
152 mm/53 Mk14 main batteries
Phoenix (C) Hull
Mk4 GFCS mod. 2
Optimal Configuration
Upgrades
Slot 1: Main Armaments Modification 1 - lowers chance of destroyed armament and faster repair. Useful because the enemy can easily destroy armament.
Slot 2: Engine Room Protection - comes in handy to help prevent the steering gears and engine from being incapacitated and faster repair. Use together with the captain skill Last Stand.
Commander Skills
  Recommended Commander Skills  
Cost
(points)

Attack

Defense



1

 

 

 

 

★★

 



2

★★

 

★★

 

 

 



3

★★

 

★★

 

★★

★★



4

 

 

 

 

★★

 

Key: ★★★ - Extremely Useful      ★★ - Frequently Useful      ★ - Occasionally Useful     No stars - Not Useful
Consumables
Phoenix equips the following consumables:
Signals
Note: Use of the Juliet Charlie signal makes detonation impossible.
Gallery
Phoenix torpedoes devastate an enemy Wakatake.
References
See here for links to Update notes.

Added to the game in Update 0.2.1 (alpha version).
Update 0.2.1.4:

Firing angles of the bow guns were increased by eight degrees for full-fledged firing straight ahead.

Update 0.3.1.1:

The rudder speed of the stock hull was returned to the value ​​from Update 0.3.0 after the mechanics of ship movement were reworked in Update 0.3.1.

Update 0.4.0.4:

The Hydroacoustic Search consumable was added to the stock hull.

Update 0.5.2:

Experience earnings decreased by 4%.

Update 0.5.8:

The armor model of the hull was refined.

Update 0.5.9:

The thickness of the sides of the casemate was increased from 10 to 13 mm.

Update 0.6.3:

Base firing range increased from 12,463 to 13,880 m.

Update 0.6.4:

Fixed a bug where the cruiser could not shoot at its maximum range with the top-end FCS and stock guns installed.

Update 0.6.12:

Detectability when firing main guns in smoke changed to 6.58 km.
Improved appearance of the ship with a special technology for improved rendering of subtle elements (mainly rigging). This did not affect the performance of the game in any way.

Update 0.6.13:

Fire extinguishing time now 30 s instead of 60 s.
The survivability of air defense weapons was tested and brought to a single standard. The change affects the 76.2 mm gun.

Update 0.6.15:

The fire reduction coefficient for Hull B was slightly reduced and is now equal to the fire reduction coefficient for Hull C.

Update 0.7.10:

The range of the Hydroacoustic Search consumable was unified: 4 km for detecting ships, 3 km for detecting torpedoes.

Update 0.9.2:

HE shell penetration increased from 24 to 25 mm.
Central armor increased from 13 to 16 mm.

Update 0.9.6:

The value of the in-game turning circle radius was changed to 630 m to correct prior discrepancy.

Update 0.9.7:

Hydroacoustic Search consumable is available for Installation on A and B Hulls.