Pyotr Velikiy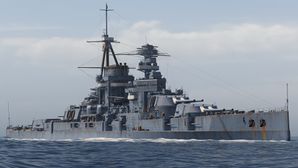 Tech Tree Position
356 mm/52 Model 1913
4 х 2 

pcs.
Rate of Fire
1.82 

shots/min.
Reload Time
33 

sec.
Rotation Speed
4 

deg./sec.
180 Degree Turn Time
45 

sec.
Firing Range
14.55 

km.
Maximum Dispersion
223 

m.
HE Shell
356 mm HE Model 1913 
Maximum HE Shell Damage
5,200 
Chance of Fire on Target Caused by HE Shell
38 

%
Initial HE Shell Velocity
731.5 

m./s.
HE Shell Weight
747.8 

kg.
AP Shell
356 mm AP Model 1911 
Maximum AP Shell Damage
10,500 
Initial AP Shell Velocity
823 

m./s.
AP Shell Weight
747.8 

kg.
130 mm/55 Model 1913
16 х 1 

pcs.
Firing Range
4.5 

km.
Rate of Fire
5 

shots/min.
Reload Time
12 

sec.
HE Shell
130 mm HE Model 1911 
Maximum HE Shell Damage
1,900 
Initial HE Shell Velocity
823 

m./s.
Chance of Fire on Target Caused by HE Shel
9 

%
76.2 mm Lender gun
16 х 1 

pcs.
. . . Average Damage per Second
24 
. . . Firing Range
3 

km.
Maximum Speed
26.5 

knot
Turning Circle Radius
800 

m.
Rudder Shift Time
16.1 

sec.
Surface Detectability Range
13.68 

km.
Air Detectability Range
9.19 

km.
Battle Levels
Pyotr Velikiy — Soviet Tier V battleship.
One of the variants of the "armored cruiser for the Baltic Sea" project, armed with 356 mm guns (Project 707). She was notable for her high speed and her main battery turrets, two facing forward and two aft, that were positioned along her centerline, with one turret at each end in a super-firing position.


Modules
Compatible Upgrades
Player Opinion
Performance

Coming in from the Tier 4 Gangut, Pyotr Velikiy represents a major shift in the Russian Battleship tech tree, from the slower moving dreadnought-style warships of Knyaz Suvorov and Gangut, to a "semi - battlecruiser" style of gameplay. Commanders who have taken the helm of battleships such as Kongo will find her to be quite similar and comfortable to play in. Indeed, she has a strking resemblance to the Japanese battlecruiser, including her layout of 8 14-inch guns in 4 dual-mount turrets, poor handling characteristics, and excellent armor when angled or bow on. However, that is where the similarities end. Pyotr Velikiy excels at medium to short range combat, as is dictated by her rather short main battery firing range of just 16 kilometers when fully upgraded. Her accuracy becomes more lethal the closer she gets, while her slightly slower than average shell speed means that she won't overpenetrate on most cruisers at this tier. Unfortunately, this does not set her up as a brawler. Her 33 second reload is behind most Battleships at her tier by a good 3 to 5 seconds, and gives up 7 seconds to the German Konig ( though her guns are larger ). Also, she suffers from exceptionally poor handling characteristics, compounding upon the issue of her above water citadel, which can easily be punished if she shows broadside.
Overall, Pyoter Velikiy brings a slightly different taste to the typical battleship flavor at her tier, mixing both aspects of battlecruisers and traditional battleships, with a slight hint of cruiser in the middle. Treat her as such, and she will reward you handsomely.
Pros:
Has access to a short reload Damage Control Party () consumable that has a limited number of uses
Great armour when angled, with great bow tanking potential.
Good accuracy at closer ranges. Turrets also have good firing angles for her tier.
Good top speed, for a tier 5 battleship.
Somewhat fast turret traverse of just 45 seconds
Cons:
Limited uses of Damage Control Party () consumable, has only 2 charges of Repair Party () consumable as well.
Citadel is high and exposed on the top deck in the rear, making her very vulnerable to AP bombs. Torpedoes that hit the middle of the ship have a very good chance of knocking out her engine.
Armour, when completley broadside, stops working. Making citadel hits very likely.
long main battery reload time
High speed results from a long length to beam ratio, rather than high power, as a result, she handles quite poorly.
Optimal Configuration
Upgrades
The recommended upgrades for Pyotr Velikiy are as follows:
Since it's not wise to get close enough to make a Secondaries Mod worthwhile, and AA is not strong enough to make an AA Mod of much use, the only real alternative is Main Battery Modification 2 (
). The turrets traverse painfully slowly, but making a slow reload even slower may not be a beneficial tradeoff.
Commander Skills
Recommended Commander Skills
Cost
(points)

Endurance

Attack

Support

Versatility



1

 

 

 

Χ

Χ

Χ

 

Χ



2

 

 

 

Χ

Χ

Χ

 

 



3

 

 

Χ

Χ

 

 

 

 



4

 

 

 

Χ

 

 

 

 

Key: ★★★ - Extremely Useful      ★★ - Frequently Useful      ★ - Occasionally Useful     No stars - Meh     

Χ

- Not recommended
Gallery