Saipan
Revision as of 05:41, 15 May 2017

exactly how is Manual Fire Control for AA Armament 'frequently useful', when Saipan does not have any high caliber AA gun to begin with?

Revision as of 03:04, 16 July 2017
Line 53:
Line 53:
 
| Aircraft Servicing Expert = 3
 
| Aircraft Servicing Expert = 3
 
| Direction Center for Catapult Aircraft =
 
| Direction Center for Catapult Aircraft =
?
| Dogfighting Expert = 2
+
| Dogfighting Expert =
 
| Incoming Fire Alert =
 
| Incoming Fire Alert =
?
| Evasive Maneuver = 3
+
| Evasive Maneuver =
 
 
 
| High Alert = 1
 
| High Alert = 1
Line 62:
Line 62:
 
| Torpedo Acceleration = 3
 
| Torpedo Acceleration = 3
 
| Smoke Screen Expert =
 
| Smoke Screen Expert =
?
| Expert Rear Gunner = 1
+
| Expert Rear Gunner =
?
| Adrenaline Rush = 2
+
| Adrenaline Rush =
 
| Last Stand =
 
| Last Stand =
 
 
Line 69:
Line 69:
 
| Basics of Survivability = 1
 
| Basics of Survivability = 1
 
| Torpedo Armament Expertise = 3
 
| Torpedo Armament Expertise = 3
?
| Emergency Takeoff = 2
+
| Emergency Takeoff =
 
| Basic Firing Training = 2
 
| Basic Firing Training = 2
 
| Superintendent =
 
| Superintendent =
Line 80:
Line 80:
 
| Air Supremacy = 3
 
| Air Supremacy = 3
 
| Advanced Firing Training = 2
 
| Advanced Firing Training = 2
?
| Manual Fire Control for AA Armament =
+
| Manual Fire Control for AA Armament =
 
| Radio Position Finding =
 
| Radio Position Finding =
?
| Concealment Expert = 1
+
| Concealment Expert =
 
}}
 
}}
 
 
Revision as of 03:04, 16 July 2017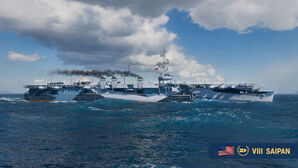 Tech Tree Position
40 mm Bofors on a Mk.1 mount
10 х 2 

pcs.
. . . Average Damage per Second
113 
. . . Firing Range
3.51 

km.
20 mm Oerlikon on a Mk.24 mount
15 х 2 

pcs.
. . . Average Damage per Second
91.5 
. . . Firing Range
2.01 

km.
40 mm Bofors on a Mk.2 mount
5 х 4 

pcs.
. . . Average Damage per Second
79.5 
. . . Firing Range
3.51 

km.
Maximum Speed
33 

knot
Turning Circle Radius
920 

m.
Rudder Shift Time
15.9 

sec.
Surface Detectability Range
12.24 

km.
Air Detectability Range
10.18 

km.
Battle Levels
Saipan — American promo premium Tier VIII aircraft сarrier.
A high-speed light aircraft carrier based on the Baltimore-class cruiser. Despite relatively small dimensions, the ship carried a rather powerful air group and was armed with numerous AA artillery. She boasted very good armor comparable with the protection of far larger attack aircraft carriers.
Modules
Compatible Upgrades
 Slot 1 
 Slot 2 
 Slot 3 
 Slot 4 
 Slot 5 
Player Opinion
Performance
Befitting her premium status, Saipan is a bit of an anomaly among American aircraft carriers. She defies the all-or-nothing loadout concept of other American carriers to have both anti-air and anti-surface capabilities. In addition, she has uncharacteristically small squadron sizes of 3 for her fighters and torpedo bombers (but 8 planes for her dive bombers) in order to balance the fact that, at Tier VII, she carries the stock aircraft of the Tier X American carrier, Midway. As such, her strike squadrons can outrun most fighter squadrons they encounter, and her fighters can quickly pounce on any aircraft they see. Moreover, the high speeds of her strike aircraft minimize the time spent on the approach and pull back, lowering their chances of getting shot down by enemy ships' AA (their high durability helps too). While her hangar capacity of 48 might seem rather lackluster, it's not a major issue except for the dive bombers due to their large squadron size.
It is generally recommended to use the torpedo bomber loadout as opposed to the dive bomber loadout. While having 1000-pound bombs one tier earlier than the regular tech tree in a large squadron of 8 is amazing (when all hit), dive bombing is still very random; torpedo bombing will generate more reliable damage results. Furthermore, Saipan is the only American carrier to have the converging torpedo pattern for its manual drop; combined with fast aircraft, it's fairly easy to hit all 6 torpedoes on battleships and even snipe destroyers. Losing one squadron of planes is no big deal with the torpedo bomber loadout; their small squadron sizes means that you can repeatedly re-form destroyed squadrons without worrying too much about running out of planes like Independence. Having one more squadron of fighters in the air with the dive bomber loadout does not make up for the loss in strike capability, and your fighters will still be overwhelmed by the larger squadrons of enemy fighters they encounter.
LittleWhiteMouse's Premium Ship Review: Saipan from the NA forums
Pros:
Good speed allows her to quickly re-position or keep a distance from the enemy.
Powerful anti-aircraft suite.
Blisteringly fast and powerful aircraft.
Short aircraft servicing times (due to the small number of planes in each squadron).
Both loadouts have anti-air and anti-surface capabilities.
Fearsome dive bomber potential, with 8 aircraft in a squadron armed with 1000-pound bombs.
Only American carrier to have more than 1 torpedo squadron.
Has the Japanese converging pattern for torpedo squadrons' manual drop due to only having 3 planes instead of 6 in a squadron.
Cons:
Like Independence, she gets detected more easily from the air than from the surface.
No secondary armament.
Lousy rudder shift time.
Unable to utilize both torpedo and dive bombers together in either loadouts.
Fighters have low ammo count, hindering their ability to stay on the battlefield.
Small squadron size means that fighters are easily overwhelmed.
Torpedo squadrons only have 3 planes each, hindering their burst damage potential (like IJN carriers).
Despite having 8 planes in a squadron, the larger USN dispersion for the dive bombers still prevents them from doing reliable damage.
Research
As a premium ship, Saipan doesn't have any upgrades to research.
Optimal Configuration
Commander Skills
With regards to commander's skills, the standard suite of carrier-relevant skills applies: Aircraft Servicing Expert is your best place to spend points, followed by a mix of Torpedo Armament Expertise and Torpedo Acceleration (with the torpedo bomber loadout) or Air Superiority (for the dive bomber loadout), plus Basic Firing Training (for extra AA damage per second) or Basics of Survivability (for the rare occasion when you are on fire and Damage Control Party is on cooldown). Dogfighting Expert is not recommended, as Saipan cannot be tiered against opponents where the skill might be useful.
The following information is provided for players who wish to create a permanent captain for the ship. Those players who are retraining captains or using the ship to gain extra experience for a captain should consult the page relevant to the ship to which the captain will be assigned.
Recommended Commander Skills
Cost
(points)

Endurance

Attack

Support

Versatility



1

 

 

 

★★★

 

 

 

 



2

★

 

 

★★★

 

 

 

 



3

★

 

★★★

 

★★

 

 

 



4

 

 

 

 

★★

 

 

★★

Key: ★★★ - Extremely Useful       ★★ - Frequently Useful       ★ - Occasionally Useful      No stars - Meh    

Χ

- Not recommended
Camouflage
As a premium ship, Saipan comes included with Type 10 camouflage that lowers her detection radius, reduces the accuracy of incoming shells, and increases the amount of experience she earns.
Signals
As a carrier, Saipan can only mount at most four signals at a time and has no risk of detonating. As a premium carrier, players should mount Equal Speed Charlie London (for further Free XP grinding / increased XP gain per battle), Zulu Hotel (when coupled with Equal Speed Charlie London greatly helps increase the speed of commander (re)training for a different carrier), November Echo Setteseven (for better bomber self-defense against fighters and increased AA DPS), and Juliet Whiskey Unaone (to have a better chance at causing flooding and dealing damage via flooding). Players can also choose to equip the Dragon Flag for faster commander (re)training for the other carrier that the captain is trained on.
Recommended Signal Flags
Combat

★★★

 

 

★★★

★★★

 

★

★

 

 

 

 

 

 

Economic

★★

 

★★

★★

 

Special

 

 

★★

 

 

 

 

 

Key: ★★★ - Extremely Useful       ★★ - Frequently Useful       ★ - Occasionally Useful      No stars - Not Useful
Note: Use of the Juliet Charlie signal makes detonation impossible.

Cite error: <ref> tags exist, but no <references/> tag was found