Salem
Revision as of 18:24, 22 May 2020

Correct radar range from 9.9 km to 8.5 km

Revision as of 22:37, 3 July 2020

Update commander skills after IFHE rework

Line 97:
Line 97:
 
| rating38 = 1 <!-- Vigilance -->
 
| rating38 = 1 <!-- Vigilance -->
 
 
?
| rating41 = <!-- Manual Fire Control for Secondary Armament -->
+
| rating41 = <!-- Manual Fire Control for Secondary Armament -->
 
| rating42 = <!-- Fire Prevention -->
 
| rating42 = <!-- Fire Prevention -->
?
| rating43 = <!-- Inertia Fuse for HE Shells -->
+
| rating43 = <!-- Inertia Fuse for HE Shells -->
 
| rating44 = 0 <!-- Sight Stabilization -->
 
| rating44 = 0 <!-- Sight Stabilization -->
 
| rating45 = 3 <!-- Advanced Firing Training -->
 
| rating45 = 3 <!-- Advanced Firing Training -->
Revision as of 22:37, 3 July 2020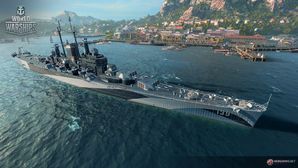 Tech Tree Position
203 mm/55 Mk16
3 х 3 

pcs.
Rate of Fire
10.91 

shots/min.
Reload Time
5.5 

sec.
Rotation Speed
6 

deg./sec.
180 Degree Turn Time
30 

sec.
Firing Range
15.83 

km.
Maximum Dispersion
142 

m.
HE Shell
203 mm HE/HC Mk25 
Maximum HE Shell Damage
2,800 
Chance of Fire on Target Caused by HE Shell
14 

%
Initial HE Shell Velocity
823 

m./s.
HE Shell Weight
118 

kg.
AP Shell
203 mm AP Mk21 
Maximum AP Shell Damage
5,000 
Initial AP Shell Velocity
762 

m./s.
AP Shell Weight
152 

kg.
127 mm/38 Mk32
6 х 2 

pcs.
Firing Range
6 

km.
Rate of Fire
10 

shots/min.
Reload Time
6 

sec.
HE Shell
127 mm HE Mk32 
Maximum HE Shell Damage
1,800 
Initial HE Shell Velocity
792 

m./s.
Chance of Fire on Target Caused by HE Shel
5 

%
76.2 mm/50 Mk33
2 х 2 

pcs.
. . . Average Damage per Second
41.6 
. . . Firing Range
3.99 

km.
76.2 mm/50 Mk33
10 х 2 

pcs.
. . . Average Damage per Second
208 
. . . Firing Range
3.99 

km.
127 mm/38 Mk32
6 х 2 

pcs.
. . . Average Damage per Second
90.6 
. . . Firing Range
5.01 

km.
Maximum Speed
33 

knot
Turning Circle Radius
770 

m.
Rudder Shift Time
8.6 

sec.
Surface Detectability Range
13.86 

km.
Air Detectability Range
7.9 

km.
Battle Levels
Salem — American promo premium Tier X cruiser.
A Des Moines-class heavy cruiser. Her main battery mounts were equipped with an auto-loading mechanism, which provided her with the greatest firepower among ships of her type. The cruiser's advantages included advanced radar equipment, powerful AA artillery, and reliable horizontal armor protection.

Salem was first released for sale with Update 0.7.6 and is available exclusively via the Armory for Coal 

.
Modules
Compatible Upgrades
Player Opinion
Performance
The first Tier X premium[1] in the game, Salem plays much like her tech tree sister Des Moines, albeit with a tad more survivability at the trade off of less utility. Captains familiar with the American heavy cruiser branch should adapt to Salem's minor quirks fairly quickly.
The largest difference between the two comes in the form of consumable choices. Des Moines can choose between Surveillance Radar (

) (with a 8.5 km range), Catapult Fighter (

), or Spotting Aircraft (

) for her Slot 3 consumable, and equips the standard version of Repair Party (

); Salem — who wasn't completed with her aircraft catapults installed — eschews aircraft entirely and has access to either Surveillance Radar (

) (with a 8.5 km range) or Hydroacoustic Search (

) in Slot 3, and equips a Repair Party (

) that is better than a standard one. Most other vital statistics remain identical — or roughly comparable — between the two.
The primary trait of Salem is her absurd rate of fire for a heavy cruiser: each of her barrels loads a fresh 203mm round every 5.5 seconds. The speed at which she pummels enemy targets is a sight to behold, whether she is punishing an enemy destroyer caught by her radar, or pumping super-heavy American armor-piercing shells into the sides of enemy cruisers and battleships. Enemy aircraft carriers don't enjoy seeing a Salem on the other team either; her impressive AA suite is only a touch worse than Des Moines', as Salem here is rendered without her short-range 20mm Oerlikons. With good handling characteristics and the utility offered by her consumables, Salem is an excellent support ship and a late-game terror. She serves equally well as both an anti-air and anti-destroyer screening vessel; however, unlike Des Moines, Salem's radar is not as useful in assisting in the destruction of enemy destroyers due to it's shorter range.
Like her sister ship, learning to use Salem's main battery guns to their fullest requires a bit of time and adaptation. The high shell arcs and long flight times at medium to long range give her both advantages and disadvantages that other Tier X cruisers lack. She is capable of sitting behind an island and using her high shell arcs to lob shells at distant targets from cover, or — more commonly — snuggle up to an island and point her bow at the enemy, while presenting a relatively small target profile. Exploiting this technique allows captains to turn a disadvantage into an advantage. Lobbing armor-piercing shells at bigger targets such as battleships can deal a surprising amount of damage in such a short time; however, captains should only do so when Salem is close enough to have the rounds deal maximum penetration.
Salem possesses a stronger Repair Party (

) than Des Moines, functioning identical to that of British cruisers of Tiers VIII-X. When it comes to taking fire damage, Salem is functionally immune: her heal can repair up to four full duration fires (damage from the HE shells that triggered the fires not withstanding). While the Repair Party (

) gives her more flexibility and survivability in the event of positioning mistakes, captains should not be relying it to keep them alive in situations that Des Moines couldn't survive.
Unlike most other Tier X cruisers, Salem cannot effectively fight as an anti-surface combatant in open water, and her slower shell speeds prevent her from faring well in ranged firefights. Instead, captains should focus on playing defensively during the initial stages of a game, and choose areas of the map that provide hard cover and allow them to fight enemies on their own terms at short and medium range. Despite lacking a torpedo armament, the closer Salem gets to a target, the more dangerous she becomes. It should not come as a surprise that if played right, Salem can dictate the early flow of a battle, then become more aggressive in the mid- and late-game stages, quickly mopping up the enemy team with her withering rate of fire. This isn't the only way to play Salem, of course, but it's a common one; captains should adjust their play style depending on the situation to give their team the best chance of winning. Knowing when to go defensive or aggressive is key to conning Salem to victory.
Pros:
Fast firing guns, like her sister ship (5.5 seconds base reload).
27mm of armor protects against 15-inch guns, citadel is protected by a thick 152mm belt.
Strong AA (though slightly weaker than Des Moines).
High shell arcs give her guns a lot of utility and make firing over islands easier.
Salem's Repair Party () makes her more survivable than Des Moines, with up to 48% of her health pool restored per charge (with the India Delta signal mounted).
AP shells have more forgiving angles for ricochet prevention.
Very high chances to set fires.
Cons:
High shell arcs make leading shots more difficult.
Citadel is above water and easy to hit when showing broadside, and all 16" guns can overmatch her armor.
Salem's Surveillance Radar () has a short range (8.5 km) compared to other radar cruisers.
No torpedoes; must rely on guns for damage.
Lack of torpedo defense.
Very short ranged main battery for a Tier X cruiser with a stock reach of 15.8km and no Spotter Aircraft consumable.
Slow turret rotation for a cruiser.
No Unique Upgrade (being the first tier X ship without one).
Requires 240,000 Coal to purchase (can be reduced to 180,000 with a coupon).
Research
As a premium ship, Salem doesn't have any upgrades to research.
Optimal Configuration
Upgrades
The recommended upgrades for Salem are as follows:
Slot 1 provides Salem with two viable options. Main Armaments Modification 1 (

) should be mounted to increase the survivability of the main armament. This upgrade is useful for any chosen build; however, captains specifically seeking to specialize in anti-aircraft duties may choose to mount Auxiliary Armaments Modification 1 (

) to increase the survivability of the anti-aircraft armament.
Slot 3 allows for further specialization in the desired role. For builds focusing on gunnery, Aiming Systems Modification 1 (

) is a prudent choice to reduce dispersion, thereby increasing the chance of landing a citadel hit with a well-placed shot. For anti-aircraft duties, mount AA Guns Modification 1 (

).
Slot 6 provides Salem with further specialization in her chosen role. Main Battery Modification 3 (

) is an excellent choice to reduce the reload time of her main guns, providing her with a higher DPM. Gun Fire Control System Modification 2 (

) may be a useful choice for captains looking to set fires at very long range. To finalize an anti-aircraft build, mount Auxiliary Armaments Modification 2 (

).
Commander Skills
As Salem shares many of the same characteristics as Des Moines, key skills for Salem commanders are the same: Jack of All Trades, Superintendent, and Advanced Firing Training.
Recommended Commander Skills
Cost
(points)

Endurance

Attack

Support

Versatility



1

★★★

★★

 

Χ

Χ

Χ

★

Χ



2

★

★★★

★★

Χ

Χ

Χ

★★★

 



3

★

★

Χ

Χ

★★

★★★

★★★

★



4

Χ

 

Χ

Χ

★★★

 

★★

★★★

Key: ★★★ - Extremely Useful      ★★ - Frequently Useful      ★ - Occasionally Useful     No stars - Meh     

Χ

- Not recommended
Consumables
Salem can equip the following consumables:
Camouflage
As a premium ship, Salem comes included with Type 20 camouflage that lowers her detection radius, reduces the accuracy of incoming shells, increases the credits she earns, lowers her servicing costs, and increases the amount of experience she earns.
Signals
Salem captains should mount standard signal flags to improve the ship's performance in battle. India Delta (

) and November Foxtrot (

) flags are highly recommended to improve the ship's survivability. Sierra Mike (

) flags are also recommended to increase the ship's top speed. India X-Ray (

) and Victor Lima (

) signal flags can be mounted to improve the ship's main battery. Lastly, economic and special signal flags can be mounted to increase the ship's economic gains per battle.
Recommended Signal Flags
Combat

★★

 

★

 

★★

 

★★

★★★

★★★

★

★★

★

Economic

★★

★★

★★★

★★

★

Special

★★

★★★

★★★

★★

★★★

 

 

 

Key: ★★★ - Extremely Useful       ★★ - Frequently Useful       ★ - Occasionally Useful      No stars - Not Useful
Gallery
References
↑ The status of Salem has been clarified: she is a "Special" ship, like others that are available for resources rather than cash. Special ships do not have the credit earning bonuses of true premiums. In all other relevant ways, they are treated as premium ships.