Sampson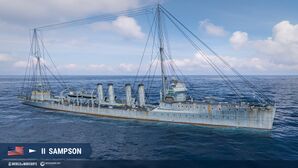 Tech Tree Position
102 mm/50 Mk.9 on a single mount
4 х 1 

pcs.
Rate of Fire
8.57 

shots/min.
Reload Time
7 

sec.
Rotation Speed
11.5 

deg./sec.
180 Degree Turn Time
15.65 

sec.
Firing Range
7.78 

km.
Maximum Dispersion
73 

m.
HE Shell
102 mm HE/HC Mk15 
Maximum HE Shell Damage
1,500 
Chance of Fire on Target Caused by HE Shell
6 

%
Initial HE Shell Velocity
884 

m./s.
HE Shell Weight
14.97 

kg.
AP Shell
102 mm AP/SC Mk16 
Maximum AP Shell Damage
1,700 
Initial AP Shell Velocity
884 

m./s.
AP Shell Weight
14.97 

kg.
533 mm Twin
4 х 2 

pcs.
Rate of Fire
2.73 

shots/min.
Reload Time
22 

sec.
Rotation Speed
25 

deg./sec.
180 Degree Turn Time
7.2 

sec.
Torpedo
Bliss Leavitt Mk2 
Maximum Damage
5,900 
Torpedo Speed
49 

knot
Torpedo Range
5.001 

km.
12.7 mm Browning on a single mount
2 х 1 

pcs.
. . . Average Damage per Second
7.6 
. . . Firing Range
1.2 

km.
Maximum Speed
29.5 

knot
Turning Circle Radius
520 

m.
Rudder Shift Time
4 

sec.
Surface Detectability Range
5.76 

km.
Air Detectability Range
2.38 

km.
Battle Levels
Sampson — American Tier II destroyer.
The U.S. Navy needed ships that could operate together with the ocean line fleet anywhere in the world and act as scouts for squadrons. This resulted in the introduction of long-range, low-silhouette destroyers. The most advanced series was represented by the six Sampson-class ships. The lead ship became part of a detachment of American ships operating in Europe and was used to escort convoys until the end of World War I.
Modules
Compatible Upgrades
Player Opinion
Performance
Warning. The data presented in the AA Defense sidebar section may be incorrect.
For a graphic summary of ships Tiers VIII thru XI see LittleWhiteMouse's "Actual AA DPS".
Budding American destroyer captains start their journey here with Tier II's Sampson. Sampson has a lot in common with her Japanese counterpart, Umikaze: both are hard to detect; both have torpedo reload speeds that allow them to put seemingly endless amounts of torpedoes in the water; both are fairly maneuverable and devilishly hard to hit.
They're far from identical, however. Sampson's main battery is more usable than Umikaze's in that the guns traverse and reload faster, though Umikaze's shells hit harder. V-25 remains the best gunboat destroyer at Tier II thanks to her rate of fire, but Sampson's guns do well enough for what they are.
It's her "other" main battery weapon that that terrifies low-tier battleships: wave after wave of torpedoes.
Sampson
's fish are faster than those of
Umikaze
, and they come just as relentlessly, like clockwork, every 22-23 seconds. They have pretty short legs for torpedoes — only 4.5 km — but that's a handicap that American destroyer captains are advised to get used to early; they won't start seeing torpedoes capable of hitting targets at medium range until
Mahan
at Tier VII. The extremely short range will require
Sampson
captains to use islands as cover to approach their targets, or to make near-suicidal head-on charges against ships with far more health and bigger guns. In that sense,
Sampson
is a perfect introduction to the flavor of the line, though the guns do steadily improve over the next few tiers.
Pros:
Excellent concealment allows her work in very close to targets before launching torpedoes.
Highly maneuverable.
Low, flush-deck profile makes her a difficult target.
Torpedoes reload amazingly fast.
Cons:
Very little armor.
Anti-aircraft suite is essentially useless; luckily, she shouldn't see aircraft carriers.
Sheds a lot of speed while maneuvering.
Main battery reload time is painfully slow.
Research
Availability of researchable upgrades for Sampson is as follows:
Hull: Upgrade to Hull (B) for a touch more health, improved rudder shift speed, and an extra AA gun. Research of this module unlocks progression to Wickes.
Torpedoes: The upgraded torpedoes move notably quicker, as well as hitting a little harder. Their range does not improve. Hull (B) must be researched in order to research this module.
Gun Fire Control System: Upgrade to Mk3 mod. 2 for an extra 10% range on the main battery.
Hull (B) is the best place to invest early experience gains in
Sampson
; the extra hit points aren't much, but every little bit helps. Which module upgrade is taken next is up to individual captains. The Torpedo module upgrade doesn't look like much, but a 10% improvement in speed makes her torpedoes much harder to dodge.
Optimal Configuration
Upgrades
The recommended upgrades for Sampson are as follows:
Captains who are concerned about possible detonations are encouraged to equip Magazine Modification 1
instead.
Commander Skills
Preventative Maintenance is the best pick out of the Level 1 skills, to reduce the chances of having her engine knocked out by enemy gunfire. Level 2 offers Last Stand for those times when her engine goes out anyway. Survivability Expert is probably the best of the lot at Level 3, though Main Battery & AA Specialist isn't a bad pick either. Level 4's Concealment Expert makes her even harder to detect and is highly recommended.
  Recommended Commander Skills  
Cost
(points)

Attack

Defense



1

 

★

★

 

★

★★★



2

★

★

 

 

★★

★★★



3

★★★

★

★★★

 

 

★★★



4

★

★★

★★

 

★★★

★★

Key: ★★★ - Extremely Useful      ★★ - Frequently Useful      ★ - Occasionally Useful     No stars - Not Useful
Consumables
Sampson can equip the following consumables:
Signals
Note: Use of the Juliet Charlie signal makes detonation impossible.
Gallery
References
See here for links to Update notes.

Added to the game in Update 0.2.2 (alpha) as a Tier 3 tech tree destroyer.
Update 0.3.0:

Moved from Tier III to Tier II.

Update 0.5.0:

Main battery turret rotation speed increased from 10 to 11.5 degrees per second.
The Experience and Credit earnings were reduced by a value in the range of 5-10%.

Update 0.5.2:

Credit earnings increased by 5%.

Update 0.5.3:

Credit earnings increased by 2%.

Update 0.5.7:

The armor model of the hull was refined.

Update 0.5.8:

The rotation sector of the main battery turret No. 1 is equal to 360°.

Update 0.6.9:

Improved appearance with the use of a special technology for improved rendering of thin elements (rigging).

Update 0.6.12:

Detectability when firing main guns in smoke changed to 1.95 km.

Update 0.6.13:

Fire extinguishing time now 30 s instead of 60 s.

Update 0.7.9:

Range of stock and upgraded torpedoes increased from 4.5 to 5 km.

Update 0.8.3:

The ship's detectability in smoke after firing was rounded up to 2 km.

Update 0.8.5:

Credit earnings decreased by 5%.
Experience earnings reduced by 5%.

Update 0.10.5:

Fixed geometry and textures of the ship.

Update 0.11.6:

Ship's 3D model changed, resulting in:

0.02 m decrease in draught.
0.1 m increase in hull height.
0.06 m decrease in waterline length.
0.03 m increase in total length.

457 mm torpedoes have been replaced with 533 mm torpedos. The technical characteristics of the torpedoes did not change.
Aiming sector of the first and second torpedo launchers increased by 5 degrees.
Mid-range AA defenses of Hull A has been decreased to short-range:

AA defenses action range decreased from 2.5 to 1.5 km.
Damage increased from 7 to 17.
Hit chances decreased from 100% to 95%.

Amount of HP in the superstructure of Hull A increased from 200 to 300.
Amount of HP in the stern of Hull A decreased from 900 to 800.
Amount of HP in the superstructure of Hull B increased from 200 to 300.

Update 0.11.9:

Minor fixes to geometry and textures of the ship.