Sims
Revision as of 19:17, 20 May 2016

Created page with "<!-- DO NOT EDIT OR DELETE LINES WITH COMMENTS (it's look like as this or next line) -->{{WoWs_Ship|Promo=<!-- in case of gift or promo ship write conditions to get it. -->..."

 
Revision as of 18:25, 2 August 2016
Line 5:
Line 5:
 
 
 
|Performance=<!-- write text about performance in battles below -->
 
|Performance=<!-- write text about performance in battles below -->
 
+
 
+
 
+
 
+
 
+
 
+
 
+
 
+
 
+
 
+
 
+
 
+
 
+
 
 
 
|Research=<!-- write text about priority sequence of research below -->
 
|Research=<!-- write text about priority sequence of research below -->
 
 
 
|Pros=<!-- write list of positive points below. use * as in ordinary wiki-list. -->
 
|Pros=<!-- write list of positive points below. use * as in ordinary wiki-list. -->
 
+
 
+
 
+
 
+
 
+
 
+
 
+
 
+
 
+
 
+
 
+
 
+
 
 
 
|Cons=<!-- write list of negative points below. use * as in ordinary wiki-list. -->
 
|Cons=<!-- write list of negative points below. use * as in ordinary wiki-list. -->
 
+
 
+
 
+
 
+
 
+
 
+
 
+
 
+
 
+
 
+
 
+
 
 
 
|Gallery=<!-- write below list of files without tags. description (if necessary) for each should be separated with template {{!}} --><gallery>
 
|Gallery=<!-- write below list of files without tags. description (if necessary) for each should be separated with template {{!}} --><gallery>
 
 
 
</gallery>|History=<!-- write text below -->
 
</gallery>|History=<!-- write text below -->
 
+
 
+
 
+
 
 
 
|HistoricalGallery=<!-- write below list of files without tags. description (if necessary) for each should be separated with template {{!}} --><gallery>
 
|HistoricalGallery=<!-- write below list of files without tags. description (if necessary) for each should be separated with template {{!}} --><gallery>
 
+
 
+
 
+
 
 
 
</gallery>|Video=<!-- put below video clips with using template VideoYT. You can use html-tags for formatting. -->
 
</gallery>|Video=<!-- put below video clips with using template VideoYT. You can use html-tags for formatting. -->
Revision as of 18:25, 2 August 2016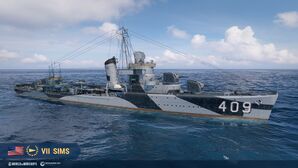 Tech Tree Position
127 mm/38 Mk.12 on a Mk.30 mod.0 mount
4 х 1 

pcs.
Rate of Fire
17.96 

shots/min.
Reload Time
3.34 

sec.
Rotation Speed
34 

deg./sec.
180 Degree Turn Time
5.29 

sec.
Firing Range
12.88 

km.
Maximum Dispersion
111 

m.
HE Shell
127 mm HE Mk32 
Maximum HE Shell Damage
1,800 
Chance of Fire on Target Caused by HE Shell
5 

%
Initial HE Shell Velocity
792 

m./s.
HE Shell Weight
24.5 

kg.
AP Shell
127 mm AP/SC Mk38 
Maximum AP Shell Damage
2,100 
Initial AP Shell Velocity
792 

m./s.
AP Shell Weight
25 

kg.
533 mm Quad
2 х 4 

pcs.
Rate of Fire
0.69 

shots/min.
Reload Time
87 

sec.
Rotation Speed
25 

deg./sec.
180 Degree Turn Time
7.2 

sec.
Torpedo
Mk15 mod. 0 
Maximum Damage
11,600 
Torpedo Speed
65 

knot
Torpedo Range
6.99 

km.
127 mm/38 Mk.12 on a Mk.30 mod.0 mount
3 х 1 

pcs.
. . . Average Damage per Second
32.1 
. . . Firing Range
5.01 

km.
Maximum Speed
38.5 

knot
Turning Circle Radius
500 

m.
Rudder Shift Time
2.7 

sec.
Surface Detectability Range
7.56 

km.
Air Detectability Range
2.93 

km.
Battle Levels
Sims — American promo premium Tier VII destroyer.
A well-armed high-speed destroyer with excellent maneuverability. High rate of fire and excellent aiming speeds for her dual-purpose artillery mounts ensured good firepower and efficient AA defenses for her time.
Modules
Compatible Upgrades
 Slot 1 
 Slot 2 
 Slot 3 
 Slot 4 
Player Opinion
Performance
This ship plays mostly like any other American destroyer. Its fast; very manuvrable; the guns spit those shells out at a amazing 18 rpm, and they turn fast, very fast. The suface Detectability is rather big, but smaller than that of the Mahan, 7.3 km. with captainskills, you can get it down at a range of 6.8km. The turning time is a glorious 500 meter. The best tactic you can use is to fit the 5.5km torpedoes and fight in close quarters, and around islands. But you can also fit the 9.2km range torpedoes and fire them from stealth. A lot of the time, at extreme range your targets can easely avoid most of them, because its a rather wide spread. And even if they do hit, they only do about 8000 damage. Or you can hunt down battleships. Because it is a small ship, those battleships will have a hard time hitting you. While your guns have a small chance setting ships on fire, and the arc is so bad, battleships dont go fast and if you put in a lot of shots, they will set on fire. A reasonable marksman can hit a big battleship over 100 times in mid-long range. you can also fight other destroyers really well in ranges less than 7km. Because then, you dont have to worry about the bad arc. Watch out for cruisers, and dont engage them alone,
only if they are on low health or you have allies with you.
Pros:
Guns turn very fast, they are always on target
Very reactive armament
Can choose 2 sets of torpedoes, rather than 1, so you can fit this ship depending on YOUR playstyle
Fast firing guns
Good acceleration and agility
Great rudder shift time of only 2.1 seconds
Fast top speed of 38.5 knots
Is a Premium
can fire from stealth in her stock configuration
Can mount the AA cooldown consumable, wich is normaly only fit on cruisers
If the comander is fully trained, the ship can fire up to a range of 15.5(!), wich is Phenomenal for a destroyer at her tier
An awsome 500 meter tight turning circle, the best in-game
Cons:
Fragile rudder
Fragile engine
Fragile armament
Paper offers better protection than hull
9 km torpedoes are slow, and don't do a lot of damage
The other set of torpedoes only go up to 5.5km but only do 11.000 damage, but travel at a fast speed of 65 knots
The notoriuos 'Rainbow' shell arc, so its hard to hit ships at long range.
Is not a very good moneymaker, despite beeing a premium
AA suit is underpreforming
Rather large detectabilaty for a destroyer
guns have a low fire chance
Gallery