Småland
Revision as of 21:01, 3 August 2020

{{Emergency Engine Power}}

Revision as of 09:41, 23 September 2020

Updated performance section to clarify that Småland is far more than just a DD hunter

Line 18:
Line 18:
 
''Småland'' is a Tier X European premium destroyer, researchable for 2,000,000{{FXP}}. It is a sister ship to the tech tree ''[[Halland]]'', but has some significant differences compared to her tech tree counterpart - most importantly, ''Småland'' has access to {{Surveillance Radar}}.
 
''Småland'' is a Tier X European premium destroyer, researchable for 2,000,000{{FXP}}. It is a sister ship to the tech tree ''[[Halland]]'', but has some significant differences compared to her tech tree counterpart - most importantly, ''Småland'' has access to {{Surveillance Radar}}.
 
 
?
Whereas [[Halland]] is a well-rounded generalist ship centered around its torpedoes, ''Småland'' is far more specialized in its role, and relies much more on its guns. Its torpedo armament (an unusual arrangement of one 5-tube launcher and one 3-tube) is significantly weaker than ''Halland's'' in most ways, but on the other hand, its main battery is one of the strongest of any destroyer in the game. The firing range is somewhat limited (although not as severely as on the ''Halland'') and the ballistics are mediocre at best, but the damage output is extremely high. Without access to a Smoke Generator though, actually using the guns extensively is usually not so easy.
+
Whereas [[Halland]] is a well-rounded generalist ship centered around its torpedoes, ''Småland'' is far more specialized in its role, and relies much more on its guns. Its torpedo armament (an unusual arrangement of one 5-tube launcher and one 3-tube) is significantly weaker than ''Halland's'' in most ways, but on the other hand, its main battery is one of the strongest of any destroyer in the game. The firing range is somewhat limited (although not as severely as on the ''Halland'') and the ballistics are mediocre at best, but the damage output is extremely high . access to a , is .
 
 
?
In addition to the exceptional main battery, ''Småland'' also has access to {{Surveillance Radar}}, as well as an unusual {{Emergency Engine Power}} consumable with a short duration but a strong speed increase. Like the other European destroyers, it also has a {{Repair Party}}. With this in mind, it is clear that this ship is highly specialized for a particular task - hunting other destroyers. It can detect other destroyers with its radar, engage or disengage with the engine boost, and it outguns almost all other destroyers while also being able to repair incoming damage.
+
In addition to the exceptional main battery, ''Småland'' also has access to {{Surveillance Radar}}, as well as an unusual {{Emergency Engine Power}} consumable with a short duration but a strong speed increase. Like the other European destroyers, it also has a {{Repair Party}}. With this in mind, it is clear that this ship is highly for a particular task - hunting other destroyers. It can detect other destroyers with its radar, engage or disengage with the engine boost, and it outguns almost all other destroyers while also being able to repair incoming damage.
 
 
?
Of course, the downside of this specialization is that the ship becomes less effective outside of its specialization. One of the strengths of its tech tree sister ''[[Halland]]'' is that the long-range torpedoes and strong anti-aircraft defenses make it relatively resilient against both radar and aircraft carriers, but ''Småland'' is not as strong in this regard. Its torpedoes are both shorter ranged and weaker in general, and while the anti-aircraft defenses are good for a destroyer, it lacks access to Defensive AA Fire.
+
the is '''' - it and , is not . , and the a , it to .
 
 
?
When fighting other destroyers, ''Småland'' is devastatingly effective. However, it is far less flexible than its tech tree sister and generally less effective at fighting other ship classes.
+
other destroyers ''Småland'' is , it is effective other ship classes .
 
 
 
|Pros=<!-- write list of positive points below. use * as in ordinary wiki-list. -->
 
|Pros=<!-- write list of positive points below. use * as in ordinary wiki-list. -->
Revision as of 09:41, 23 September 2020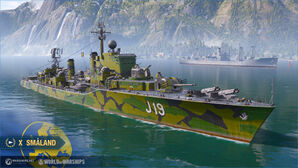 Tech Tree Position
120 mm/50 Bofors M1950
2 х 2 

pcs.
Rate of Fire
35.29 

shots/min.
Reload Time
1.7 

sec.
Rotation Speed
25 

deg./sec.
180 Degree Turn Time
7.2 

sec.
Firing Range
11.45 

km.
Maximum Dispersion
100 

m.
HE Shell
120 mm HE M1950 
Maximum HE Shell Damage
1,750 
Chance of Fire on Target Caused by HE Shell
8 

%
Initial HE Shell Velocity
825 

m./s.
HE Shell Weight
23.5 

kg.
AP Shell
120 mm AP M1950 
Maximum AP Shell Damage
2,100 
Initial AP Shell Velocity
825 

m./s.
AP Shell Weight
23.5 

kg.
533 mm Quintuple
1 х 5 / 1 х 3 

pcs.
Rate of Fire
0.6 

shots/min.
Reload Time
100 

sec.
Rotation Speed
25 

deg./sec.
180 Degree Turn Time
7.2 

sec.
Torpedo
Torped M1943 mod 1 
Maximum Damage
10,700 
Torpedo Speed
76 

knot
Torpedo Range
12 

km.
120 mm/50 Bofors M1950
2 х 2 

pcs.
. . . Average Damage per Second
122.4 
. . . Firing Range
5.19 

km.
40 mm/70 Bofors M1948
6 х 1 

pcs.
. . . Average Damage per Second
156.6 
. . . Firing Range
3.51 

km.
57 mm/60 Bofors M1950
1 х 2 

pcs.
. . . Average Damage per Second
50.2 
. . . Firing Range
3.99 

km.
Maximum Speed
35 

knot
Turning Circle Radius
660 

m.
Rudder Shift Time
4.3 

sec.
Surface Detectability Range
7.82 

km.
Air Detectability Range
3.47 

km.
Battle Levels
Småland — European Tier X destroyer.

One of the largest and most powerful destroyers in the Swedish Royal Navy, armed with highly effective 120 mm main guns that boasted a high rate of fire. The ship's distinctive feature was her torpedo launchers with different numbers of tubes.
Småland
is now preserved as a
military museum ship
at Maritiman in Gothenburg, Sweden.
Modules
Compatible Upgrades
 Slot 1 
 Slot 2 
 Slot 3 
 Slot 4 
 Slot 5 
 Slot 6 
Player Opinion
Performance
Småland is a Tier X European premium destroyer, researchable for 2,000,000 

. It is a sister ship to the tech tree Halland, but has some significant differences compared to her tech tree counterpart - most importantly, Småland has access to Surveillance Radar (

).
Whereas Halland is a well-rounded generalist ship centered around its torpedoes, Småland is far more specialized in its role, and relies much more on its guns. Its torpedo armament (an unusual arrangement of one 5-tube launcher and one 3-tube) is significantly weaker than Halland's in most ways, but on the other hand, its main battery is one of the strongest of any destroyer in the game. The firing range is somewhat limited (although not as severely as on the Halland) and the ballistics are mediocre at best, but the damage output is extremely high and it is exceptionally good at starting fires. Additionally, unlike Halland, Småland lacks access to Defensive AA Fire, and while its anti-aircraft defenses are strong for a destroyer, it is far more vulnerable to aircraft carriers than its sister.
In addition to the exceptional main battery, Småland also has access to Surveillance Radar (

), as well as an unusual Emergency Engine Power (

) consumable with a short duration but a strong speed increase. Like the other European destroyers, it also has a Repair Party (

). With this in mind, it is clear that this ship is highly optimized for a particular task - hunting other destroyers. It can detect other destroyers with its radar, engage or disengage with the engine boost, and it outguns almost all other destroyers while also being able to repair incoming damage. The concealment is only mediocre, but that is not much of a problem in practice since the radar range is far greater than the ship's own detection range - if spotted by an undetected ship, simply activate the radar and the other ship will be revealed.
Since the torpedo armament is quite weak for Tier X, Småland must also rely chiefly on its main battery when fighting larger ships. This can be challenging - the ship lacks access to a Smoke Generator, it is fairly big and slow, and the firing range is not particularly impressive. However, it does have one tool at its disposal that helps a lot with damage mitigation, and that's the Emergency Engine Power (

) consumable. While it is active, the ship accelerates extremely quickly and has a very high top speed, and when appropriate evasive maneuvers are taken it becomes a very challenging target to hit, enabling a playstyle like that of the French or Soviet destroyers.
Fighting other destroyers in the
Småland
is quite easy, and it is devastatingly effective in an ambushing role. Fighting other ship classes is more challenging, but the immense power of its main battery should not be underestimated. Use it as much as possible.
Pros:
Exceptionally strong main battery damage output.
Fast torpedoes with a relatively quick reload and decent range.
Good anti-aircraft defenses.
Unique, strong Emergency Engine Power () consumable.
Mounts Surveillance Radar ().
Cons:
Large and unwieldy hull, with poor top speed.
Only 8 torpedo tubes, with very low damage per torpedo
Poor concealment for a tier X destroyer
Short duration Emergency Engine Power (), though an extra charge.
No Smoke Generator consumable
Research
As a premium ship, Småland doesn't have any modules to research.
Optimal Configuration
Upgrades
The recommended upgrades for Småland are as follows:
Commander Skills
Recommended Commander Skills
Cost
(points)

Endurance

Attack

Support

Versatility



1

★★★

★★★

 

Χ

Χ

Χ

 

Χ



2

★

 

 

★

Χ

Χ

★★

★★★



3

 

★★★

★★

Χ

★★★

★★★

★★

 



4

Χ

 

 

Χ

★

 

★★

★★★

Key: ★★★ - Extremely Useful      ★★ - Frequently Useful      ★ - Occasionally Useful     No stars - Meh     

Χ

- Not recommended
Consumables
Småland equips the following consumables:
Camouflage
As a premium ship,
Småland
comes with
Type 20 camouflage
that lowers her detection radius, reduces the accuracy of incoming shells, reduces her repair costs, and increases the amount of experience she earns.
Gallery
References