Tátra
Revision as of 13:15, 16 April 2020
Revision as of 03:33, 19 April 2020

Added performance and rounded out the pros and cons

Line 15:
Line 15:
 
3. Write a brief summary paragraph of 1-3 sentences highlighting the key takeaways from the paragraphs above.
 
3. Write a brief summary paragraph of 1-3 sentences highlighting the key takeaways from the paragraphs above.
 
-->
 
-->
?
 
+
 
|Pros=<!-- write list of positive points below. use * as in ordinary wiki-list. -->
 
|Pros=<!-- write list of positive points below. use * as in ordinary wiki-list. -->
?
*
+
*
?
*
+
*
?
*
+
*
?
*
+
*
 
 
 
|Cons=<!-- write list of negative points below. use * as in ordinary wiki-list. -->
 
|Cons=<!-- write list of negative points below. use * as in ordinary wiki-list. -->
 
* Only 2 player controlled guns
 
* Only 2 player controlled guns
?
* The 6 7cm K10 guns are too small to be noted as a secondary armament, two of which were mounted in DP mounts.
+
*
?
*
+
*
?
*
+
 
 
 
|Research=<!-- write text about priority sequence of research below -->
 
|Research=<!-- write text about priority sequence of research below -->
Revision as of 03:33, 19 April 2020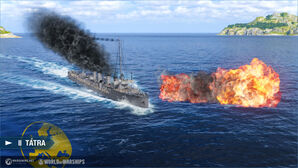 Tech Tree Position
100 mm/50 Skoda K10
2 х 1 

pcs.
Rate of Fire
13.33 

shots/min.
Reload Time
4.5 

sec.
Rotation Speed
10 

deg./sec.
180 Degree Turn Time
18 

sec.
Firing Range
8.3 

km.
Maximum Dispersion
83 

m.
HE Shell
100 mm HE M1910 
Maximum HE Shell Damage
1,450 
Chance of Fire on Target Caused by HE Shell
6 

%
Initial HE Shell Velocity
880 

m./s.
HE Shell Weight
13.75 

kg.
AP Shell
100 mm AP M1910 
Maximum AP Shell Damage
1,650 
Initial AP Shell Velocity
880 

m./s.
AP Shell Weight
13.75 

kg.
450 mm Twin
2 х 2 

pcs.
Rate of Fire
2 

shots/min.
Reload Time
30 

sec.
Rotation Speed
25 

deg./sec.
180 Degree Turn Time
7.2 

sec.
Torpedo
Torped M1913 
Maximum Damage
4,200 
Torpedo Speed
55 

knot
Torpedo Range
8.01 

km.
Maximum Speed
32.5 

knot
Turning Circle Radius
460 

m.
Rudder Shift Time
3 

sec.
Surface Detectability Range
6.22 

km.
Air Detectability Range
2.43 

km.
Battle Levels
Tátra — European Tier II destroyer.
A series of the best destroyers of the Austro-Hungarian Navy that were built as part of the naval program and intended to equip the navy with more advanced ships. The artillery for the destroyers was supplied by the Czech company Škoda.
Modules
Compatible Upgrades
| | | |
| --- | --- | --- |
|  Slot 1  | | |
Player Opinion
Performance

The Tatra is the newest Tier II destroyer in the game, and perhaps one of the most unique as well. It does not possess the raw gun firepower of something like the V-25, with her 4 105mm guns, nor is her torpedo armament as powerful as that of the Umikaze's fast reloading nuclear-tipped 18 inch torpedoes. Tatra's strong points lie in her flexibility. She only has 2 100mm guns with a relatively slow reload, but the guns themselves hit hard, and the shell ballistics are fantastic for close in duels. Her torpedoes are also perhaps some of the most powerful at her tier, with a fast reload and the ability to launch the torpedoes so close together that a skilled captain can easily nail a target with all six of them at ranges far beyond her own detection range. There are downsides, however. Her torpedo damage is less than average, and captains will struggle with properly damaging anything larger than a destroyer. Also, her hull is quite large for a destroyer, and despite the large HP pool of 8,100, captains should be advised and not take any unnecessary risks.
Pros:
Large HP pool of 8,100 HP
Surgically precise torpedo armament
Guns reload fast and hit hard
Good stealth
Cons:
Only 2 player controlled guns
Large hull
Slow for a destroyer
Optimal Configuration
Commander Skills
Recommended Commander Skills
Cost
(points)

Endurance

Attack

Support

Versatility



1

★★★

★★★

 

Χ

Χ

Χ

 

Χ



2

 

 

 

★★★

Χ

Χ

★★

★★★



3

 

★★★

★★

Χ

★★

★★★

★★

 



4

 

 

 

Χ

★★

 

 

★★★

Key: ★★★ - Extremely Useful      ★★ - Frequently Useful      ★ - Occasionally Useful     No stars - Meh     

Χ

- Not recommended
Gallery
References