Texas
Revision as of 02:21, 11 April 2021
Latest revision as of 16:43, 12 April 2021
Line 14:
Line 14:
 
Players experienced with the American battleship line will have little trouble adapting to ''{{#var:ship_name}}''' playstyle; she is as subtle as a brick to the face, and she doesn't get where she's going in a hurry. Still, for a mid-tier premium, ''{{#var:ship_name}}'' is a great ship for making credits and re-training captains: fun to drive, easy to learn, and uncomplicated to play.
 
Players experienced with the American battleship line will have little trouble adapting to ''{{#var:ship_name}}''' playstyle; she is as subtle as a brick to the face, and she doesn't get where she's going in a hurry. Still, for a mid-tier premium, ''{{#var:ship_name}}'' is a great ship for making credits and re-training captains: fun to drive, easy to learn, and uncomplicated to play.
 
 
 
+
 
+
 
 
 
|Pros=<!-- write list of positive points below. use * as in ordinary wiki-list. -->
 
|Pros=<!-- write list of positive points below. use * as in ordinary wiki-list. -->
Latest revision as of 16:43, 12 April 2021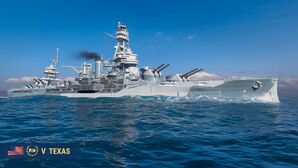 Tech Tree Position
356 mm/45 Mk.8 in a turret
5 х 2 

pcs.
Rate of Fire
1.75 

shots/min.
Reload Time
34.28 

sec.
Rotation Speed
3 

deg./sec.
180 Degree Turn Time
60 

sec.
Firing Range
16.42 

km.
Maximum Dispersion
224 

m.
HE Shell
356 mm HE/HC Mk22 
Maximum HE Shell Damage
5,000 
Chance of Fire on Target Caused by HE Shell
30 

%
Initial HE Shell Velocity
834 

m./s.
HE Shell Weight
578.34 

kg.
AP Shell
356 mm AP Mk16 
Maximum AP Shell Damage
10,300 
Initial AP Shell Velocity
792 

m./s.
AP Shell Weight
680.4 

kg.
127 mm/51 Mk.7 on a Mk.13 mount
6 х 1 

pcs.
Firing Range
4.3 

km.
Rate of Fire
8.57 

shots/min.
Reload Time
7 

sec.
HE Shell
127 mm HE/HC Mk39 
Maximum HE Shell Damage
1,800 
Initial HE Shell Velocity
960 

m./s.
Chance of Fire on Target Caused by HE Shel
6 

%
20 mm Oerlikon on a Mk.4 mount
44 х 1 

pcs.
. . . Average Damage per Second
158.4 
. . . Firing Range
2.01 

km.
40 mm Bofors on a Mk.2 mount
10 х 4 

pcs.
. . . Average Damage per Second
159 
. . . Firing Range
3.51 

km.
76 mm/50 Mk.22 on a single mount
10 х 1 

pcs.
. . . Average Damage per Second
28 
. . . Firing Range
3.51 

km.
Maximum Speed
20.5 

knot
Turning Circle Radius
650 

m.
Rudder Shift Time
14 

sec.
Surface Detectability Range
16.02 

km.
Air Detectability Range
8.54 

km.
Battle Levels
Texas — American premium Tier V battleship.
One of the first super-dreadnoughts in the U.S. Navy. She underwent extensive retrofitting to reinforce her torpedo protection and horizontal armor. During World War II, she received powerful AA armament.

USS Texas is now preserved as a military museum ship in La Porte, Texas, just east of Houston, at the San Jacinto Battleground State Historic Site.

Texas first went on sale in May 2016.


Modules
Compatible Upgrades
Player Opinion
Performance
Texas is a late World War II variant of the American Tier V New York-class battleship. She has essentially the same primary statistics as New York; her health pool, armor, guns, turret traverse, and range are all the same. There are subtle differences in her speed (0.5 kts slower), detectability ranges (more visible from the air), and rudder shift (slightly worse); the firing angles of her middle turret are a vast improvement over those aboard New York. The primary difference — and what everyone talks about when talking about Texas — is her ridiculous (for Tier V) anti-aircraft suite.
Texas boasts more than three times the anti-aircraft firepower of New York; indeed, she has more AA power than any other battleship of any nation until North Carolina at Tier VIII. Most of that punch is packed into her 40mm Bofors guns, which have a maximum range of only 3.5km. While it makes picking up the Advanced Firing Training commander skill an easy choice, it does leave players with a hard decision between AA Modification 2 and Artillery Plotting Room Modification 1 for Upgrade Slot 3.
Largely impervious to aircraft attacks, Texas can then focus her attention where it belongs: on enemy surface vessels. Like New York, her 14-inch guns are more than a match for the foes she will encounter at Tier V and VI, though she will struggle a bit more when up-tiered into Tier VII games. Similarly, her armor scheme holds up well until she starts seeing the incoming rounds from the likes of Colorado, Gneisenau, and Nagato. Destroyers that work in close will have to be dealt with via her primary weapons, as virtually all of her secondary batteries have been sacrificed in favor of anti-aircraft guns; she'll get very little help from the half-dozen anti-surface secondaries she has left.
Players experienced with the American battleship line will have little trouble adapting to Texas' playstyle; she is as subtle as a brick to the face, and she doesn't get where she's going in a hurry. Still, for a mid-tier premium, Texas is a great ship for making credits and re-training captains: fun to drive, easy to learn, and uncomplicated to play.
Pros:
Best-in-tier AA defense; in fact, the continuous DPS of her AA guns is higher than any other battleship until Tier VIII. Aircraft from tier IV carriers melt in her vicinity and tier VI carriers will have significant difficulty attempting a second strike if her AA suite is intact.
The third (amidships) turret has much better firing angles than New York
Slightly better torpedo protection and detection ranges than New York.
Solid AP performance at mid to close ranges
Lowered citadel is difficult to hit by equivalent tier battleships
Good turn radius owing to the low length to beam ratio characteristic of dreadnought battleships
19 km main battery range with Artillery Plotting Room Modification 1 (), and up to 22.8 with Spotting Aircraft () active
Cons:
Slow speed of 20.5 knots means she will frequently find herself left behind by her teammates.
Slightly worse rudder shift than New York gives her less reaction time to dodge incoming torpedoes.
Main guns have a slower rate of fire than her tech tree sister New York.
Her biggest strength — her AA armament — is vulnerable to being knocked out by incoming high explosive rounds; the longer she is under sustained HE fire, the less AA firepower she will have.
Short ranged AA (3.6km) with no flak explosions; this can work in her favor by enticing carrier aircraft closer where her medium and short-ranged AA will make quick work of them, but more often just means she has no long-range AA deterrent capable of assisting allies
Poor gun firing angles like her sister, you will have to give a significant amount of broadside to bring all her guns to bear
Prone to poor shell dispersion, accurate long-range gunnery will be difficult
Research
As a premium ship, Texas doesn't have any upgrades to research.
Optimal Configuration
Upgrades
The recommended upgrades for Texas are as follows:

Slot 1 is most commonly filled with Main Armaments Modification 1, though Auxiliary Armaments Modification 1 (

) is a popular pick for captains who go for a full AA build with other upgrades and commander skills. Slot 3 offers two viable options: Main Battery Modification 2 increases turret traverse speed, while Artillery Plotting Room Modification 1 (
) increases range and gives secondaries a slight boost in range and accuracy.
Commander Skills
Most aircraft carrier drivers know better than to mess with Texas, but without the adequate firing training skills/modifications, it is still possible to be torped or bombed by aircraft when the battleship is in a position where the carriers have no other choice. As a battleship, survivability is also an important benchmark, which means investing skill points into maximizing both her survivability and her anti-air defenses are the way to go.
The following information is provided for players who wish to create a permanent captain for the ship. Those players who are retraining captains or using the ship to gain extra experience for a captain should consult the page relevant to the ship to which the captain will be assigned.
  Recommended Commander Skills  
Cost
(points)

Attack

Defense



1

 

 

★★

 

 

★★



2

 

 

 

 

 

★★



3

 

 

★★

★★

 

★★



4

 

 

 

★★

 

★★

Key: ★★★ - Extremely Useful      ★★ - Frequently Useful      ★ - Occasionally Useful     No stars - Not Useful
Consumables
Texas can equip the following consumables:
Camouflage
As a premium ship, Texas comes included with Type 9 camouflage that lowers her detection radius, reduces the accuracy of incoming shells, and increases the amount of experience she earns.
An alternate Stars and Stripes camouflage is available for purchase as well; it has no additional bonuses, but the ship appears as a living embodiment of the American flag.
Signals
Recommended Signal Flags
Combat

★★

 

 

 

 

 

★

★★★

★★★

★★

★★★

★

 

 

Economic

★★

 

 

★★★

 

Special

★★

★★

★★

 

★★

 

 

 

Key: ★★★ - Extremely Useful       ★★ - Frequently Useful       ★ - Occasionally Useful      No stars - Not Useful
Note: Use of the Juliet Charlie signal makes detonation impossible.
Gallery
References

Cite error: <ref> tags exist, but no <references/> tag was found