Trento
Revision as of 02:35, 10 October 2020
Latest revision as of 14:30, 23 November 2020

Overhaul of Pros/Cons; rework of captain skills section; updated signal flag section for smoke flag addition.

 
Line 14:
Line 14:
 
3. Write a brief summary paragraph of 1-3 sentences highlighting the key takeaways from the paragraphs above.
 
3. Write a brief summary paragraph of 1-3 sentences highlighting the key takeaways from the paragraphs above.
 
-->
 
-->
?
''Trento'' is the first Italian cruiser to boast 203mm guns making it quite powerful. However, the long reload and slow shell velocities at longer distances make it a hard ship to play. Furthermore, it has thin armor, bad concealment for its range making it harder to survive if not well positioned. The SAP rounds are powerful, but not enough to scare nose-in BBs with the slow reload and few guns. They are potent against DDs and cruisers, but the dispersion and shell velocity is quite trolly. The torpedoes are dreadfully slow and unlikely to do much as well. Overall, it is a difficult ship to have fun in. It has slow shells, slow torpedoes, bad concealment and range.
+
''Trento'' is the first Italian cruiser to boast 203mm guns it powerful , the long reload a . Furthermore, armor . The SAP rounds are , but not enough to nose-in . The torpedoes are slow and . Overall, is a difficult ship to in, and .
 
 
 
|Pros=<!-- write list of positive points below. use * as in ordinary wiki-list. -->
 
|Pros=<!-- write list of positive points below. use * as in ordinary wiki-list. -->
?
* Increased torpedo Armament compared to ''Montecuccoli'' (3 torps per side vs. 2)
+
* 203mm , effective against .
?
* 203mm rounds, AP is effective against cruisers, SAP is effective against softer targets & superstructures.
+
* good can .
?
* Tougher Engine and Steering gears for her tier than ''Montecuccoli'', retains good speed & can absorb a little punishment if angled.
+
* range
?
* above-average accuracy at long range, turrets have faster turn time compared to ''Montecuccoli''
+
 
+
 
 
 
|Cons=<!-- write list of negative points below. use * as in ordinary wiki-list. -->
 
|Cons=<!-- write list of negative points below. use * as in ordinary wiki-list. -->
?
* Even slower reload speed than the ''Montecuccoli'', adding 0.7 seconds to reload.
+
* ..
?
* Torpedoes retain the same horrifying speed as those on the ''Montecuccoli''.
+
* .
?
* Shell arc can feel akin to an American Light cruiser at long range, lead accordingly.
+
* to .
?
* Worse torpedo protection compared to ''Montecuccoli'', Terrible detection range.
+
*
 
+
range .
 
 
 
|Research=<!-- write text about priority sequence of research below -->
 
|Research=<!-- write text about priority sequence of research below -->
Line 38:
Line 40:
 
 
 
The recommended upgrades for ''{{#var:ship_name}}'' are as follows:
 
The recommended upgrades for ''{{#var:ship_name}}'' are as follows:
?
* '''Slot 1''': {{Main Armaments Modification 1}}
+
* '''Slot 1''': {{Main Armaments Modification 1}}
 
* '''Slot 2''': {{Engine Room Protection}}
 
* '''Slot 2''': {{Engine Room Protection}}
 
* '''Slot 3''': {{Aiming Systems Modification 1}}
 
* '''Slot 3''': {{Aiming Systems Modification 1}}
?
* '''Slot 4''': {{Propulsion Modification 1}}
+
* '''Slot 4''': {{Propulsion Modification 1}}
 
 
 
|CommanderSkills=<!-- write text about best set of Commander Skills below -->
 
|CommanderSkills=<!-- write text about best set of Commander Skills below -->
 
+
 
+
 
 
 
{{Commander Skills 2
 
{{Commander Skills 2
 
<!-- This version enables a '0' rating. Use it for skills that have no effect (e.g. Improved Engines on a non-CV) or are detrimental to the ship. They should mirror what appears in the game client. -->
 
<!-- This version enables a '0' rating. Use it for skills that have no effect (e.g. Improved Engines on a non-CV) or are detrimental to the ship. They should mirror what appears in the game client. -->
 
| rating11 = 3 <!-- Priority Target -->
 
| rating11 = 3 <!-- Priority Target -->
?
| rating12 = <!-- Preventive Maint -->
+
| rating12 = <!-- Preventive Maint -->
?
| rating13 = <!-- Expert Loader -->
+
| rating13 = <!-- Expert Loader -->
 
| rating14 = 0 <!-- Air Supremacy -->
 
| rating14 = 0 <!-- Air Supremacy -->
 
| rating15 = <!-- Direction Center for Fighters -->
 
| rating15 = <!-- Direction Center for Fighters -->
 
| rating16 = 0 <!-- Improved Engine Boost -->
 
| rating16 = 0 <!-- Improved Engine Boost -->
?
| rating17 = <!-- Incoming Fire Alert -->
+
| rating17 = <!-- Incoming Fire Alert -->
 
| rating18 = 0 <!-- Last Gasp -->
 
| rating18 = 0 <!-- Last Gasp -->
 
 
 
| rating21 = <!-- High Alert -->
 
| rating21 = <!-- High Alert -->
?
| rating22 = <!-- Jack of All Trades -->
+
| rating22 = <!-- Jack of All Trades -->
?
| rating23 = <!-- Expert Marksman -->
+
| rating23 = <!-- Expert Marksman -->
?
| rating24 = <!-- Torpedo Acceleration -->
+
| rating24 = <!-- Torpedo Acceleration -->
 
| rating25 = <!-- Smoke Screen Expert -->
 
| rating25 = <!-- Smoke Screen Expert -->
 
| rating26 = 0 <!-- Improved Engines -->
 
| rating26 = 0 <!-- Improved Engines -->
 
| rating27 = 3 <!-- Adrenaline Rush -->
 
| rating27 = 3 <!-- Adrenaline Rush -->
?
| rating28 = <!-- Last Stand -->
+
| rating28 = <!-- Last Stand -->
 
 
?
| rating31 = <!-- Basics of Survivability -->
+
| rating31 = <!-- Basics of Survivability -->
?
| rating32 = <!-- Survivability Expert-->
+
| rating32 = <!-- Survivability Expert-->
 
| rating33 = <!-- Torpedo Armament Expertise-->
 
| rating33 = <!-- Torpedo Armament Expertise-->
 
| rating34 = 0 <!-- Aircraft Armor -->
 
| rating34 = 0 <!-- Aircraft Armor -->
Line 72:
Line 76:
 
| rating36 = 3 <!-- Superintendent -->
 
| rating36 = 3 <!-- Superintendent -->
 
| rating37 = 0 <!-- Demolition Expert - not with SAP -->
 
| rating37 = 0 <!-- Demolition Expert - not with SAP -->
?
| rating38 = <!-- Vigilance -->
+
| rating38 = <!-- Vigilance -->
 
 
 
| rating41 = 0 <!-- Manual Fire Control for Secondary Armament - game client says no -->
 
| rating41 = 0 <!-- Manual Fire Control for Secondary Armament - game client says no -->
Line 80:
Line 84:
 
| rating45 = <!-- Advanced Firing Training -->
 
| rating45 = <!-- Advanced Firing Training -->
 
| rating46 = <!-- Massive AA Fire -->
 
| rating46 = <!-- Massive AA Fire -->
?
| rating47 = <!-- Radio Position Finding -->
+
| rating47 = <!-- Radio Position Finding -->
 
| rating48 = 3 <!-- Concealment Expert -->
 
| rating48 = 3 <!-- Concealment Expert -->
 
}}
 
}}
Line 99:
Line 103:
 
|Signals=<!-- write text about best set of signals below -->
 
|Signals=<!-- write text about best set of signals below -->
 
 
?
<!-- {{Signal Flags
+
-
?
| November Echo Setteseven =
+
 
+
{{Signal Flags
 
+
| November Echo Setteseven =
 
| Mike Yankee Soxisix =
 
| Mike Yankee Soxisix =
 
| India X-Ray =
 
| India X-Ray =
?
| Juliet Whiskey Unaone =
+
| Juliet Whiskey Unaone =
 
| Victor Lima =
 
| Victor Lima =
?
| Hotel Yankee =
+
| Hotel Yankee =
 
 
?
| November Foxtrot =
+
| November Foxtrot =
?
| Sierra Mike =
+
| Sierra Mike =
 
| India Delta =
 
| India Delta =
 
| Juliet Yankee Bissotwo =
 
| Juliet Yankee Bissotwo =
?
| India Yankee =
+
| India Yankee =
?
| Juliet Charlie =
+
| Juliet Charlie
 
+
 
+
=
 
 
 
| Zulu =
 
| Zulu =
Line 129:
Line 137:
 
| Leviathan =
 
| Leviathan =
 
| Scylla =
 
| Scylla =
?
}} -->
+
}}
 
 
 
|Gallery=<!-- write below list of files with description (if necessary) separated with | --><gallery>
 
|Gallery=<!-- write below list of files with description (if necessary) separated with | --><gallery>
Latest revision as of 14:30, 23 November 2020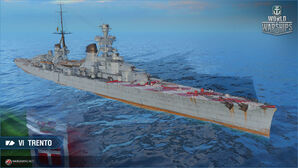 Tech Tree Position
203 mm/50 Ansaldo 1924
4 х 2 

pcs.
Rate of Fire
4 

shots/min.
Reload Time
15 

sec.
Rotation Speed
7 

deg./sec.
180 Degree Turn Time
25.71 

sec.
Firing Range
14.65 

km.
Maximum Dispersion
134 

m.
Chance of Fire on Target Caused by HE Shell
0 

%
AP Shell
203 mm proiettili AP 1924 mod.1 
Maximum AP Shell Damage
4,700 
Initial AP Shell Velocity
840 

m./s.
AP Shell Weight
125.3 

kg.
Maximum SAP Shell Damage
4,850 
Initial SAP Shell Velocity
840 

m./s.
100 mm /47 OTO 1928
6 х 2 

pcs.
Firing Range
4.5 

km.
Rate of Fire
10 

shots/min.
Reload Time
6 

sec.
HE Shell
100 mm proiettili HE 
Maximum HE Shell Damage
1,500 
Initial HE Shell Velocity
850 

m./s.
Chance of Fire on Target Caused by HE Shel
6 

%
533 mm tubo lanciasiluri DAAN-Whitehead
2 х 2 

pcs.
Rate of Fire
1.28 

shots/min.
Reload Time
47 

sec.
Rotation Speed
25 

deg./sec.
180 Degree Turn Time
7.2 

sec.
Torpedo
533 mm Si 270 M 
Maximum Damage
12,667 
Torpedo Speed
51 

knot
Torpedo Range
12 

km.
37 mm/54 Breda 1932
4 х 2 

pcs.
. . . Average Damage per Second
46.4 
. . . Firing Range
3.51 

km.
13.2 mm/76 Breda 1931
4 х 2 

pcs.
. . . Average Damage per Second
16.4 
. . . Firing Range
1.2 

km.
100 mm /47 OTO 1928
6 х 2 

pcs.
. . . Average Damage per Second
39.6 
. . . Firing Range
3.99 

km.
Maximum Speed
35 

knot
Turning Circle Radius
630 

m.
Rudder Shift Time
13.3 

sec.
Surface Detectability Range
14.5 

km.
Air Detectability Range
7.31 

km.
Battle Levels
Trento — Italian Tier VI cruiser.
Trento belonged to the first series of Italian cruisers that were built under the restrictions of the Washington Naval Treaty. The ship carried 203 mm main battery guns. She was faster than her foreign counterparts and outmatched them in armor protection, though to a smaller extent.
Modules
Compatible Upgrades
 Slot 1 
 Slot 2 
 Slot 3 
 Slot 4 
Player Opinion
Performance
Trento is the first Italian cruiser to boast 203mm guns -- giving it a powerful alpha-strike, though the long reload makes judicious shot selection a must. Furthermore, the armor scheme and poor vision control require good positioning and game knowledge. The SAP rounds are potent against DDs and cruisers, but are not enough to deter nose-in battleships. The torpedoes are slow and useful mostly for area-denial and the occasional smoke-rush. Overall, the Trento is a difficult ship for novices to succeed in, but will reward veterans for their understanding of the positioning and game mechanics.
Pros:
Crippling alpha strike potential with 4x2 203mm SAP shells, highly effective against Destroyers and Cruisers.
Very good range (16.12km) which can be further increased with spotter plane.
Triple torpedo launchers per side with good firing angles and 12km range.
High base speed and Exhaust Smoke Generator () allow for flanking and disengaging from flanks.
25mm upper belt and deck can bounce ≤356mm AP rounds from battleships.
Cons:
Poor vision control with a 12.66km fully upgraded detection.
Cannot effectively engaged nose-in targets with SAP or AP. Will lose DPM fights against HE-equipped cruisers.
Prominent citadel and 25mm armor scheme are vulnerable to the majority of BBs in her matchmaking spread.
Lack of Hydroacoustic Search () makes solo hunting DDs challenging.
Lackluster AA-range cannot adequately deter carrier strikes.
Research
Availability of researchable upgrades for Trento is as follows:
Hull: Upgrade to Hull (B) for more hit points, faster torpedo reload time, better AA and faster rudder shift time. Research of this module unlocks progression to Zara.
Gun Fire Control System: Upgrade to SDT 6 mod. 2 for an extra 10% range on the main battery.
Optimal Configuration
Upgrades
The recommended upgrades for Trento are as follows:
Commander Skills
Due to the absence of HE shells and a limited number of consumables, Trento captains are not under a high amount of pressure when it comes to skill point distribution. The primary consideration is whether the player wishes to build the captain towards increased DD-hunting effectiveness [Vigilance + Radio Position Finding] or general purpose survivability [Survivability Expert, Preventative Maintenance, and/or Incoming Fire Alert].
Recommended Commander Skills
Cost
(points)

Endurance

Attack

Support

Versatility



1

★★★

★

★★★

Χ

 

Χ

★★

Χ



2

 

★★★

★

★

 

Χ

★★★

★



3

★

★★

 

Χ

 

★★★

Χ

★★



4

Χ

 

Χ

Χ

 

 

★★

★★★

Key: ★★★ - Extremely Useful      ★★ - Frequently Useful      ★ - Occasionally Useful     No stars - Meh     

Χ

- Not recommended
Consumables
Trento can equip the following consumables:
Camouflage
Type 1, 2, or 5 camouflage can be equipped for credits; Types 1 or 5 are recommended at a minimum to reduce detectibility range.
Players who wish to spend doubloons can equip Trento with Type 16 camouflage that lowers her detection radius, reduces the accuracy of incoming shells, reduces her repair costs, and increases the amount of experience she earns.
Signals
Trento players should prioritize X-Ray Papa Unaone and Sierra Mike to boost two of the ship's big strengths; November Foxtrot is also useful to help manage the long consumable cooldowns. Players who have faced detonation problems will want to consider mounting Juliet Charlie.
Recommended Signal Flags
Combat

★

 

 

★

 

★

★★

★★★

 

 

★

★★

★★★

 

Economic

 

 

 

 

 

Special

 

 

 

 

 

 

 

 

Key: ★★★ - Extremely Useful       ★★ - Frequently Useful       ★ - Occasionally Useful      No stars - Not Useful
Gallery
References