Vanguard
Revision as of 22:05, 20 November 2018

Overall polish. Added date of sale. Added historical photos.

Revision as of 23:34, 5 February 2019

Added info

Line 11:
Line 11:
 
''{{#var:ship_name}}'' is essentially an up-tiered ''[[Warspite]]'', even so far as possessing identical guns to that of her Tier VI cousin (albeit with improved shells). Like ''Warspite'', ''{{#var:ship_name}}'' has excellent maneuverability and main battery accuracy among battleships at her tier, but suffers from comparably weaker armor to her counterparts in the other nations' tech trees. Even when compared to her tech-tree counterpart, ''[[Monarch]]'', ''{{#var:ship_name}}'' has a noticeably larger and easier to hit citadel. Like all British battleships, ''{{#var:ship_name}}'' is covered with 32mm plating that makes her highly vulnerable to heavy cruiser high explosive shells and IFHE equipped light cruisers and destroyers.
 
''{{#var:ship_name}}'' is essentially an up-tiered ''[[Warspite]]'', even so far as possessing identical guns to that of her Tier VI cousin (albeit with improved shells). Like ''Warspite'', ''{{#var:ship_name}}'' has excellent maneuverability and main battery accuracy among battleships at her tier, but suffers from comparably weaker armor to her counterparts in the other nations' tech trees. Even when compared to her tech-tree counterpart, ''[[Monarch]]'', ''{{#var:ship_name}}'' has a noticeably larger and easier to hit citadel. Like all British battleships, ''{{#var:ship_name}}'' is covered with 32mm plating that makes her highly vulnerable to heavy cruiser high explosive shells and IFHE equipped light cruisers and destroyers.
 
 
?
Her main battery is an improved version of that found on ''Warspite'', with similar dispersion characteristics and the all-too-familiar turret traverse speed, or lack thereof. Her armor piercing shells have a faster muzzle velocity that allows for an easier time with long-range gunnery, while her high explosive shells are similar to that of ''Monarch'' and other tech-tree British battleships, with high damage and a high fire chance. With only eight guns, ''{{#var:ship_name}}'''s firepower against other battleships, and even some cruisers, often feels anemic. This is offset somewhat by a quick reload of 25 seconds on her main battery, and her aforementioned accuracy.
+
Her main battery is an improved version of that found on ''Warspite'', with similar dispersion characteristics and the all-too-familiar turret traverse speed, or lack thereof. Her armor piercing shells have a faster muzzle velocity that allows for an easier time with long-range gunnery, while her high explosive shells are similar to that of ''Monarch'' and other tech-tree British battleships, with high damage. With only eight guns, ''{{#var:ship_name}}'''s firepower against other battleships, and even some cruisers, often feels anemic. This is offset somewhat by a quick reload of 25 seconds on her main battery, and her aforementioned accuracy.
 
 
?
The largest flaw that captains of ''{{#var:ship_name}}'' will find is with her firing angles. Both her forward and rear firing angles are atrocious, requiring significant amounts of broadside to be shown in order to bring all guns to bear on a target. As ''{{#var:ship_name}}'' does not possess a well protected citadel (unlike ''Monarch''), exposing large amounts of the ship's side armor will often lead to catastrophic amounts of damage taken when fired upon by enemy battleships. Captains are encouraged to remain angled with only her fore or aft set of guns on target if there's any possibility of an enemy returning fire. Luckily, ''{{#var:ship_name}}'''s excellent rudder shift time can allow her to "wiggle" her remaining set of guns onto and off of targets quite quickly.
+
The largest flaw that captains of ''{{#var:ship_name}}'' will find is with her firing angles. Both her forward and rear firing angles are atrocious, requiring significant amounts of broadside to be shown in order to bring all guns to bear on a target. As ''{{#var:ship_name}}'' does not possess a well protected citadel (unlike ''Monarch''), exposing large amounts of the ship's side armor will often lead to catastrophic amounts of damage taken when fired upon by enemy battleships. Captains are encouraged to remain angled with only her fore or aft set of guns on target if there's any possibility of an enemy returning fire. Luckily, ''{{#var:ship_name}}'''s excellent rudder shift time can allow her to "wiggle" her remaining set of guns onto and off of targets quite quickly.
 
 
?
''{{#var:ship_name}}'' is best played from mid-range, where her lack of armor is less noticeable, and her accurate low-volume firepower can be better put to use. Her slow turret traverse and easily hit citadel make her sub-par at brawling, while her small turning circle and good concealment allow her to disengage quite easily. Fans of ''Warspite'' should have no problems playing ''{{#var:ship_name}}''; captains who have no experience with ''Warspite'' may struggle with her peculiarities, but she is easy to learn, and is a capable Tier VIII battleship.
+
''{{#var:ship_name}}'' is best played from mid-range, where her lack of armor is less noticeable, and her accurate low-volume firepower can be better put to use. Her slow turret traverse and easily hit citadel make her sub-par at brawling, while her small turning circle and good concealment allow her to disengage quite easily. Fans of ''Warspite'' should have no problems playing ''{{#var:ship_name}}''; captains who have no experience with ''Warspite'' may struggle with her peculiarities, but she is easy to learn, and is a capable Tier VIII battleship.
 
 
 
|Pros=<!-- write list of positive points below. use * as in ordinary wiki-list. -->
 
|Pros=<!-- write list of positive points below. use * as in ordinary wiki-list. -->
Line 22:
Line 22:
 
* Concealment is able to be dropped to as low as 12.0 km.
 
* Concealment is able to be dropped to as low as 12.0 km.
 
* Excellent medium range anti-aircraft armament.
 
* Excellent medium range anti-aircraft armament.
?
* Has 1/4 pen, high damage and high fire chance on her HE shells.
+
* Has 1/4 pen high damage on her HE shells.
 
* Good reload time for main guns, with 25 seconds.
 
* Good reload time for main guns, with 25 seconds.
 
* Good belt armor.
 
* Good belt armor.
Line 35:
Line 35:
 
* Low volume of main battery shells makes bad dispersion hurt worse.
 
* Low volume of main battery shells makes bad dispersion hurt worse.
 
* Abysmal torpedo protection.
 
* Abysmal torpedo protection.
 
+
 
* Lacks access to {{Spotting Aircraft}} and {{Catapult Fighter}}.
 
* Lacks access to {{Spotting Aircraft}} and {{Catapult Fighter}}.
 
 
Line 57:
Line 58:
 
 
 
|CommanderSkills=<!-- write text about best set of Commander Skills below -->
 
|CommanderSkills=<!-- write text about best set of Commander Skills below -->
?
 
+
 
{{Commander Skills
 
{{Commander Skills
?
| Priority Target = 2
+
| Priority Target =
 
| Preventative Maintenance = 2
 
| Preventative Maintenance = 2
?
| Expert Loader = 2
+
| Expert Loader =
 
| Aircraft Servicing Expert =
 
| Aircraft Servicing Expert =
 
| Direction Center for Catapult Aircraft =
 
| Direction Center for Catapult Aircraft =
Line 68:
Line 69:
 
| Evasive Maneuver =
 
| Evasive Maneuver =
 
 
?
| High Alert = 2
+
| High Alert =
?
| Jack of All Trades = 1
+
| Jack of All Trades =
 
| Expert Marksman = 3
 
| Expert Marksman = 3
 
| Torpedo Acceleration =
 
| Torpedo Acceleration =
Line 107:
Line 108:
 
 
 
|Signals=<!-- write text about best set of signals below -->
 
|Signals=<!-- write text about best set of signals below -->
?
''Vanguard'' captains should mount standard signal flags to improve the ship's performance in battle. Sierra Mike ({{Sierra Mike|Size=18px}}) flags are recommended to increase the ship's top speed. India Delta ({{India Delta|Size=18px}}) and India Yankee ({{India Yankee|Size=18px}}) flags should be mounted to improve the ship's survivability. November Foxtrot ({{November Foxtrot|Size=18px}}) flags can also be mounted to decrease consumable cooldown time. Lastly, economic and special signal flags can be mounted to increase the ship's economic gains per battle.
+
''Vanguard'' captains should mount standard signal flags to improve the ship's performance in battle. Sierra Mike ({{Sierra Mike|Size=18px}}) flags are recommended to increase the ship's top speed. India Delta ({{India Delta|Size=18px}}) and India Yankee ({{India Yankee|Size=18px}}) flags should be mounted to improve the ship's survivability. November Foxtrot ({{November Foxtrot|Size=18px}}) flags also be mounted to decrease consumable cooldown time. Lastly, economic and special signal flags can be mounted to increase the ship's economic gains per battle.
 
 
 
{{Signal Flags
 
{{Signal Flags
Revision as of 23:34, 5 February 2019
{{WoWs_Ship |Promo=

|Anno= The last battleship of the British Royal Navy. Due to specific conditions during the construction phase, she combined high speed and powerful AA guns with up-to-date equipment while still using largely obsolete main battery guns.

' was first released for sale worldwide on 16 November 2018.


|Performance= ' is essentially an up-tiered Warspite, even so far as possessing identical guns to that of her Tier VI cousin (albeit with improved shells). Like Warspite, ' has excellent maneuverability and main battery accuracy among battleships at her tier, but suffers from comparably weaker armor to her counterparts in the other nations' tech trees. Even when compared to her tech-tree counterpart, Monarch, ' has a noticeably larger and easier to hit citadel. Like all British battleships, ' is covered with 32mm plating that makes her highly vulnerable to heavy cruiser high explosive shells and IFHE equipped light cruisers and destroyers.
Her main battery is an improved version of that found on Warspite, with similar dispersion characteristics and the all-too-familiar turret traverse speed, or lack thereof. Her armor piercing shells have a faster muzzle velocity that allows for an easier time with long-range gunnery, while her high explosive shells are similar to that of Monarch and other tech-tree British battleships, with high alpha damage. With only eight guns, ''s firepower against other battleships, and even some cruisers, often feels anemic. This is offset somewhat by a quick reload of 25 seconds on her main battery, and her aforementioned accuracy. Her AP shells struggle to do much damage on battleships even when broadside and any angling will cause them to bounce off without doing any damage. As a result, s AP is best used against enemy cruisers, as they are less likely to overpenetrate and cause minimal damage while her HE should be used against enemy battleships. Her HE shells, while having high damage, have a rather average fire chance more akin to battleships of other nations.
The largest flaw that captains of ' will find is with her firing angles. Both her forward and rear firing angles are atrocious, requiring significant amounts of broadside to be shown in order to bring all guns to bear on a target. As ' does not possess a well protected or low citadel (unlike Monarch), exposing large amounts of the ship's side armor will often lead to catastrophic amounts of damage taken when fired upon by enemy battleships. Captains are encouraged to remain angled with only her fore or aft set of guns on target if there's any possibility of an enemy returning fire. Luckily, ''s excellent rudder shift time (just 9.7 seconds) can allow her to "wiggle" her remaining set of guns onto and off of targets quite quickly.
' is best played from mid-range, where her lack of armor is less noticeable, and her accurate low-volume firepower can be better put to use. Her slow turret traverse and easily hit citadel make her sub-par at brawling, while her small turning circle and good concealment allow her to disengage quite easily. Fans of Warspite or [[ should have no problems playing '; captains who have no experience with Warspite may struggle with her peculiarities, but she is easy to learn, and is a capable Tier VIII battleship.
|Pros=
Good rudder shift time and turning circle make ' great for dodging torpedos.
Most accurate Tier VIII battleship thanks to relatively low dispersion and high sigma.
Concealment is able to be dropped to as low as 12.0 km.
Excellent medium range anti-aircraft armament.
Has 1/4 pen and high damage on her HE shells.
Good reload time for main guns, with 25 seconds.
Good belt armor.
She has an improved version of the Repair Party () consumable, though not as good as Conqueror but similar to Warspite. Her Repair Party () also has a quick recharge time also, that can be brought down to 54 seconds.
Surprisingly nimble for a battleship, with a high top speed.
|Cons=
Armament can feel lacking against higher tier battleships, due to her mediocre AP.
Very bad turret traverse angles.
Takes large amounts of damage from High Explosive rounds that can penetrate her 32mm plating.
Large citadel makes attempting to use all turrets very risky.
Low volume of main battery shells makes bad dispersion hurt worse.
Abysmal torpedo protection.
While her HE shells have high damage, as per standard with British battleships, they don't have the high fire chance also typical of other British battleships(her fire chance is only 34%, which is the same as Bismarck and Tirpitz)
Lacks access to Spotting Aircraft () and Catapult Fighter ().
|Research= As a premium ship, ' doesn't have any upgrades to research.
|OptimalConfiguration=
|Upgrades= The recommended upgrades for ' are as follows:
Slot 1 allows players to choose between two viable options. Main Armaments Modification 1 (

) is generally recommended, but players who wish to increase the survivability of the secondary and anti-aircraft armaments may choose to mount Auxiliary Armaments Modification 1 (

).
Slot 3 provides further options for specialization. Most players will choose to mount Aiming Systems Modification 1 (

) to increase the ship's surface warfare capability. However, due to slow turret traverse, some players may mount Main Battery Modification 2 (
) at the cost of a 5% slower reload. For anti-aircraft builds, players should mount AA Guns Modification 2 (

).
Slot 4 gives players a choice between two good options. For increased survivability, players should mount Damage Control System Modification 2 (
). For increased maneuverability, Steering Gears Modification 1 (

) should be mounted.
|CommanderSkills=
The skill set for ' is fairly typical of other British battleships, with Priority Target at Level 1, Expert Marksman at Level 2, Superintendent at Level 3, and Fire Prevention and Concealment Expert at Level 4. The remaining points should be put into Adrenaline Rush, Expert Loader and Jack of All Trades. Mounting the Unique British commanders on her is a very good option because of the extra bonuses for Expert Marksman and Jack of All Trades.  

Recommended Commander Skills
Cost
(points)

Endurance

Attack

Support

Versatility



1

★★★

★★

★★★

 

 

 

★

 



2

★

★★★

★★★

 

 

 

★★★

 



3

★★

 

 

 

 

★★★

★★

 



4

 

★★★

★

 

 

 

 

★★★

Key: ★★★ - Extremely Useful       ★★ - Frequently Useful       ★ - Occasionally Useful      No stars - Meh    

Χ

- Not recommended
|Consumables= ' can equip the following consumables:
Premium variants of the consumables can be equipped to improve her performance in battle.
|Camouflage= As a premium ship, ' comes included with Type 10 camouflage that lowers her detection radius, reduces the accuracy of incoming shells, reduces her repair costs, and increases the amount of experience she earns.
|Signals= Vanguard captains should mount standard signal flags to improve the ship's performance in battle. Sierra Mike (

) flags are recommended to increase the ship's top speed. India Delta (

) and India Yankee (

) flags should be mounted to improve the ship's survivability. November Foxtrot (

) flags should also be mounted to decrease consumable cooldown time. Lastly, economic and special signal flags can be mounted to increase the ship's economic gains per battle.
Recommended Signal Flags
Combat

★★

★★

 

 

 

 

★★★

★★

★★★

★

★★★

★

Economic

★★

★

★★

★★

★

Special

★★

★★★

★★

★

★★

★

★★

★★

Key: ★★★ - Extremely Useful       ★★ - Frequently Useful       ★ - Occasionally Useful      No stars - Not Useful
|Gallery=
|History=
HMS ', 1946
Construction
Builder: John Brown and Company; Clydebank, Scotland
Laid down: 2 October 1941
Launched: 30 November 1944
Commissioned: 12 May 1946
---
Specifications
42,300 tons displacement, standard
244m length
33m beam
9.09m draft
---
Machinery
Eight (8) Admiralty-type Boilers
Four (4) Parson single-reduction turbines,
   designed for 250 rpm
---
Performance
29.5 knots at 120,000 shaft horsepower
6,000nm at 20 knots
---
Armor
Main belt: 324-348mm
Decks: 124-148mm
Bulkheads: 250-300mm
Barbettes and Turrets: 274-324mm barbettes,
   324mm face, 224-274mm sides, 150mm roof
---
Armament
Main
Eight (4x2) 15inch/42 (381mm) Mark I guns
Secondary
Sixteen (8x2) 5.25inch/55 (133mm) QF Mark I guns
Anti-aircraft
Fourty (10x4) 40mm/56 Mofors Mark VI guns
Two (1x2) 40mm/56 Bofors STAAG-Mk II guns
Thirteen (13x1) 40mm/56 Bofors Mark VII guns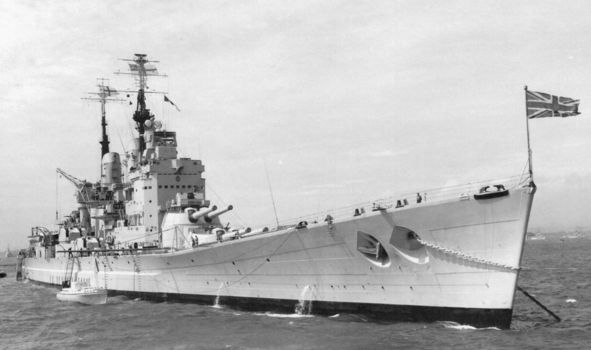 History
Design
The last battleship of the Royal Navy, HMS Vanguard was designed relatively rapidly. Originally, the Royal Navy had planned to match current and future construction of the German, Italian, and Japanese navies with the six ships of the Lion-class, with two ships being included in each budget from 1938 to 1940. Although the two battleships of the 1938 program, Temeraire and Lion, were laid down in June and July of 1939, it became readily apparent that none of the ships would be available until 1943, due to difficulties in manufacturing new 406mm (16") guns. Because of this, design studies were launched that July in regards to utilizing four twin turrets of the BL 15"/45 Mk.I kept in reserve (from the Courageous-class battlecruisers, which had been rebuilt as aircraft carriers), and Vanguard became a hybrid variant of the Lion-class, utilizing the elderly BL 15"/45 Mk.I. As her construction was halted and restarted multiple times during World War II, she incorporated numerous modifications to reflect the lessons learned by the Royal Navy during the conflict.
Her hull form remained largely the same as that of the Lion-class, which included the utilization of a transom stern, for greater efficiency at high speeds. Thus, despite her weight gains over the process of modification, she retained her 30-knot top speed, making her both the fastest battleship to ever be built by the Royal Navy, but also the only battleship ever built with a transom stern. Operational range was improved by increasing fuel stowage from 3,720 tons in the Lion design to 4,423 tons, mimicking a similar modification to the King George V-class battleships.
In order to prevent the draft from becoming too deep to traverse the Suez Canal, beam was increased by 2.5 meters, and the upper part of the main armor belt was thinned by an inch, leaving 356mm abreast the magazines and 343mm abreast the machinery spaces. The lower portion, 2.5m tall, tapered from 356/343mm to 114mm at a bottom edge. The armor belts were connected by 305mm transverse bulkheads and in order to defend against splinter damage from near-missing bombs and shells, a 51mm splinter belt protected the waterline past the citadel, extending stem to stern. Additionally, as a result of the Battle of Denmark Strait, 38mm bulkheads were added to the magazines behind the longitudinal torpedo defense bulkhead for additional protection. The torpedo defense bulkhead was made of two 22mm plates (22 + 22mm) and extended from just fore of 'A' barbette to just aft of 'C' barbette, where only the 38mm bulkhead protecting the magazines provided defense against torpedo impacts. The horizontal armor was identical to the King George V and Lion-classes, 127mm over the machinery spaces, and 152mm over the magazines. The protection of the main battery turrets was replaced, with 330mm faceplates and 152mm turret roofs. Barbettes were 330mm towards the beam, but tapered to 279mm on the centerline. The protection of the secondary battery was improved in order to protect them from 500-lb. bombs, being increased to 64mm compared to other mounts. Due to the British belief that there was no gain from armor conning towers against heavy shells, armor for it was only proof against splinters and low-caliber shells. The torpedo defense system was also improved over King George V, with the depth being increased from 3.96 meters to 4.57 meters. It designed and extensively tested to resist 1,000 lb. of TNT (454 kg).
The main battery of the Vanguard was made up of eight old but reliable BL 15"/42 Mk.I guns, mounted in four twin Mk.I/N RP.12 turrets, which were fitted with RPC (Remote Power Control) for training (but not elevation, this still used the older Follow-the-Pointer system), making Vanguard the first British battleship to have RPC for her main battery. Due to the layout of the turret and turret stalk, it was not possible to reverse the main hoists for shells and charges, which would have prevented the charges being placed below the shell rooms (thus reducing the chance of a shell reaching the propellant and potential triggering a fatal explosion). In order to keep the improved arrangement, an extra set of hoists was added to bring up charges from the propellant magazine, to a special handling room above the shell rooms. Thus, the actual magazines could remain below the shell rooms in spite of the turret stalk arrangement. All structures in the turret were reinforced so that Vanguard could use supercharges for her guns, increasing muzzle velocity from 749mps to 804mps, but these were never issued. Her main battery was controlled by the AFCT (Admiralty Fire Control table) Mk.X, the most advanced version of British surface-fire control available, and was designed from the start to incorporate radar technology. The Fire Control tables were fed by two directors utilizing the Type 274 Fire Control Radar and a 30-foot (9.1-meter) Coincidence rangefinder, the largest ever put in the director of a Royal Navy battleship.
The secondary battery was made up of the same dual-purpose 5.25" guns as the King George V-class battleships, but used an improved mounting (RP.10 MK.I*) with greater degrees of automation, allowing the sustained rate of fire to reach nine rounds per minute per gun (versus the previous 7.5 rpmpg). The mounts traversed and elevated twice as fast as the older ones, had full RPC, and utilized the American Mk.37 dual-purpose Fire Control System. Their four directors was equipped with the Type 275 Fire Control Radar. The light AA battery was made up entirely by the famous Bofors 40mm auto-cannon, with over seventy-three barrels in total, most mounted in ten RP.50 sextuple mounts, but also two in STAAG mounts. All these mounts featured RPC and each were directed by a Type 262 fire control radars (for 11 total). Eleven other 40mm Bofors were also mounted in Mk.VII rounds.
Service
|HistoricalGallery=
|Video=
|Ref=
}}