Wickes
Revision as of 18:07, 2 August 2016
Revision as of 00:31, 4 August 2016
Line 28:
Line 28:
 
|Gallery=<!-- write below list of files without tags. description (if necessary) for each should be separated with template {{!}} --><gallery>
 
|Gallery=<!-- write below list of files without tags. description (if necessary) for each should be separated with template {{!}} --><gallery>
 
 
?
</gallery>|History=<!-- write text below -->
+
</gallery>|History=<!-- write text below -->
 
+
 
+
 
+
 
+
 
+
 
+
 
+
 
+
 
+
 
+
 
+
 
+
 
+
 
+
 
+
 
 
+
 
The ''Wickes'' was a class of destroyers designed during World War I. As the successor to the ''Caldwell'' class, the primary improvements consisted of increased range and speed, resulting in a heavier ship with little increase in combat power. They were intended to operate in conjunction with the future ''Omaha'' class cruisers and ''Constellation'' class battlecruisers, forming the light component of the fast heavy units which the navy was expecting.
 
The ''Wickes'' was a class of destroyers designed during World War I. As the successor to the ''Caldwell'' class, the primary improvements consisted of increased range and speed, resulting in a heavier ship with little increase in combat power. They were intended to operate in conjunction with the future ''Omaha'' class cruisers and ''Constellation'' class battlecruisers, forming the light component of the fast heavy units which the navy was expecting.
 
 
Line 34:
Line 50:
 
 
 
The entry of the United States into World War II saw the recommissioning of dozens of the ''Wickes'' class destroyers. Because of their age and obsolescence, conversion from fleet destroyer to more specialist roles became common.
 
The entry of the United States into World War II saw the recommissioning of dozens of the ''Wickes'' class destroyers. Because of their age and obsolescence, conversion from fleet destroyer to more specialist roles became common.
 
+
 
+
 
+
 
+
 
+
 
+
 
+
 
+
 
+
 
+
 
+
 
+
 
+
 
 
 
|HistoricalGallery=<!-- write below list of files without tags. description (if necessary) for each should be separated with template {{!}} --><gallery>
 
|HistoricalGallery=<!-- write below list of files without tags. description (if necessary) for each should be separated with template {{!}} --><gallery>
Revision as of 00:31, 4 August 2016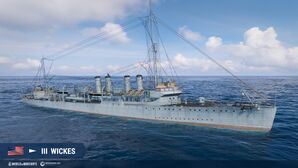 Tech Tree Position
102 mm/50 Mk12
4 х 1 

pcs.
Rate of Fire
8.57 

shots/min.
Reload Time
7 

sec.
Rotation Speed
11.5 

deg./sec.
180 Degree Turn Time
15.65 

sec.
Firing Range
8.37 

km.
Maximum Dispersion
84 

m.
HE Shell
102 mm HE/HC Mk15 
Maximum HE Shell Damage
1,500 
Chance of Fire on Target Caused by HE Shell
6 

%
Initial HE Shell Velocity
884 

m./s.
HE Shell Weight
14.97 

kg.
AP Shell
102 mm AP/SC Mk16 
Maximum AP Shell Damage
1,700 
Initial AP Shell Velocity
884 

m./s.
AP Shell Weight
14.97 

kg.
533 mm Triple
4 х 3 

pcs.
Rate of Fire
1.88 

shots/min.
Reload Time
32 

sec.
Rotation Speed
25 

deg./sec.
180 Degree Turn Time
7.2 

sec.
Torpedo
Bliss Leavitt Mk3 
Maximum Damage
6,400 
Torpedo Speed
48 

knot
Torpedo Range
5.001 

km.
76.2 mm/23 Mk7
1 х 1 

pcs.
. . . Average Damage per Second
1 
. . . Firing Range
3 

km.
Maximum Speed
34 

knot
Turning Circle Radius
520 

m.
Rudder Shift Time
4 

sec.
Surface Detectability Range
6.66 

km.
Air Detectability Range
2.45 

km.
Battle Levels
Wickes — American Tier III destroyer.
One of the massively produced destroyers in the U.S. Navy featuring flush-deck design. The key difference from her preceding class was the significantly increased propulsion power, resulting in higher speeds and better maneuverability.
Modules
Compatible Upgrades
Player Opinion
Performance
The Wickes takes a little getting used to. At first, its health is so lousy it's barely worth getting into combat. You gain some more durability with the B hull, at least. All the same, the Wickes is usually outperformed by the Wakatake in a torpedo knife-fight. An effective strategy is to weave side to side to keep up gun fire from all 4 turrets and launch both sides of torpedoes.
All in all, it's an okay ship when you get used to it, but can be a drag at first.
Pros:
Excellent maneuverability
Good gun traverse
Able to drop waves of torpedoes from both sides
Good concealment
Cons:
Gun reload is a little slow
Like all DDs, basically no armor
Guns are arranged such that you can only point a maximum of 3 guns at any target
Torpedoes are outranged by the IJN counterpart (Wakatake)
Effectively no AA
Research
Get the torpedo upgrade first. Adds a whopping 3,500 damage over the stock torps.
The gun fire control systems is next as it adds needed range.

Note: the Mk3-mod.2 gun-fire-control does NOT carry over from the Sampson despite identical name, research points, and price.
Gallery