Wyoming
Revision as of 16:13, 2 July 2018

inaccuracies

Revision as of 02:30, 9 August 2018

Minor edits to recommended research path and captain skills

Line 29:
Line 29:
 
|Research=<!-- write text about priority sequence of research below -->
 
|Research=<!-- write text about priority sequence of research below -->
 
This is a suggested research path:
 
This is a suggested research path:
?
# Propulsion mod. 2
+
# Propulsion . 2
 
# ''{{#var:ship_name}}'' (B) Hull
 
# ''{{#var:ship_name}}'' (B) Hull
?
# Mk4 GFCS mod. 2
+
# Mk4 . 2
 
 
 
 
Line 48:
Line 48:
 
| Priority Target = 3
 
| Priority Target = 3
 
| Preventative Maintenance = 1
 
| Preventative Maintenance = 1
?
| Expert Loader = 1
+
| Expert Loader =
 
| Aircraft Servicing Expert =
 
| Aircraft Servicing Expert =
 
| Direction Center for Catapult Aircraft =
 
| Direction Center for Catapult Aircraft =
Line 61:
Line 61:
 
| Smoke Screen Expert =
 
| Smoke Screen Expert =
 
| Expert Rear Gunner =
 
| Expert Rear Gunner =
?
| Adrenaline Rush = 3
+
| Adrenaline Rush =
 
| Last Stand =
 
| Last Stand =
 
 
Line 69:
Line 69:
 
| Emergency Takeoff =
 
| Emergency Takeoff =
 
| Basic Firing Training = 2
 
| Basic Firing Training = 2
?
| Superintendent = 3
+
| Superintendent =
 
| Demolition Expert = 1
 
| Demolition Expert = 1
 
| Vigilance = 1
 
| Vigilance = 1
Revision as of 02:30, 9 August 2018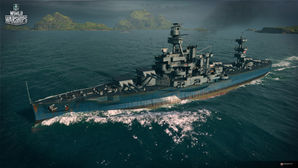 Tech Tree Position
305 mm/50 Mk7
6 х 2 

pcs.
Rate of Fire
2 

shots/min.
Reload Time
30 

sec.
Rotation Speed
3 

deg./sec.
180 Degree Turn Time
60 

sec.
Firing Range
14.38 

km.
Maximum Dispersion
203 

m.
HE Shell
305 mm HE Common 870 lb 
Maximum HE Shell Damage
4,200 
Chance of Fire on Target Caused by HE Shell
22 

%
Initial HE Shell Velocity
884 

m./s.
HE Shell Weight
394.6 

kg.
AP Shell
305 mm AP 870 lb 
Maximum AP Shell Damage
8,300 
Initial AP Shell Velocity
884 

m./s.
AP Shell Weight
394.6 

kg.
127 mm/51 Mk7
10 х 1 

pcs.
Firing Range
3.5 

km.
Rate of Fire
8.57 

shots/min.
Reload Time
7 

sec.
HE Shell
127 mm HE/HC Mk39 
Maximum HE Shell Damage
1,800 
Initial HE Shell Velocity
960 

m./s.
Chance of Fire on Target Caused by HE Shel
6 

%
127 mm/51 Mk7
6 х 1 

pcs.
Firing Range
3.5 

km.
Rate of Fire
8.57 

shots/min.
Reload Time
7 

sec.
HE Shell
127 mm HE/HC Mk39 
Maximum HE Shell Damage
1,800 
Initial HE Shell Velocity
960 

m./s.
Chance of Fire on Target Caused by HE Shel
6 

%
76.2 mm/50 Mk10
8 х 1 

pcs.
. . . Average Damage per Second
16.8 
. . . Firing Range
3 

km.
Maximum Speed
17.98 

knot
Turning Circle Radius
590 

m.
Rudder Shift Time
15.6 

sec.
Surface Detectability Range
14.04 

km.
Air Detectability Range
7.73 

km.
Battle Levels
Wyoming — American Tier IV battleship.
A typical battleship of the first generation in the U.S. Navy. The ship was very well-balanced for her time. In contrast to her predecessors, the ship was armed with numerous main battery guns with a longer firing range. Turbine-driven propulsion could produce quite a decent speed for a dreadnought.


Modules
Compatible Upgrades
Player Opinion
Performance
After upgrading from South Carolina, players will be happy to play Wyoming at Tier IV. She is a worthy upgrade, being well-armored and having decent firepower. Additionally, Wyoming benefits from protected matchmaking. Unless a player joins a division with a Tier V ship, the highest tier game Wyoming will encounter is Tier V. This benefits Wyoming, as she will never see the powerful ships at Tier VI. Wyoming is a well armored dreadnought, making her one of the toughest ships in the lower tiers. This armor allows her to brawl with Tier V battleships, but care should still be taken to avoid showing full broadside to battleships when possible. Wyoming is armed with six turrets, each with two guns. These guns provide her with a devastating broadside — but only if she connects with her target.
Counteracting the armor and firepower,
Wyoming's
turrets are very slow turning, so it is extremely important to try to plan maneuvers in advance and try to avoid having to complete a 180-degree turret rotation in the heat of battle. This is doubly important when her maneuverability is considered.
Wyoming
is very slow, and it may take her an entire game to get across the map. As the battle begins, it is hugely important to try to read the map and see which way the enemy is going. However,
Wyoming
has excellent gun range for a Tier IV battleship, which allows her to hit distant targets if she finds herself out of position. At close range,
Wyoming
has a secondary battery that can tear apart destroyers. This is useful if a destroyer manages to sneak up on her. Overall,
Wyoming
is a good ship that is capable of devastating cruisers as well as battleships. To be used to her maximum potential, it is essential to read the map and plan tactical maneuvers and engagements prior to carrying them out. Players will experience the most success when supported by friendly destroyers and cruisers.
Pros:
Devastating broadside allows Wyoming to punish broadside cruisers and battleships and has excellent main battery firing range (for her tier) when fully upgraded.
Armor piercing (AP) shells can penetrate the armor and citadel of any ship she can encounter.
Capable of destroying enemy destroyers that wander too close.
Well armored for her tier; armor belt is capable of repelling small caliber shells.
With a short turning radius, Wyoming is capable of dodging torpedoes surprisingly well.
Decent anti-aircraft suite. When fully upgraded, Wyoming has a fighting chance against enemy aircraft.
Cons:
Painfully slow; most cruisers and destroyers are capable of outrunning Wyoming.
Weak against torpedoes, care should be taken to try to avoid taking hits when possible.
Turret 3 requires the ship to go broadside to fire.
Very slow turret traverse speed.




In replay files, Wyoming is named Arkansas.
Research
This is a suggested research path:
Propulsion Mod. 2
Wyoming (B) Hull
Mk4 Gun Fire Control System Mod. 2
Players should prioritize the propulsion upgrade first to improve her top speed. Afterwards, the hull upgrade is necessary to further improve her maneuverability (by reducing rudder shift time), increase main battery turret rotation, and install anti-aircraft armaments, which will be important against the Tier IV carriers. Finally, the range upgrade should be researched and mounted to provide
Wyoming
with excellent firing range.
Optimal Configuration
Upgrades
The recommended upgrades for Wyoming are as follows:
Commander Skills
Recommended Commander Skills
Cost
(points)

Endurance

Attack

Support

Versatility



1

★★★

★

★★

 

 

 

★

 



2

★

★★

★★★

 

 

 

★★

 



3

★★★

 

 

 

★★

★★

★

★



4

★

★★★

 

 

★

 

 

★★

Key: ★★★ - Extremely Useful       ★★ - Frequently Useful       ★ - Occasionally Useful      No stars - Meh    

Χ

- Not recommended
Consumables
Wyoming can equip the following consumables:

Premium versions of the consumables will greatly increase the player's survivability, but the costs of the consumables will usually result in a net loss of credits for the player due to the low-credit earning at this tier.
Camouflage
Type 1, 2, or 5 camouflage can be equipped for credits; Types 2 or 5 are recommended at a minimum to reduce the accuracy of incoming shells.
Signals
Recommended Signal Flags
Combat

★★

★★

★

 

★

★

★

★★★

★★★

★★★

★★★

★

 

 

Economic

★★

★★

★★

★★

★★

Special

★★

★★

★★

★★

★★

 

 

 

Key: ★★★ - Extremely Useful       ★★ - Frequently Useful       ★ - Occasionally Useful      No stars - Not Useful
Gallery