Yamato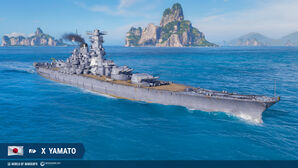 Tech Tree Position
460 mm/45 Type94
3 х 3 

pcs.
Rate of Fire
2 

shots/min.
Reload Time
30 

sec.
Rotation Speed
3 

deg./sec.
180 Degree Turn Time
60 

sec.
Firing Range
26.63 

km.
Maximum Dispersion
275 

m.
HE Shell
460 mm HE Type0 
Maximum HE Shell Damage
7,300 
Chance of Fire on Target Caused by HE Shell
35 

%
Initial HE Shell Velocity
805 

m./s.
HE Shell Weight
1360 

kg.
AP Shell
460 mm AP/APC Type91 
Maximum AP Shell Damage
14,800 
Initial AP Shell Velocity
780 

m./s.
AP Shell Weight
1460 

kg.
127 mm/40 Type89 A1
6 х 2 

pcs.
Firing Range
7 

km.
Rate of Fire
12 

shots/min.
Reload Time
5 

sec.
HE Shell
127 mm HE Type0 
Maximum HE Shell Damage
2,100 
Initial HE Shell Velocity
725 

m./s.
Chance of Fire on Target Caused by HE Shel
8 

%
127 mm/40 Type89 A1 mod. 3
6 х 2 

pcs.
Firing Range
7 

km.
Rate of Fire
10 

shots/min.
Reload Time
6 

sec.
HE Shell
127 mm HE Type0 
Maximum HE Shell Damage
2,100 
Initial HE Shell Velocity
725 

m./s.
Chance of Fire on Target Caused by HE Shel
8 

%
155 mm/60 3rd Year Type
2 х 3 

pcs.
Firing Range
7 

km.
Rate of Fire
5 

shots/min.
Reload Time
12 

sec.
HE Shell
155 mm HE Type0 
Maximum HE Shell Damage
2,600 
Initial HE Shell Velocity
925 

m./s.
Chance of Fire on Target Caused by HE Shel
10 

%
Maximum Speed
27 

knot
Turning Circle Radius
900 

m.
Rudder Shift Time
22.1 

sec.
Surface Detectability Range
18 

km.
Air Detectability Range
12.79 

km.
Battle Levels
Yamato — Japanese Tier X battleship.
The biggest warship of World War II and the world's largest battleship. Yamato was designed around the idea that an individual ship could have superiority over any battleship of a potential enemy. Her main guns had overwhelming firepower. The ship maintained a very high level of survivability due to reliable armor and robust torpedo protection. Yamato's AA capabilities were highly efficient due to carrying numerous AA artillery guns.
Modules
Compatible Upgrades
 Slot 1 
 Slot 2 
 Slot 3 
 Slot 4 
 Slot 5 
 Slot 6 
Player Opinion
Performance
The pinnacle of all Japanese battleship design philosophy and possibly of the entire world, Yamato gains its place as the most solid battleship at her tier. She has the second largest hit points of any ship in the game at a staggering 97200 next to Großer Kurfürst's 105k and her guns have the highest citadel hit damage of any round in the game, at 14800 HP per citadel hit. The AA suite aboard matches her size and potency, with nearly 150 25mm AA barrels (in real life, 162 25mm AA barrels in latest upgrade). With a turning radius of 800m and a top speed of 27.2 kts, she is also surprisingly maneuverable despite her large size, but with a long rudder shift time and extremely slow turret traverse, one must plan all actions in advance, or risk being caught off-guard and unable to react. The guns, while accurate, are very unforgiving, with a 30 second reload stock, which can be decreased to just under 27 seconds at the expense of further reducing its abysmal turret traverse further by using a piece of equipment. Being one of the biggest ships in the game, Yamato is constantly targeted by Aircraft Carriers, and despite the numerous AA guns, high tier carriers can still get planes through, so it is advised to stay near ships that have solid AA suites such as cruisers for an AA "aegis" to be created. In addition, even though your armor is the most solid in the game you should still try to angle your ship as sometimes shells may have a chance to hit home and deal glaring damage. Keep in mind that her citadel can easily be hit if the enemy manages to penetrate your armor.
Pros:
Unrivaled main battery guns that can even penetrate other battleships at close range when they're bow on.
Extremely good dispersion, but landing hits on targets beyond beyond 18km is still challenging.
Second largest health pool and heaviest armor in the game.
Large quantity of secondaries can easily kill a destroyer at very close range.
Surprisingly good agility for its size.
Impressive torpedo bulge as long as torpedoes hit her torpedo belt.
Longest main battery stock range in the game.
Insane turret armor that deflects most things other then tier X BB shells at point blank.
No ship is safe when facing Yamato's guns, even Yamato itself; they are so big that they can even score cidadel hits on bow-on ships (due to overmatching rule)!
Firing from a distance of over 20 km will form an immunity zone that helps deflects AP shell effectively, but don't expect to score hits against enemy reliably.
Cons:
Extremely large size but still smaller than Izumo and Großer Kurfürst.
Very high notoriety and potential danger makes her a priority target for the enemy team.
Extremely slow turret traverse rate of 72 seconds for traversing 180 degrees.
Poor shell velocity of the main battery makes it difficult to hit distant targets.
Long rudder shift time.
The huge majority of her AA defenses are short range, rendering her defenseless against planes before they drop their payloads. Her 127mm guns have underwhelming AA damage output.
Despite her citadel being well armored, its large size and hexagonal shape means she is still very vulnerable to any sorts of citadel damage from any angle
Research
As a Tier X ship, Yamato has no additional modules to research.
Optimal Configuration
Upgrades
The recommended upgrades for Yamato are as follows:
Slot 1 provides players with the first option in choosing a desired role. Typically, Main Armaments Modification 1 is recommended to provide additional survivability to the main battery, but players who desire to specialize in the secondary or anti-aircraft armament should choose Auxiliary Armaments Modification 1 (

).
Slot 3 allows for further specialization. Generally, Aiming Systems Modification 1 is recommended because it reduces shell dispersion of the main and secondary armaments. To increase the effectiveness of the anti-aircraft armament, mount AA Guns Modification 2 (

). Players wishing to specialize for secondaries should mount Secondary Battery Modification 2 (

).
Slot 6 gives players options to finalize their build. For gunnery, mount Main Battery Modification 3 to decrease the reload time of the main battery. Template:AA Guns Modification 3 should be mounted for AA duties to increase the DPS of AA guns. Players wishing to increase the effectiveness of the secondaries should mount Secondary Battery Modification 3 (

).
Commander Skills
Yamato can be built for survivability, anti-aicraft, or secondary focus. For a survival captain, skills like Fire Prevention and Basics of Survivability are very important. Captains wanting to focus on secondaries should pick up Basic Firing Training, Advanced Firing Training, and possibly Manual Fire Control for Secondary Armament. Captains wishing to spec for anti-aircraft should take Manual Fire Control for AA Armament. Concealment Expert is highly recommended with all builds, but one must weigh the benefits and trade-offs of investing an additional four points here instead of somewhere else.
Recommended Commander Skills
Cost
(points)

Endurance

Attack

Support

Versatility



1

★★

★

 

 

 

 

 

 



2

★★

★★

★★★

 

 

 

★★★

 



3

★★

 

 

 

★

★★★

 

★★



4

★

★★★

 

 

★★

 

 

★★★

Key: ★★★ - Extremely Useful       ★★ - Frequently Useful       ★ - Occasionally Useful      No stars - Meh    

Χ

- Not recommended
Consumables
Players can equip the following consumables on Yamato: ​Damage Control Party, Repair Party, and a choice between Spotting Aircraft and Catapult Fighter. It is strongly recommended to take the Premium versions of ​Damage Control Party and Repair Party to maximise surviveability.
Camouflage
Type 1, 2, or 5 camouflage can be equipped for credits; Types 2 or 5 are recommended at a minimum to reduce the accuracy of incoming shells.
Players who wish to spend doubloons can equip Yamato with Type 20 camouflage that lowers her detection radius, reduces the accuracy of incoming shells, reduces her repair costs, increases her credit earnings, and increases the amount of experience she earns. She also has an alternative permanent camo, "K-117" it is only obtainable by completing the HSF Collection as an end reward. K-117 provides most of the same benifets as the Type 20 the only change between the camos are that the Type 20 provides +20% more credits while the K-117 provides +50% in commander XP in exchange for the additional credit earning; however the collection was a limited time by signup between version 0.7.2 and 0.7.3, as such it is unobtainable.
Signals
As with all battleships, Yamato comes with 8 signal flag slots. The three most important flags are India Delta, Juliet Yankee Bissotwo and India Yankee; all of which will improve your surviveability. If the captain goes with the Secondary Build, the addition of Mike Yankee Soxisix will further improve the performance of Yamato`s secondaries.
Recommended Signal Flags
Combat

★

★★★

 

 

 

★

★

★

★★★

★★

★★★

★

Economic

★★★

★★★

 

★★

★

Special

★★★

★★

★★

★★

★★

 

 

 

Key: ★★★ - Extremely Useful       ★★ - Frequently Useful       ★ - Occasionally Useful      No stars - Not Useful
Gallery