Z-52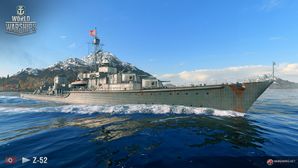 Tech Tree Position
128 mm L/45 Drh LC/41
3 х 2 

pcs.
Rate of Fire
15 

shots/min.
Reload Time
4 

sec.
Rotation Speed
18 

deg./sec.
180 Degree Turn Time
10 

sec.
Firing Range
12.05 

km.
Maximum Dispersion
105 

m.
HE Shell
128 mm Spr.Gr. 
Maximum HE Shell Damage
1,500 
Chance of Fire on Target Caused by HE Shell
7 

%
Initial HE Shell Velocity
830 

m./s.
HE Shell Weight
28 

kg.
AP Shell
128 mm P.Spr.Gr. 
Maximum AP Shell Damage
3,000 
Initial AP Shell Velocity
830 

m./s.
AP Shell Weight
28 

kg.
533 mm Vierling
2 х 4 

pcs.
Rate of Fire
0.67 

shots/min.
Reload Time
90 

sec.
Rotation Speed
25 

deg./sec.
180 Degree Turn Time
7.2 

sec.
Torpedo
G7 Wolfsbarsch 
Maximum Damage
14,400 
Torpedo Speed
67 

knot
Torpedo Range
9.99 

km.
128 mm L/45 Drh LC/41
3 х 2 

pcs.
. . . Average Damage per Second
44.7 
. . . Firing Range
5.01 

km.
37 mm Flak LM/42
7 х 2 

pcs.
. . . Average Damage per Second
72.1 
. . . Firing Range
3.51 

km.
55 mm L/77 Gerät 58
3 х 1 

pcs.
. . . Average Damage per Second
51.9 
. . . Firing Range
3.99 

km.
Maximum Speed
37.5 

knot
Turning Circle Radius
700 

m.
Rudder Shift Time
4.5 

sec.
Surface Detectability Range
7.74 

km.
Air Detectability Range
3.72 

km.
Battle Levels
Z-52 — German Tier X destroyer.
One of the last German destroyers (Zerstörer 1942C) to be laid down before the end of World War II. She had dimensions that were considered to be quite significant for a ship of her type. Owing to dual-purpose artillery and up-to-date automatic AA mounts, this ship boasted very powerful AA defenses.


Modules
Compatible Upgrades
 Slot 1 
 Slot 2 
 Slot 3 
 Slot 4 
 Slot 5 
 Slot 6 
Player Opinion
Performance
The Z-52 is the final ship in the German destroyer line.
The defining feature of the Z-52 is her Hydroacoustic Search (

) consumable. Deviating from the standard Hydroacoustic Search (

) that the other German destroyers have, the Z-52 can use the stronger German cruiser Hydroacoustic Search (

). From her predecessor Z-46, her hydro increases from 98 seconds duration to 122 seconds duration, ship spotting goes up from 4.68km to 5.88km, and torpedo spotting goes from 3.27km to 4.02km. These significant increases in range allow the Z-52 to control capture points and push out enemy destroyers. She can also mount the Hydroacoustic Search Modification 1 (

), which further boosts the Hydroacoustic Search (

) duration to 146 seconds. While taking a position between allies and the enemy, she can spot torpedoes from a long distance away before they can hit any ally as well as screen tactical points for any sneaky enemies ship hiding behind cover.
Besides the vastly improved Hydroacoustic Search (

), there is not much difference between the Z-52 and the Z-46. Their guns are identical, besides a 1.1km difference in firing range. Her torpedoes only have 0.5km more range and are only 2 knots faster than her predecessor's torpedoes. There is only a 400 hit point difference between Z-46 and Z-52, a difference that only widens to 750 hit points at most with the Survivability Expert captain skill.
A major downside to her is the thickness of the ship and her detection. Similar to the
Z-46
, cruiser and destroyer armor piercing shells have a tendency of dealing full penetration hits on her instead of just overpens. Her fairly large hit point pool can evaporate in a matter of seconds when under fire, and having a sub-par detection range for a Tier X destroyer compounds the problem. All non-Russian destroyers can outdetect the
Z-52
, which places her at a disadvantage when engaging and disengaging in gunfights.
Pros:
Fast firing guns and decently fast turret traverse
Decent shell speed and arcs
Best gun range of all destroyers (16.8km max)
Fast torpedoes and fastest torpedo reload of all Tier X's
Decent torpedo range
Good AA for a destroyer - comparable to a cruiser
Decent ship speed, acceleration and HP
Has Hydroacoustic Search (6 km max range)
Cons:
Slow rudder shift
Large turning radius
Shortest smoke duration of all Tier X's
Her torpedoes have the same damage as her predecessors, giving her the lowest damage potential per torpedo broadside in her tier.
Is obese - sub-280mm shells will often deal normal penetration damage to it (which is devastating for a destroyer), although she does not have more armour than other destroyers.
Research
You only need to research the 10.5km G7 Steinwal torpedoes.
Optimal Configuration
Upgrades
The recommended upgrades for Z-52 are as follows:
If available, captains are encouraged to install Hydroacoustic Search Modification 1 (

) in Upgrade Slot 2 in order to extend Z-52's Hydroacoustic Search (

) duration to 146 seconds. Upgrade Slot 6 may be replaced by Main Battery Modification 3 (

) or Gun Fire Control System Modification 2 (

) for captains that prefer a main battery oriented build.
Commander Skills
Recommended Commander Skills
Cost
(points)

Endurance

Attack

Support

Versatility



1

★★★

★★

 

 

 

 

 

 



2

 

★

 

 

 

 

★★

★★★



3

 

★★★

★★

 

★★

★★★

★★

★



4

 

 

★

 

★★

 

★★

★★★

Key: ★★★ - Extremely Useful       ★★ - Frequently Useful       ★ - Occasionally Useful      No stars - Meh    

Χ

- Not recommended
Consumables
Z-52 can equip the following consumables:
Camouflage
Type 1, 2, or 5 camouflage can be equipped for credits; Types 1 or 5 are recommended at a minimum to reduce detectibility range.
Players who wish to spend doubloons can equip Z-52 with Type 20 camouflage that lowers her detection radius, reduces the accuracy of incoming shells, reduces her repair costs, increases her credit earnings, and increases the amount of experience she earns.
Signals
The choice of which
Signal Flags
to mount will confer to the individual preference of each captain, and are subject to great variation, although there are certain flags which suit Destroyer gameplay better. Captains should mount India Yankee to decrease time to extinguish fires, mount November Foxtrot to decrease reload time of consumables, and mount Sierra Mike to increase the ship's maximum speed. To make their torpedoes more potent, captains should mount Juliet Whisky Unaone to increase chance of causing flooding and Juliet Charlie to mitigate risk to magazine detonation from mounting the former flag. If captains wish to buff their primary artillery, they are encouraged to mount Victor Lima + India X-ray to increase fire chance to HE shells.
Gallery