Zara
Revision as of 19:51, 23 November 2020

Wrote Pro/Con section. Updated captain skills and signal flags.

Latest revision as of 20:05, 23 November 2020
Line 23:
Line 23:
 
* High base health pool of 37,100hp.
 
* High base health pool of 37,100hp.
 
* {{Exhaust Smoke Generator}} and excellent turning circle allow for effective dodging and disengaging.
 
* {{Exhaust Smoke Generator}} and excellent turning circle allow for effective dodging and disengaging.
?
* 30mm upper belt can bounce ≤381mm AP rounds from battleships.
+
* 30mm upper belt can bounce AP rounds from battleships.
 
 
 
|Cons=<!-- write list of negative points below. use * as in ordinary wiki-list. -->
 
|Cons=<!-- write list of negative points below. use * as in ordinary wiki-list. -->
Latest revision as of 20:05, 23 November 2020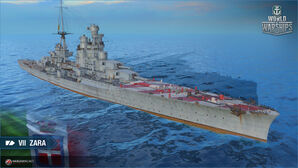 Tech Tree Position
Maximum Speed
32 

knot
Turning Circle Radius
580 

m.
Rudder Shift Time
13.7 

sec.
Surface Detectability Range
13.96 

km.
Air Detectability Range
6.98 

km.
Battle Levels
Zara — Italian Tier VII cruiser.
During the pre-war period, she was one of the best heavy cruisers in the world. The ship differed favorably from most contemporary counterparts by her good armor protection and overall well-balanced characteristics, but most of all, by her armament and speed.
Modules
Compatible Upgrades
 Slot 1 
 Slot 2 
 Slot 3 
 Slot 4 
Player Opinion
Performance
Zara
builds upon the strengths of her predecessor, while addressing some of the shortcomings of the
Trento
.
Zara
retains the 4x2 203mm main battery -- however with upgraded shells that are superior in terms of alpha damage and shell velocity. Although the citadel remains prominent, the upper belt armor has been made thicker, allowing for more effective kiting. The maximum concealment has been slightly improved and the hit point pool is now among the best in tier. Veteran players will be able to abuse the tightened turning circle to dodge long range fire. Overall, while the
Zara
remains a difficult ship for inexperienced players to master, long-time cruiser players will be rewarded for their mechanical skill and game knowledge.
Pros:
Excellent alpha strike potential with upgraded 4x2 203mm SAP shells, highly effective against Destroyers and Cruisers.
Good range (16.12km) which can be further increased with spotter plane.
Versatile triple torpedo launchers per side with good firing angles and 12km range.
High base health pool of 37,100hp.
Exhaust Smoke Generator () and excellent turning circle allow for effective dodging and disengaging.
30mm upper belt can bounce ≤429mm AP rounds from battleships.
Cons:
Poor vision control with a 12.19km fully upgraded detection.
Cannot effectively engaged nose-in targets with SAP or AP. Will lose DPM fights against HE-equipped cruisers.
Prominent citadel and 25mm deck armor scheme remain vulnerable to the majority of BBs in her matchmaking spread.
Lack of Hydroacoustic Search () makes solo hunting DDs challenging.
Lackluster AA-range cannot adequately deter carrier strikes.
Research
Availability of researchable upgrades for Zara is as follows:
Hull: Upgrade to Hull (B) for better armor and anti-air defenses. Research of this module unlocks progression to Amalfi.
Gun Fire Control System: Upgrade for an extra 10% range on the main battery.
Optimal Configuration
Upgrades
The recommended upgrades for Zara are as follows:
Commander Skills
Like the Trento before her, Zara captains are not under a high amount of pressure when it comes to skill point distribution, due to the absence of HE shells and a limited number of consumables. The primary consideration is whether the player wishes to build the captain towards increased DD-hunting effectiveness [Vigilance + Radio Position Finding] or general purpose survivability [Survivability Expert, Preventative Maintenance, and/or Incoming Fire Alert].
Recommended Commander Skills
Cost
(points)

Endurance

Attack

Support

Versatility



1

★★★

★

★★

Χ

 

Χ

★★

Χ



2

 

★★★

★

★

 

Χ

★★★

★



3

 

★★

 

Χ

 

★★★

Χ

★★



4

Χ

 

Χ

Χ

Χ

 

★★

★★★

Key: ★★★ - Extremely Useful      ★★ - Frequently Useful      ★ - Occasionally Useful     No stars - Meh     

Χ

- Not recommended
Consumables
Zara can equip the following consumables:
Signals
Zara players should prioritize X-Ray Papa Unaone to boost the ship's strongest consumable; Sierra Mike and November Foxtrot will also be useful in every battle. Players who have faced detonation problems will want to consider mounting Juliet Charlie.
Recommended Signal Flags
Combat

★

 

 

★

 

★

★★

★★★

 

 

★

★★

★★★

 

Economic

 

 

 

 

 

Special

 

 

 

 

 

 

 

 

Key: ★★★ - Extremely Useful       ★★ - Frequently Useful       ★ - Occasionally Useful      No stars - Not Useful
Gallery
References