Bishop
Bishop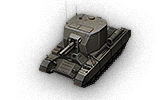 Overview
Mouse over "
▲
Well, the ones further down, of course.
" for more information
[Client Values; Actual values in
▲
Specifically, the mismatch in crew values caused by commander's 10% crew skill bonus. Outside of a crew of 1 commander only, 100% crew is a fiction. The client values, given for 100% crew, will normally be taken into battle with 110% crew skill members aside from specific functions, causing their actual performance to deviate from the expected client value. These differences are taken into account in tooltip boxes.
]
405,000  


Cost
350
350
HP
Hit Points
17.69/17.7
17.83/20
t
Weight Limit
Crew
Commander (Radio Operator)
Gunner
Driver
Loader
Mobility
135
165
hp
Engine Power
24

km/h
Speed Limit
20
22
deg/s
Traverse
7.63
9.25
hp/t
Power/Wt Ratio
Yes
Yes
Pivot
Armor
Armament
Shells
Shell Cost
210-350
338-563
HP
Damage
33-55
43-71
mm
Penetration
6.82100% crew: ? rpm
+ Vents: ? rpm
+ BiA : ? rpm
+ Food: ? rpm
4.65100% crew: ? rpm
+ Vents: ? rpm
+ BiA : ? rpm
+ Food: ? rpm
Rate of Fire
DPM
Damage Per Minute
0.68100% crew: ? m
+ Vents: ? m
+ BiA : ? m
+ Food: ? m
0.72100% crew: ? m
+ Vents: ? m
+ BiA : ? m
+ Food: ? m
Accuracy
4.5100% crew: ? s
+ Vents: ? s
+ BiA : ? s
+ Food: ? s
4.5100% crew: ? s
+ Vents: ? s
+ BiA : ? s
+ Food: ? s
Aim time
20100% crew: ? deg/s
+ Vents: ? deg/s
+ BiA : ? deg/s
+ Food: ? deg/s
20100% crew: ? deg/s
+ Vents: ? deg/s
+ BiA : ? deg/s
+ Food: ? deg/s
deg/s
Gun Traverse Speed
?

°
Gun Arc
-?

°

/+

°
-?

°

/+

°
Elevation Arc
32
32
rounds
Ammo Capacity
General
20
15
 %
Chance of Fire
300100% crew: ? m
+ Vents: ? m
+ BiA : ? m
+ Food: ? m
300100% crew: ? m
+ Vents: ? m
+ BiA : ? m
+ Food: ? m
View Range
400100% crew: ? m
+ Vents: ? m
+ BiA : ? m
+ Food: ? m
550100% crew: ? m
+ Vents: ? m
+ BiA : ? m
+ Food: ? m
Signal Range
Values are Stock - click for Top
Modules
Tier
Name
Ammo
Damage
Penetration
Shell Price
Rate of Fire
Accuracy
Aim Time
Elevation
XP Cost
Price
Weight
IV
Q.F. 25-Pr. Gun/How.
32

280

/

180

/

180

HP

44

/

92

/

71

mm

83 /7 /83

6.82100% crew: ? rpm
+ BiA : ? rpm
+ Food: ? rpm

r/m

0.68100% crew: ? m
+ BiA : ? m
+ Food: ? m

m

4.5100% crew: ? s
+ BiA : ? s
+ Food: ? s

s

-?

°

/+?

°

---
28,500

kg

510
V
Q.F. 4.5-in. Howitzer
32

450

HP

57

mm

250

4.65100% crew: ? rpm
+ BiA : ? rpm
+ Food: ? rpm

r/m

0.72100% crew: ? m
+ BiA : ? m
+ Food: ? m

m

4.5100% crew: ? s
+ BiA : ? s
+ Food: ? s

s

-?

°

/+?

°

4,000
43,000

kg

463
---
| Tier | Name | Power | Fire Chance | Type | XP Cost | Price | Weight |
| --- | --- | --- | --- | --- | --- | --- | --- |
| II | AEC A189 | hp |  % | Gasoline | --- | | kg |
| III | AEC A190 | hp |  % | Diesel | 180 | | kg |
| IV | GMC 6004 6-71S | hp |  % | Diesel | 700 | | kg |
| V | GMC 6004 6-71A | hp |  % | Diesel | 800 | | kg |
---
| Tier | Name | Load Limit | Traverse Speed | XP Cost | Price | Weight |
| --- | --- | --- | --- | --- | --- | --- |
| IV | Valentine Mk. II | t | d/s | | | kg |
| V | Bishop | t | d/s | | | kg |
---
Tier
Name
Range
XP Cost
Price
Weight
VI
WS No. 19 Mk. I

400100% crew: ? m
+ BiA : ? m
+ Food: ? m

m

---
15,000

kg

40
VII
WS No. 19 Mk. II

450100% crew: ? m
+ BiA : ? m
+ Food: ? m

m

3,600
21,000

kg

40
VIII
WS No. 19 Mk. III

550100% crew: ? m
+ BiA : ? m
+ Food: ? m

m

4,000
22,000

kg

40
Compatible Equipment