M4A3E8 Sherman
Revision as of 21:35, 16 July 2011

Corrected one typo: meduim -> medium

Revision as of 14:48, 10 August 2011
Line 30:
Line 30:
 
|icon=[[image:USA-M4A3E8 Sherman.png|link=|left]]
 
|icon=[[image:USA-M4A3E8 Sherman.png|link=|left]]
 
|rMargin=248px
 
|rMargin=248px
?
|content=The M4A3E8 "Easy Eight" Sherman is a faster, better armored version of the [[M4 Sherman]]. While it cannot load the 105mm Howitzer cannon popular on the [[M4 Sherman]], it does get an upgraded 76mm Gun M1A2, which has good penetration and an amazing rate of fire. However, despite the increased armor compared to the M4, the "Easy Eight" is still a very soft target and will be easily destroyed if it stays targeted for too long. Run and gun tactics are a must with the Easy Eight, as it has enough speed and maneuverability to circle many heavier tanks due to their inferior turret traverses. With the rapid rate of fire, the longer this tank stays on target, the more damage it does. However, the longer it stays exposed, the more likely it is to get hit by enemy fire. Finding a balance is a necessity, and is excellent practice for the following (in the research tree) American medium tanks, which all share a similar lack of armor.
+
|content=The M4A3E8 "Easy Eight" Sherman is a faster, better armored version of the [[M4 Sherman]]. While it cannot load the 105mm Howitzer cannon popular on the [[M4 Sherman]], it does get an upgraded 76mm Gun M1A2, which has good penetration and an amazing rate of fire. However, despite the increased armor compared to the M4, the "Easy Eight" is still a very soft target and will be easily destroyed if it stays targeted for too long. Run and gun tactics are a must with the Easy Eight, as it has enough speed and maneuverability to circle many heavier tanks due to their inferior turret traverses. With the rapid rate of fire, the . However, the longer it stays exposed, the more likely it is to get hit by enemy fire. Finding a balance is a necessity, and is excellent practice for the following (in the research tree) American medium tanks, which all share a similar lack of armor.
 
:Research leads to the [[T20]] medium tank and [[M36]] Slugger.
 
:Research leads to the [[T20]] medium tank and [[M36]] Slugger.
 
}}
 
}}
Revision as of 14:48, 10 August 2011
M4A3E8 Sherman
M4A3E8 "Easy Eight" Sherman
Totals

Cost
710,500  
Health
720 / 750 (new turret)
Weight/Load Limit
30.04/33.00

t

Crew

5

Mobility

Engine Power
380

hp

Speed Limit
48

km/h

Traverse Speed
43

deg/s

Armor

Hull Armor
63/38/38

mm

Turret Armor
63/63/63

mm

Armament

Damage
83-138

HP

Penetration
69-115

mm

Rate of Fire
18.02

r/m

Accuracy
0.36-0.40

m

Aim time
1.8

s

Turret Traverse
50

deg/s

Gun Traverse Arc

gunTraverseArc

Gun Vertical Limits

gunVerticalLimits

Ammo Capacity

ammo

General

Chance of Fire
20

%

View Range
380

m

Signal Range
450

m

Parent
Child
Values Are Stock // Top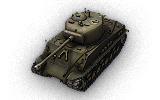 The M4A3E8 "Easy Eight" Sherman is a faster, better armored version of the M4 Sherman. While it cannot load the 105mm Howitzer cannon popular on the M4 Sherman, it does get an upgraded 76mm Gun M1A2, which has good penetration and an amazing rate of fire. However, despite the increased armor compared to the M4, the "Easy Eight" is still a very soft target and will be easily destroyed if it stays targeted for too long. Run and gun tactics are a must with the Easy Eight, as it has enough speed and maneuverability to circle many heavier tanks due to their inferior turret traverses. With the rapid rate of fire, the Easy Eight can devastate tier seven and below tanks. However, the longer it stays exposed, the more likely it is to get hit by enemy fire. Finding a balance is a necessity, and is excellent practice for the following (in the research tree) American medium tanks, which all share a similar lack of armor. Despite alll this, the Easy Eight should not be underestimated, and anyone who does in a tier six or below will become a smoking wreck.
Modules
Tr

Nm

Dam

Pen

RoF

Acr

Aim

Pr

Wt

IV

75mm Gun M3L/37

110

/

110

/

175

(HP)

92

/

127

/

38

(mm)

18.02-23.08

(r/m)

0.40

(m)

1.8

(s)

30 000

(kg)

1 437

VI

76mm Gun M1A1

115

/

110

/

185

(HP)

128

/

177

/

38

(mm)

16.22-18.99

(r/m)

0.38

(m)

2.0

(s)

50 330

(kg)

1 567

VI

76mm Gun M1A2

115

/

110

/

185

(HP)

128

/

177

/

38

(mm)

19.11-21.05

(r/m)

0.35

(m)

2.0

(s)

64 000

(kg)

1 590
---
Tr

Nm

Arm

T.Tr

VR

Pr

Wt

V

D51072

(mm)

63/63/63

(d/s)

43

(m)

380

12 900

(kg)

4 800

VI

D51080

(mm)

76/51/51

(d/s)

45

(m)

420

17 050

(kg)

4 800
---
---
Tr

Nm

LL

Tv

Pr

Wt

V

NVSS T66

(t)

33.00

(d/s)

37

9 600

(kg)

8 300

VI

NVSS T8051

(t)

34.50

(d/s)

40

16 300

(kg)

8 300
---
Tr

Nm

SR

Pr

Wt

VI

SCR 508

(m)

450

21 600

(kg)

100

IX

SCR 506

(m)

700

33 600

(kg)

110
The official name is the M4A3(76)W HVSS, but "Sherman Easy Eight" is the nickname this tank is widely remembered. Sherman M4A3E8 earned the nickname from it's experimental E8 designation. This new variant entered into WWII late in the war (Dec 1944), and was kept in service in various western allied nations deep into the Cold war.
Evolutionary differences from the prior Sherman variants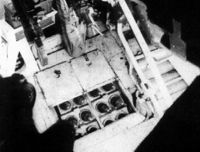 This tank sported the much-vaunted HVSS (horizontal volute spring suspension) wide track and suspension upgrade. HVSS suspension increased the Sherman's weight by 2950lbs with the T66 single-pin track and 4780 lbs with the T84 double-pin track. HVSS allowed the installation of wider tracks, thereby decreasing the tank's ground pressure, and eased maintenance on the running gear since the bogie no longer had to be disassembled to remove road wheels. HVSS also provided more wheel travel, which gave the tank an easier and more stable ride, it also made the tank a much more stable firing platform.
The turret was also enlarged to accommodate the more powerful 76 mm gun. Muzzle velocity of the 76 mm cannon, the vehicle's primary armament, was 780 m/sec, causing penetration of 101 mm of armor at a distance of 1,000 yards (914 m). Maximum range of the cannon in indirect fire mode was 15,000 yards (13,716 meters). From it's predecessor, the M4A3E8 inherited glacis sloped to 47 degrees, while driver and co-driver vision slots were changed to periscopes housed in the top of the hatches.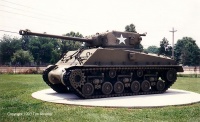 The most significant change that distinguished the "Easy Eight" from it's predecessors was the "wet storage" of ammunition to reduce fire risk in the event of penetration from an enemy AP round. The primary place of storage of ammunition was moved from the side of the tower (dry storage) into protected folders on the floor of the tank under the tower (wet storage).
Production of "Easy Eights" began in early 1944 and continued until April 1945. The "Easy Eight" became the standard tank of the American 3rd and seventh Army in Europe, and after the war, was successfully deployed in Korea and the Middle East. In the postwar years, it was included in the armament of various Western Allied armies. A total of 4,542 M4A3 tanks of both suspension types were produced.
Sources and External Links