T-43
Revision as of 10:18, 6 September 2011
Revision as of 14:54, 16 September 2011

100mm D10-T, reload time set to 6.2 sec, aiming time set to 2.0 sec per update 6.7

Line 37:
Line 37:
 
|gun2=6, 85 mm ZiS S-53, AP/APCR/HE, 160/160/280, 120/161/43, 13.64, 0.37, 2.5, 62 000, 1 550
 
|gun2=6, 85 mm ZiS S-53, AP/APCR/HE, 160/160/280, 120/161/43, 13.64, 0.37, 2.5, 62 000, 1 550
 
|gun3=7, 85 mm D5T-85BM, AP/APCR/HE, 165/165/290, 144/194/44, 11.79, 0.32, 2.5, 73 600, 1 850
 
|gun3=7, 85 mm D5T-85BM, AP/APCR/HE, 165/165/290, 144/194/44, 11.79, 0.32, 2.5, 73 600, 1 850
?
|gun4=7, 100 mm D10T, AP/APCR/HE, 230/230/330, 175/235/50, 7.06-8.5, 0.37, 2.5, 78 180, 2 257
+
|gun4=7, 100 mm D10T, AP/APCR/HE, 230/230/330, 175/235/50, ., 0.37, 2., 78 180, 2 257
 
 
 
|turret1=6, T-43, 80/60/80, 56, 400, 12 840, 7 000
 
|turret1=6, T-43, 80/60/80, 56, 400, 12 840, 7 000
Revision as of 14:54, 16 September 2011
T-43
T-43
| | | |
| --- | --- | --- |
| USSR | Medium Tank | Tier VII |
Totals

Cost
1,305,300  
Health
1,000 / 1,100 (new turret)
Weight/Load Limit
333.13/34

t

Crew

4

Mobility

Engine Power
520

hp

Speed Limit
51

km/h

Traverse Speed
37

deg/s

Armor

Hull Armor
76/60/60

mm

Turret Armor
80/60/80

mm

Armament

Damage
120-200

HP

Penetration
90-150

mm

Rate of Fire
13.64

r/m

Accuracy
0.37

m

Aim time
2.5

s

Turret Traverse
56

deg/s

Gun Traverse Arc

gunTraverseArc

Gun Vertical Limits

gunVerticalLimits

Ammo Capacity

ammo

General

Chance of Fire
15

%

View Range
400

m

Signal Range
370

m

Parent
Child
Values Are Stock // Top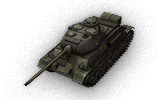 The T-43, while using the same gun as the T-34-85 medium tank, is still a major improvement over its predecessor. It has better all-around armor and is more nimble than the T-34-85, even while using the stock engine. Even with this improved mobility, however, T-43 is fairly slow and sluggish and its agility is nowhere near that of either T-44 or T-54 medium tanks. Dogfighting most medium tanks of your tier, especially the American ones, is pretty much a suicide, as even some tank destroyers, such as the Jagdpanther, can sometimes outmaneuver you and the very popular IS line of heavy tanks is just as fast as the T-43. The angled armor helps a lot, especially when being shot from a distance, where even very heavy rounds (such as Ferdinand, Tiger P, Tiger II etc.) can bounce off. You can choose to start with the 85mm or 122mm (if researched) cannons, but to mount the 85mm D5t-85BM and 100mm D10T, you will need the upgraded turret. The 100mm D10T cannon is a decent, but you still have to beware tanks with heavy front armor, such as the Tiger II and above - do not even bother engaging these tanks head on. Also, you can keep the gun for your T-44. Unless you are going with maximum speed, you will offer a very tempting target for pretty much every heavy tank in the battle, as its armor, while sloped, is definitely quite easy to penetrate. The ammo rack, while not as vulnerable as in T-44, also poses a problem in dog fight - protect the side of your turret at all costs, otherwise you might be sentencing your crew to quick fiery death. Generally, T-43 works best from second line. The D10T, while not as accurate as German guns, is acceptable and you can do some damage, especially if they are distracted. Stay in cover, watch for exposed enemies and fire at them when the time is right.
The next tank in the USSR medium line is the T-44 medium tank.
Modules
Tr

Nm

Dam

Pen

RoF

Acr

Aim

Pr

Wt

V

122 mm U-11

450

/

370

(HP)

61

/

160

(mm)

6

(r/m)

0.50

(m)

2.5

(s)

59 920

(kg)

1 600

VI

85 mm ZiS S-53

160

/

160

/

280

(HP)

120

/

161

/

43

(mm)

13.64

(r/m)

0.37

(m)

2.5

(s)

62 000

(kg)

1 550

VII

85 mm D5T-85BM

165

/

165

/

290

(HP)

144

/

194

/

44

(mm)

11.79

(r/m)

0.32

(m)

2.5

(s)

73 600

(kg)

1 850

VII

100 mm D10T

230

/

230

/

330

(HP)

175

/

235

/

50

(mm)

9.68

(r/m)

0.37

(m)

2.0

(s)

78 180

(kg)

2 257
---
Tr

Nm

Arm

T.Tr

VR

Pr

Wt

VI

T-43

(mm)

80/60/80

(d/s)

56

(m)

400

12 840

(kg)

7 000

VII

T-43-100

(mm)

90/62/62

(d/s)

52

(m)

400

15 300

(kg)

8 400
---
Tr

Nm

Pw

CoF

Pr

Wt

VII

V-2-34M

(h.p.)

520

%

15

36 000

(kg)

750

VIII

V-2-44

(h.p.)

560

%

12

36 000

(kg)

750
---
Tr

Nm

LL

Tv

Pr

Wt

VI

T-43

(t)

34.0

(d/s)

37

11 690

(kg)

6 400

VII

T-43M

(t)

37.3

(d/s)

40

17 720

(kg)

6 400
---
Tr

Nm

SR

Pr

Wt

IV

9R

(m)

370

1 980

(kg)

100

VIII

9RM

(m)

600

24 240

(kg)

100
By the middle of the war it had become clear that the Red Army needed a new medium tank. The military demanded a tank with both maximum protection and minimum weight. These demands were implemented and the new medium tank project was completed by June 1943 under the name of T-43.
Development
The T-43 had a configuration like the T-34 Medium Tank; its glacis consisted of 75 mm of armor and its turret-front was 90 mm. The tank was armed with the 76.2 mm F-34 Tank Gun. However, the total length of the engine and transmission compartment was not reduced; therefore, the battle compartment remained very cramped. To increase internal space, Soviet designers applied a torsion bar suspension that was more compact then the original Christie «candle» suspension. It was the first time that a torsion bar suspension was used for medium tanks.
Beginning in March 1943, two T-43 prototypes (preceded by vehicle T-43-1, which was built at the end of 1942. It possessed a driver's vision hatch and had the commander's cupola displaced to the rear of the turret.) underwent trials. These included combat trials with the NKSM Independent Tank Company. These showed that the T-43, because of its increased 34.1 ton weight, was marginally inferior to the T-34 in its ability to maneuver (maximum speed was decreased to 48 km/h). It did, however, significantly surpass the latter in smoothness of ride. The replacement of the eight side fuel tanks (on the T-34) for a smaller capacity fuel tank in the bow resulted in almost a 100km decrease in the radius of action. Tank crews praised the crew compartment and greater ease in operating the armament. After trials, the T-43 tank was recommended for acceptance by the Red Army at the end of the summer of 1943, but the results of the Battle of Kursk significantly altered this plan.
The armor protection was superior, compared to the T-34, while its armament was similar to the KV-1S Heavy Tank. However, the T-43 had a ground pressure similar to heavy tanks that adversely affected its range and maneuverability. Even worse was its extreme construction: it didn't allow further modernization. As a result, when production T-34's were rearmed with the 85 mm gun, the T-43 became obsolete. However, experience with the T-43 was not lost. The T-43's tests (3,000 km race) had clearly proved the superiority of the torsion bar suspension over the Christie's.
Sources and External Links