T18
Revision as of 18:05, 12 May 2012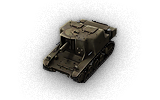 The T18 is an American tier 2 tank destroyer. It is a worthy representative to the tier 2 tank destroyers, despite having been developed on the chassis of the M3 Stuart. First of all, the T18 is a closed-type tank destroyer and its armor plating can make it a hard nut to crack. As always, there is an opposite side of the coin; the weight of the armor plating affects the speed and maneuverability of this tank considerably. Even so, it is remarkably fast and has astonishing firepower for its tier. The choice of mounted weapon is also an important factor in deciding what tactics to use in battles.
The T18 leads to the T82.
T18/ModulesT18/EquipmentT18/Consumables
Pros and Cons
Pros:
Above average hit points
Above average engine power and top speed
Above average armour
Above average damage
Above average gun arc
Above average signal range

Cons:
Below average traverse speed
Below average penetration and rate of fire
Below average accuracy and elevation arc
Below average ammo capacity
Below average view range
Combat Effectiveness
The T18 can be either the best tier 2 TD or the worst, all depending on how you use it. As a stock tank, it leaves much to be desired, with weak suspension, engine, and gun. for the early stages of game play, sniping with this tank can be the best way to go. being a low-tier TD, it will always encounter tanks larger than itself (tier 3's at best, 4's at worst.)Its small size allows it to hide well from afar, and its heavier than usual armor allows for many deflections at medium to long range. Close-quarters fighting, however, must be done with caution, and preferably with the tank fully upgraded. Even with the top engine and suspension, this TD is very sluggish when compared with other tanks of its class. In the way of armament, however, nothing can defeat it. Armed with a 75mm howitzer, the T18 can one or two shot all tier 2 tanks, and kill tier 3 tanks with incredible ease. When using the tank for close quarters, it is imperative to always have supporting tanks, as the T18 has VERY light side and rear armor, and since it lacks a turret, can be surrounded very easily. Although the frontal armor is quite thick, not many penetrating shots will be needed to take this tank out, and caution should always be used.
Early Research

Suggested Equipment


The T18 was originally designed as a self-propelled gun for supporting infantry. It was armed with a 75-mm Howitzer installed in a spacious, fully enclosed armored hull. The development was started in October 1941 and finished in May 1942. The project was abandoned due to the emergence of the more advanced M8.
Sources and External Links