T18
Revision as of 10:17, 4 July 2011
| | |
| --- | --- |
| | This page is a work in progress, Uljanov was editing it and left halfway through so please do not edit it until it is marked as complete before you contact the user or enough time as passed for the page to be considered abandoned. Use the Discussion page for any relevant input you might have please. |
This warning was posted at: 07:24, 4 July 2011 (UTC)
T18
T18
Totals

Cost
12,300  
Health
130
Weight/Load Limit
13.21/14

t

Crew

4

Mobility

Engine Power
245

hp

Speed Limit
48

km/h

Traverse Speed
30

deg/s

Armor

Hull Armor
51/32/25

mm

Armament

Damage
30-50

HP

Penetration
42-70

mm

Rate of Fire
33,33

r/m

Accuracy
0.35

m

Aim time
1

s

Gun Traverse
50

deg/s

Gun Traverse Arc

gunTraverseArc

Gun Vertical Limits

gunVerticalLimits

Ammo Capacity

ammo

General

Chance of Fire
12

%

View Range
270

m

Signal Range
300

m

Parent
Child
Values Are Stock // Top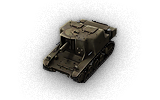 The T18 is a worthy representative of second tier Tank Destroyers, despite having been developed on the chassis of the M3 "Stuart". First of all, T18 is a closed-type Tank Destroyer and its armor plating makes it a really hard nut to crack. But, as always, there is an opposite side of the coin: the weight of the armor plating affects the speed and maneuverability of this tank considerably. The choice of mounted weapon is also an important factor in deciding what tactics to use in battles. Research along the T18 tree leads to the Tier 3 T82 Tank-Destroyer.
Modules
---
| | |
| --- | --- |
| | SPGs and TDs don't have turret modules |
---
---
Tr

Nm

LL

Tv

Pr

Wt

I

T18E1

(t)

14

(d/s)

30

270

(kg)

3 000

II

T18E2

(t)

15

(d/s)

32

580

(kg)

3 000
---
The T18 was originally designed as a self-propelled gun for supporting infantry. It was armed with a 75-mm Howitzer installed in a spacious, fully enclosed armored hull. The development was started in October 1941 and finished in May 1942. The project was abandoned due to the emergence of the more advanced M8.
Sources and External Links