121
Ch19_121 (Stock)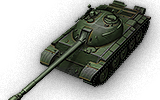 Totals
6100000
Price
1950
Hit Points
38.96 / 42 kg
Weight
Crew
Armor
120/80/60
Hull Armor

(front/sides/rear, mm)
240/130/60
Turret Armor

(front/sides/rear, mm)
Maneuver
580 h.p.
Engine Power
56 km/h
Speed Limit
50 deg/sec
Traverse Speed
Firepower
440
Standard Shell Damage
258 mm
Standard Shell Penetration
9.6
Gun Loading
40 deg/sec
Turret Traverse Speed
Communication
400 m
View Range
750 m
Signal Range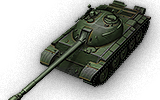 Development began in 1962 on a new medium tank based on the Type 59. The new tank was expected to feature improvements in firepower and armor protection. However, the project was canceled shortly after. Some technical innovations were applied later, in the development of the Type 69 tank. All 121 tank prototypes were destroyed during Chinese nuclear weapon testing.
| | Level | Turret | Weight (t) | Turret Armor (front/sides/rear, mm) | Gun Traverse Speed (deg/s) | View Range (m) |
| --- | --- | --- | --- | --- | --- | --- |
| | X | 121 | 10000 | 240/130/60 | 40 | 400 |
| | Level | Gun | Weight (t) | Average Penetration (mm) | | Rate of Fire | Dispersion at 100 m | Aiming Time |
| --- | --- | --- | --- | --- | --- | --- | --- | --- |
| | X | 122 mm 60-122TG | 2800 | 258/340/68 | 440/440/530 | 6.25 | 0.35 | 2.7 |
| | Level | Engine | Weight (t) | Engine Power (h.p.) | Chance of Fire on Impact |
| --- | --- | --- | --- | --- | --- |
| | X | 12150L7 | 935 | 580 | 12 |
| | Level | Suspension | Weight (t) | Load Limit | Traverse Speed (deg/s) |
| --- | --- | --- | --- | --- | --- |
| | X | 121 | 7700 | 42 | 50 |
| | Level | Radio | Weight (t) | Signal Range (m) |
| --- | --- | --- | --- | --- |
| | X | A-220B | 0 | 750 |
Compatible Equipment
























Compatible Consumables


















History for this tank not found