113
Ch22_113 (Stock)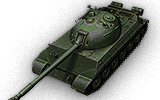 Totals
6100000
Price
2300
Hit Points
44.96 / 48 kg
Weight
Crew
Armor
120/90/70
Hull Armor

(front/sides/rear, mm)
240/160/80
Turret Armor

(front/sides/rear, mm)
Maneuver
750 h.p.
Engine Power
50 km/h
Speed Limit
36 deg/sec
Traverse Speed
Firepower
440
Standard Shell Damage
249 mm
Standard Shell Penetration
10.9
Gun Loading
26 deg/sec
Turret Traverse Speed
Communication
400 m
View Range
750 m
Signal Range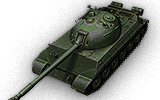 Development on model 113 was started in 1963. The vehicle was conceived as an alternative to WZ-111 and used parts and components of medium tanks. However, the project was canceled due to the development of main battle tanks.
| | Level | Turret | Weight (t) | Turret Armor (front/sides/rear, mm) | Gun Traverse Speed (deg/s) | View Range (m) |
| --- | --- | --- | --- | --- | --- | --- |
| | X | 113 | 12000 | 240/160/80 | 26 | 400 |
| | Level | Gun | Weight (t) | Average Penetration (mm) | | Rate of Fire | Dispersion at 100 m | Aiming Time |
| --- | --- | --- | --- | --- | --- | --- | --- | --- |
| | X | 122 mm 60-122T | 2757 | 249/340/68 | 440/440/530 | 5.5 | 0.36 | 2.7 |
| | Level | Engine | Weight (t) | Engine Power (h.p.) | Chance of Fire on Impact |
| --- | --- | --- | --- | --- | --- |
| | X | V-2-54SC | 1045 | 750 | 12 |
| | Level | Suspension | Weight (t) | Load Limit | Traverse Speed (deg/s) |
| --- | --- | --- | --- | --- | --- |
| | X | 113 | 10000 | 48 | 36 |
| | Level | Radio | Weight (t) | Signal Range (m) |
| --- | --- | --- | --- | --- |
| | X | A-220B | 0 | 750 |
Compatible Equipment
























Compatible Consumables


















History for this tank not found