FV304
GB77_FV304 (Stock)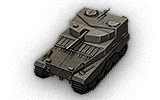 Totals
930000
Price
280
Hit Points
20.41 / 20.7 kg
Weight
Crew
Armor
25.4/25.4/25.4
Hull Armor

(front/sides/rear, mm)
25.4/10/25.4
Turret Armor

(front/sides/rear, mm)
Maneuver
350 h.p.
Engine Power
72.4 km/h
Speed Limit
22 deg/sec
Traverse Speed
Firepower
280
Standard Shell Damage
44 mm
Standard Shell Penetration
6.3
Gun Loading
20 deg/sec
Turret Traverse Speed
Communication
310 m
View Range
450 m
Signal Range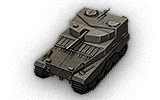 Prototype light Artillery developed by Vickers. Development started in 1947. However, the prototype was not manufactured until 1953. The design of the Artillery was already obsolete by this time, and the project was canceled.
| | Level | Gun | Weight (t) | Average Penetration (mm) | | Rate of Fire | Dispersion at 100 m | Aiming Time |
| --- | --- | --- | --- | --- | --- | --- | --- | --- |
| | IV | Q.F. 25-Pr. Gun/How. | 510 | 44/92/71 | 280/180/180 | 9.52 | 0.66 | 4.5 |
| | Level | Engine | Weight (t) | Engine Power (h.p.) | Chance of Fire on Impact |
| --- | --- | --- | --- | --- | --- |
| | V | Rolls-Royce Meteorite V8 | 496 | 350 | 20 |
| | Level | Suspension | Weight (t) | Load Limit | Traverse Speed (deg/s) |
| --- | --- | --- | --- | --- | --- |
| | V | FV304 | 8000 | 20.7 | 22 |
| | Level | Radio | Weight (t) | Signal Range (m) |
| --- | --- | --- | --- | --- |
| | VII | WS No. 19 Mk. II | 0 | 450 |
| | Level | Gun | Weight (t) | Average Penetration (mm) | | Rate of Fire | Dispersion at 100 m | Aiming Time |
| --- | --- | --- | --- | --- | --- | --- | --- | --- |
| | V | Q.F. 4.5-in. Howitzer | 463 | 57/92/71 | 450/180/180 | 6.82 | 0.7 | 4.5 |
| | Level | Engine | Weight (t) | Engine Power (h.p.) | Chance of Fire on Impact |
| --- | --- | --- | --- | --- | --- |
| | V | Rolls-Royce Meteorite V8 | 496 | 350 | 20 |
| | Level | Suspension | Weight (t) | Load Limit | Traverse Speed (deg/s) |
| --- | --- | --- | --- | --- | --- |
| | V | FV304 | 8000 | 20.7 | 22 |
| | Level | Radio | Weight (t) | Signal Range (m) |
| --- | --- | --- | --- | --- |
| | VIII | WS No. 19 Mk. III | 0 | 550 |
| | Level | Gun | Weight (t) | Average Penetration (mm) | | Rate of Fire | Dispersion at 100 m | Aiming Time |
| --- | --- | --- | --- | --- | --- | --- | --- | --- |
| | V | Q.F. 4.5-in. Howitzer | 463 | 57/92/71 | 450/180/180 | 6.82 | 0.7 | 4.5 |
| | Level | Engine | Weight (t) | Engine Power (h.p.) | Chance of Fire on Impact |
| --- | --- | --- | --- | --- | --- |
| | V | Rolls-Royce Meteor M300 | 744 | 500 | 20 |
| | Level | Suspension | Weight (t) | Load Limit | Traverse Speed (deg/s) |
| --- | --- | --- | --- | --- | --- |
| | VI | FV304 Mk. II | 8000 | 22.7 | 24 |
| | Level | Radio | Weight (t) | Signal Range (m) |
| --- | --- | --- | --- | --- |
| | VIII | WS No. 22 | 0 | 700 |
Compatible Equipment




















Compatible Consumables


















History for this tank not found