KV-220 Beta-Test
KV-220 (Stock)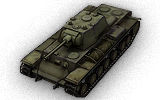 Totals
2500
價格
800 血量
耐久性
62.23 / 70.4
重量
Crew
Armor
100/100/80 前/側/後,毫米
車身裝甲
90/75/75 前/側/後,毫米
炮塔裝甲
Maneuver
650 匹馬力
引擎功率
33 公里/小時
最高時速 / 後退速度
20 度/秒
迴轉速度
Firepower
160
damage
99 毫米
平均穿透力
7.7
完全裝填的時間
22 度/秒
炮管迴轉速度
Communication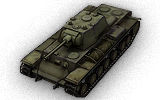 It is identical in all ways to the KV-220 but with the T (test) symbol. It was granted as a gift to beta testers on the RU and SEA servers and is rather rare outside of them. This tank basically has a KV-3 hull with a KV-1 turret, armed with an adequate gun for its tier. While having better armor than the KV-1, it can still easily be destroyed by an upgraded KV-1. This tank was only available on the RU server (with the exception of some contests on the EU server)


炮塔
| 等級 | 炮塔 | 炮塔裝甲 (前/側/後,毫米) | 炮管迴轉速度 (度/秒) | 可視範圍 (公尺) | 經驗 | 重量 (噸) |
| --- | --- | --- | --- | --- | --- | --- |
| V | KV-220 mod. 1 | 90/75/75 | 22 | 220 | 0 | 7020 |
| 等級 | 炮管 | 平均穿透力 (毫米) | | 射擊速率 | 100 公尺處擴散度 | 瞄準時間 | 經驗 | 重量 (噸) |
| --- | --- | --- | --- | --- | --- | --- | --- | --- |
| V | 76 mm ZiS-5 | 99/121/20 | 160/160/200 | 7.79 | 0.46 | 2.28 | 0 | 1155 |

引擎
| 等級 | 引擎 | 引擎功率 (匹馬力) | 火災發生機率 | 經驗 | 重量 (噸) |
| --- | --- | --- | --- | --- | --- |
| VI | V-2KT | 650 | 15 | 0 | 700 |

| 等級 | 懸吊 | 負載限制 | 迴轉速度 (度/秒) | 經驗 | 重量 (噸) |
| --- | --- | --- | --- | --- | --- |
| VI | KV-220 | 70.4 | 20 | 0 | 15000 |

通訊設備
| 等級 | 通訊設備 | 通訊範圍 (公尺) | 經驗 | 重量 (噸) |
| --- | --- | --- | --- | --- |
| V | _10R | 500 | 0 | 100 |
Compatible Equipment






















Compatible Consumables
Pros and Cons
Pros:
Does not see tier 7 battles, unlike the regular KV-1
Second highest hit points of all tier 5 heavy tanks, second only to Churchill III
Cons:
The KV-220 externally differed from ordinary KVs by the greater length of the hull, an increase of one support roller in the track, and a new turret with the 85 mm F-30 Main Gun. The weapon was specially designed for arming this tank in the design bureau of Plant No. 92, under the supervision of Grabin. It was tested successfully in the T-28 Medium Tank in the fall of 1940. Because of the steep growth in the weight of the tank, which now reached 62 tons, the V-5 engine with 700 h.p. was mounted. Testing of the KV-220 commenced on 30 January 1941 and was halted the very next day because of engine failure.
In contrast to artillerymen, tankers were falling far behind in the development of a new heavy tank. Therefore they decided to employ the KV-220 to accelerate the work of testing the new assemblies and aggregates of the KV-3. On 20 April 1941 a new engine was finally mounted in the KV-220 and the tank, loaded up to 70 tons, the loaded weight of a KV-3, was submitted for testing. By the end of May 1941 it had been driven 1330 kilometres. In the report of the plant test personnel it was noted that the tank had "a poor-shifting transmission, the support roller spindles and suspension arms had bent, the torsion bars had twisted, and the engine lacked sufficient power for a 70-ton tank."
On 20 May the KV-220 was brought in for repair, in the course of which the vehicle received a V-2SN Diesel Engine with supercharger producing 850 h.p. The tank was subjected to testing again beginning on 30 May and by 22 June 1941 had traveled a total distance of 1,985 km. But because of problems that arose during the preparation of the forged turret, the work period was extended.
In total, only one prototype was constructed in 1941.
Sources and External Links
| | |
| --- | --- |
| Light Tanks | |
| Medium Tanks | |
| Heavy Tanks | |
| Tank Destroyers | |
| Self-Propelled Artillery | |
| | |
| --- | --- |
| USA | |
| UK | |
| Germany | |
| USSR | |
| China | |
| Japan | |