Nakajima A4N
A4N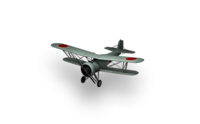 Totals
3800
價格
80
生命值
1646 公斤
重量
39.6
傷害
Speed
816
飛行速度
330 公里/小時
海平面上的最高速度
330 公里/小時
最佳高度下的最高速度
500 公尺
理想高度
430 公里/小時
最大俯衝速度
65.5 公尺/秒
爬升率
70 公里/小時
失速速度
216 公里/小時
理想飛行速度
Mobility
85.4
操控性
8.2 秒
迴轉 360 度的平均時間
100 °/秒
翻滾率
1511.9
機動性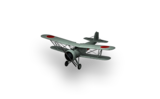 於中日抗戰期間中廣泛地使用。為 Nakajima 所設計的最後一型雙翼戰鬥機。

引擎
| 階級 | 引擎 | 引擎輸出, 匹馬力 / 推力 | 類型 | 重量, 公斤 | 價格, |
| --- | --- | --- | --- | --- | --- |
| II | Hikari 3 | 770 | 空冷式 | 440 | 2400 |
| III | NAME_MODULE_NAKALIMA-HIKARI-1_SPEC_TOP_A4N_1 | 820 | 空冷式 | 470 | 3600 |
| III | Hikari 1 | 820 | 空冷式 | 470 | 3600 |

機體
| 階級 | 機體 | 生命值 | 重量, 公斤 | 價格, |
| --- | --- | --- | --- | --- |
| II | NAME_MODULE_NAKAJIMA-A4M1_SPEC_TOP_A4N_1 | 90 | 1166 | 3200 |
| II | Nakajima-A4M1 | 90 | 1166 | 3200 |

斷續器上的機槍
| 階級 | 機槍 | 口徑 | 槍口初速, 公尺/秒 | 傷害 | 射擊速率, 發/分鐘 | 重量, 公斤 | 價格, |
| --- | --- | --- | --- | --- | --- | --- | --- |
| III | 7.7 mm Type 97 Model 1 (續) | 7.7 | 960 | 21 | 800 | 30 | 4250 |
| III | WEAPON_NAME_G7MM-TYPE97-S_SPEC_TOP_A4N_1 | 7.7 | 960 | 21 | 800 | 30 | 4250 |
Compatible Equipment
Compatible Consumables
Pros and Cons
Pros:
Cons:
Performance
Plane level 2 gets into fights a low level to a maximum of 3 m.
Standard representative of the Japanese branch with good maneuverability. Maneuverability slightly worse than the Soviet representative, but the difference is negligible. Decent speed, above only American counterpart F2F. Weapons is not the worst but not the best. The advantage is that all the weapons one caliber, and it's more comfortable shooting. Strength is low, but it is traditional for Japanese aircraft. As a result, we get a good enough plane for cornering fights, this style of play will continue in this thread and more.
Get involved in a landfill, tenacious opponents sit on their tails, which we did not notice. Avoid frontal attacks in all cases.
In general, the game on the Japanese aircraft involves careful maneuvers.
Can be hung 2x30 kg bombs and try early in the fight to strike some veiled defense is not a ground target. But these bombs are fairly weak at your level, so you need to think carefully about whether 1-2 nazemki time spent or not.
The Nakajima A4N was a carrier-based fighter used by the Imperial Japanese Navy, and the last biplane designed by Nakajima. The first prototype was completed in 1934, but due to engine trouble the aircraft did not see service until 1936. Given the Nakajima internal designation Nakajima YM, the Japanese Navy designation was Type 95 Carrier-based Fighter. A total of 221 were built.