Mitsubishi A6M1 Zero
A6M1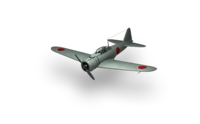 Totals
140000
價格
130
生命值
2560 公斤
重量
191.1
傷害
Speed
1039.4
飛行速度
460 公里/小時
海平面上的最高速度
460 公里/小時
最佳高度下的最高速度
600 公尺
理想高度
520 公里/小時
最大俯衝速度
95.3 公尺/秒
爬升率
90 公里/小時
失速速度
240 公里/小時
理想飛行速度
Mobility
86.5
操控性
8 秒
迴轉 360 度的平均時間
100 °/秒
翻滾率
1556.6
機動性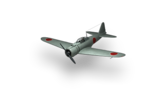 著名的 A6M Zero 的早期原型機,備有 Zuisei 引擎。於 1939 年四月首飛。

引擎
| 階級 | 引擎 | 引擎輸出, 匹馬力 / 推力 | 類型 | 重量, 公斤 | 價格, |
| --- | --- | --- | --- | --- | --- |
| IV | NAME_MODULE_ZUISEI14_SPEC_TOP_A6M1_1 | 850 | 空冷式 | 570 | 23200 |
| IV | Zuisei 14 | 850 | 空冷式 | 570 | 23200 |

機體
| 階級 | 機體 | 生命值 | 重量, 公斤 | 價格, |
| --- | --- | --- | --- | --- |
| III | A6M (原型機) | 130 | 1780 | 13500 |
| IV | NAME_MODULE_A6M2_11_SPEC_TOP_A6M1_1 | 140 | 1780 | 22500 |

斷續器上的機槍
| 階級 | 機槍 | 口徑 | 槍口初速, 公尺/秒 | 傷害 | 射擊速率, 發/分鐘 | 重量, 公斤 | 價格, |
| --- | --- | --- | --- | --- | --- | --- | --- |
| III | 7.7 mm Type 97 Model 2 (續) | 7.7 | 960 | 26 | 800 | 30 | 4500 |

裝於機翼的武器
| 階級 | 機槍 | 口徑 | 槍口初速, 公尺/秒 | 傷害 | 射擊速率, 發/分鐘 | 重量, 公斤 | 價格, |
| --- | --- | --- | --- | --- | --- | --- | --- |
| IV | 20 mm Type E (翼) | 20 | 1120 | 60 | 320 | 90 | 16400 |
| V | 20 mm Type 99-1 Model 1 (翼) | 20 | 1200 | 65 | 360 | 90 | 21000 |
Compatible Equipment
Compatible Consumables
Pros and Cons
Pros:
High rate of maneuverability
Cons:
Performance
Plane 4th level falls in battle to 3-6 m levels.
The first representative of the legendary fighter "Zero." Low-altitude fighter to maneuver battlefield. Weapons powerful enough, you can quickly destroy cornering and cause significant damage to heavy opponents. Bend the same time is great as its predecessors. As a result, we obtain the best aircraft for cornering fights. Crowding into landfills, tenacious opponents sit on their tails, which we did not notice. Avoid frontal attacks in all situations. Strength is very small, so it is necessary to monitor the surrounding area and not let the enemy to dive at you or to attack, because each unit strength weight in gold. ATTENTION: game on Japanese planes implies careful maneuvers.
The first A6M1 prototype was completed in March 1939, powered by the 580 kW (780 hp) Mitsubishi Zuisei 13 engine with a two-blade propeller. It first flew on 1 April, and passed testing in a remarkably short period of time. By September, it had already been accepted for Navy testing as the A6M1 Type 0 Carrier Fighter, with the only notable change being a switch to a three-bladed propeller to cure a vibration problem.