AGO Ao 192 Kurier
Ao 192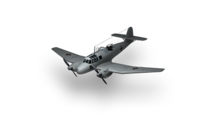 Totals
3900
價格
180
生命值
2990 公斤
重量
83.5
傷害
Speed
1039.6
飛行速度
340 公里/小時
海平面上的最高速度
340 公里/小時
最佳高度下的最高速度
1200 公尺
理想高度
550 公里/小時
最大俯衝速度
51.9 公尺/秒
爬升率
160 公里/小時
失速速度
313.5 公里/小時
理想飛行速度
Mobility
72.2
操控性
16 秒
迴轉 360 度的平均時間
60 °/秒
翻滾率
857.1
機動性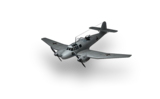 在設計 Ao 192 CA 輕型運輸機的過程中所研發的武裝偵察機,從未建造過原型機。

引擎
| 階級 | 引擎 | 引擎輸出, 匹馬力 / 推力 | 類型 | 重量, 公斤 | 價格, |
| --- | --- | --- | --- | --- | --- |
| II | Argus As 10E | 270 | 水冷式 | 440 | 1070 |
| II | NAME_MODULE_ARGUS-AS-10E_SPEC_TOP_AO-192_1 | 270 | 水冷式 | 440 | 1070 |

機體
| 階級 | 機體 | 生命值 | 重量, 公斤 | 價格, |
| --- | --- | --- | --- | --- |
| I | Ao 192 | 180 | 2426 | 640 |

裝於整流罩的武器
| 階級 | 機槍 | 口徑 | 槍口初速, 公尺/秒 | 傷害 | 射擊速率, 發/分鐘 | 重量, 公斤 | 價格, |
| --- | --- | --- | --- | --- | --- | --- | --- |
| III | 7.92 mm MG-17 (1934) (整) | 7.92 | 960 | 23 | 1200 | 30 | 3900 |
| III | WEAPON_NAME_G7MM-MG17_34-F_SPEC_TOP_AO-192_1 | 7.92 | 960 | 23 | 1200 | 30 | 3900 |

後置機槍
| 階級 | 後置機槍 | 口徑 | 機槍 | 傷害 | 射擊速率, 發/分鐘 | 重量, 公斤 | 價格, |
| --- | --- | --- | --- | --- | --- | --- | --- |
| II | 7.92 mm MG-29 | 13.2 | 1 | 16 | 30 | 5 | 400 |
| III | 7.92 mm MG-30 | 13.2 | 1 | 20 | 30 | 5 | 4500 |

吊掛武器
| 階級 | 炸彈 | 傷害半徑, 公尺 | 傷害 | 重量, 公斤 | 價格, |
| --- | --- | --- | --- | --- | --- |
| II | SC 50 | 50 | 1200 | 50 | 300 |
Compatible Equipment
Compatible Consumables
Performance
This plane is the first heavy fighter available in the game. It has 185 hit points which compared to everything else, it's a lot. Having all MG's, it is effective at head on attacks but will get shot down in a maneuver based engagement.
The Ago Ao 192 Kurier was a small German twin-engined aircraft designed and built by AGO Flugzeugwerke in the 1930s. A small production run of six aircraft followed three prototypes, these being used as transports.
The first prototype made its maiden flight in mid-1935, soon being followed by a second aircraft, similar to the first. A third prototype, with a deeper fuselage allowing an additional passenger to be carried, more powerful engines and a revised undercarriage, formed the basis for the planned Ao 192B civil transport, with versions planned to serve as light transports, ambulance aircraft and survey aircraft. AGO had large orders for licence-built aircraft for the Luftwaffe however, and only six production aircraft could be built. The six production examples completed were taken over by the State, one registered D-ODAF, being allocated as a personal aircraft to Robert Ley, the Minister of Labour; one was used as a staff transport by the Waffen-SS and registered D-OSSS and another example, registered D-OLER, was used as a staff transport at the Rechlin test centre.
Military variant
Projected military variants were the Ao 192Ca light reconnaissance aircraft with a crew of two or three, a defensive armament of two fixed forward-firing machine guns and a third gun on a flexible mount in a dorsal position, provision for various cameras and a bomb load of eight 22-26 lb (10-12 kg) bombs and the Ao 192CR light bomber with similar defensive armament to the CA and provision for four 110 lb (50 kg) bombs. Only a wooden Ao192C atrappe was build at AGO-Musterbau.
Sources and External Links