Brewster F2A-1 Buffalo
F2A-1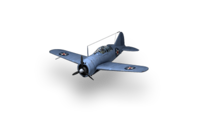 Totals
850
價格
160
生命值
2341 公斤
重量
73.8
傷害
Speed
1119.1
飛行速度
490 公里/小時
海平面上的最高速度
490 公里/小時
最佳高度下的最高速度
800 公尺
理想高度
580 公里/小時
最大俯衝速度
91.1 公尺/秒
爬升率
120 公里/小時
失速速度
280 公里/小時
理想飛行速度
Mobility
83.3
操控性
10.8 秒
迴轉 360 度的平均時間
120 °/秒
翻滾率
1233.1
機動性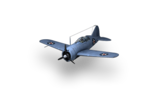 為 F2A Buffalo 早期版本。此型共為美國海軍建造了 11 架。

引擎
| 階級 | 引擎 | 引擎輸出, 匹馬力 / 推力 | 類型 | 重量, 公斤 | 價格, |
| --- | --- | --- | --- | --- | --- |
| IV | R-1820-34 | 950 | 空冷式 | 520 | 20000 |

機體
| 階級 | 機體 | 生命值 | 重量, 公斤 | 價格, |
| --- | --- | --- | --- | --- |
| III | F2A-1 | 160 | 1731 | 10000 |

斷續器上的機槍
| 階級 | 機槍 | 口徑 | 槍口初速, 公尺/秒 | 傷害 | 射擊速率, 發/分鐘 | 重量, 公斤 | 價格, |
| --- | --- | --- | --- | --- | --- | --- | --- |
| IV | 12.7 mm M2 (續) | 12.7 | 1040 | 38 | 700 | 60 | 17500 |

斷續器上的機槍
| 階級 | 機槍 | 口徑 | 槍口初速, 公尺/秒 | 傷害 | 射擊速率, 發/分鐘 | 重量, 公斤 | 價格, |
| --- | --- | --- | --- | --- | --- | --- | --- |
| IV | 7.62 mm AN/M2 (續) | 7.62 | 960 | 32 | 1100 | 30 | 4000 |
Compatible Equipment
Compatible Consumables
Pros and Cons
Pros:
Superior to the Grumman F3F in all but maneuverability and firepower
Cons:
Poor turn radius makes it ill-suited for turning fights
Service testing of the XF2A-1 prototype began in January 1938 and in June, production started on the F2A-1. They were powered by the 940 hp (701 kW) Wright R-1820-34 engine and had a larger fin. The added weight of two additional .50 in (12.7 mm) Browning wing guns and other equipment specified by the Navy for combat operations reduced the initial rate of climb to 2,600 ft/min. Plagued by production difficulties, Brewster delivered only 11 F2A-1 aircraft to the Navy; the remaining 44 were later diverted to the Finnish Air Force in modified form under the export designation Model 239.