Gloster P.228
P.228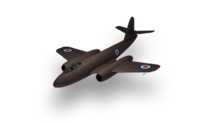 Totals
3540000
價格
900
生命值
11030 公斤
重量
601.3
傷害
Speed
2135.8
飛行速度
900 公里/小時
海平面上的最高速度
900 公里/小時
最佳高度下的最高速度
2500 公尺
理想高度
1100 公里/小時
最大俯衝速度
111.7 公尺/秒
爬升率
250 公里/小時
失速速度
671 公里/小時
理想飛行速度
Mobility
77.8
操控性
15.4 秒
迴轉 360 度的平均時間
70 °/秒
翻滾率
880.1
機動性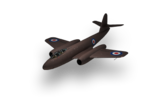 全新雙座式戰鬥機計畫。該研發在設計階段被中止。

引擎
| 階級 | 引擎 | 引擎輸出, 匹馬力 / 推力 | 類型 | 重量, 公斤 | 價格, |
| --- | --- | --- | --- | --- | --- |
| IX | AS Sapphire Sa.5 | 3402 | 噴射式 | 2680 | 150000 |
| IX | MV Sapphire Sa.1 | 3175 | 噴射式 | 2670 | 140000 |
| X | AS Sapphire Sa.5R | 4173 | 噴射式 | 2700 | 180000 |
| X | NAME_MODULE_SA-5R_SPEC_TOP_GLOSTER-P-228_1 | 4173 | 噴射式 | 2700 | 180000 |

機體
| 階級 | 機體 | 生命值 | 重量, 公斤 | 價格, |
| --- | --- | --- | --- | --- |
| IX | Gloster P.28 | 900 | 8000 | 175000 |

裝於整流罩的武器
| 階級 | 機槍 | 口徑 | 槍口初速, 公尺/秒 | 傷害 | 射擊速率, 發/分鐘 | 重量, 公斤 | 價格, |
| --- | --- | --- | --- | --- | --- | --- | --- |
| VIII | 20 mm Hispano Mk.V* (整) | 20 | 1760 | 130 | 420 | 90 | 54000 |
| X | WEAPON_NAME_G30MM-ADEN-F_SPEC_TOP_GLOSTER-P-228_1 | 30 | 1520 | 330 | 300 | 120 | 85000 |

吊掛武器
| 階級 | 火箭 | 傷害半徑, 公尺 | 傷害 | 重量, 公斤 | 價格, |
| --- | --- | --- | --- | --- | --- |
| VIII | WEAPON_NAME_RP-3-GP_SPEC_TOP_GLOSTER-P-228_1 | 35 | 1500 | 37 | 800 |
Compatible Equipment
Compatible Consumables
In the aftermath of the Second World War, Britain identified a threat posed by the jet-powered strategic bomber and atomic weaponry and thus placed a great emphasis on developing aerial supremacy through continuing to advance its fighter technology, even following the end of conflict. In early 1947, the British Air Ministry released one request for proposals to the country's aviation industry.
The specification "F.44/46" called for a two-seat night fighter, that would intercept enemy aircraft at heights of up to at least 40,000 feet. It would also have to reach a maximum speed of no less than 525 kts at this height, be able to perform rapid ascents and attain an altitude of 45,000 feet within ten minutes of engine ignition.
The Gloster company submitted the "P.228" design in response to the requests. The P.228 night fighter was essentially an evolved derivative of Gloster's classic Meteor day fighter. The Gloster P.228 had an orthodox tail and fin and four 30mm cannons in the lower fuselage. A Sea level rate of climb 10,700 fl/min (3,261m/min) with 11.25 minutes needed to reach 45,000ft was planned for this aircraft. This project was abandoned in fovour of more advanced delta wing project P.234 and P.238, which resulted at the end in the Gloster Javelin.
Sources and External Links