Kawasaki Ki-88
Ki-88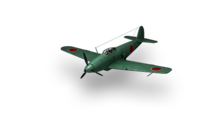 Totals
3500
價格
260
生命值
3020 公斤
重量
361
傷害
Speed
1413.3
飛行速度
600 公里/小時
海平面上的最高速度
600 公里/小時
最佳高度下的最高速度
1800 公尺
理想高度
740 公里/小時
最大俯衝速度
119.6 公尺/秒
爬升率
160 公里/小時
失速速度
380 公里/小時
理想飛行速度
Mobility
85.4
操控性
10.3 秒
迴轉 360 度的平均時間
120 °/秒
翻滾率
1288.9
機動性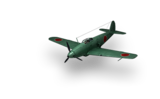 一款為大日本帝國陸軍航空隊所設計的重武裝攔截機。其開發在原型的階段就被中止了。

引擎
| 階級 | 引擎 | 引擎輸出, 匹馬力 / 推力 | 類型 | 重量, 公斤 | 價格, |
| --- | --- | --- | --- | --- | --- |
| VI | NAME_MODULE_KAWASAKI-HA-140_PR_SPEC_TOP_KI-88_1 | 1500 | 水冷式 | 700 | 52000 |

機體
| 階級 | 機體 | 生命值 | 重量, 公斤 | 價格, |
| --- | --- | --- | --- | --- |
| VI | Ki-88 | 260 | 2020 | 65000 |

裝於螺旋槳的武器
| 階級 | 機槍 | 口徑 | 槍口初速, 公尺/秒 | 傷害 | 射擊速率, 發/分鐘 | 重量, 公斤 | 價格, |
| --- | --- | --- | --- | --- | --- | --- | --- |
| VI | WEAPON_NAME_G37MM-HO-203-PR-M_SPEC_TOP_KI-88_1 | 37 | 960 | 160 | 100 | 120 | 39000 |

斷續器上的機槍
| 階級 | 機槍 | 口徑 | 槍口初速, 公尺/秒 | 傷害 | 射擊速率, 發/分鐘 | 重量, 公斤 | 價格, |
| --- | --- | --- | --- | --- | --- | --- | --- |
| VI | 20 mm Ho-5 (續) | 20 | 1120 | 65 | 360 | 90 | 25000 |
Compatible Equipment
Compatible Consumables
Pros and Cons
Pros:
Somewhat maneuverable for a BnZ plane
Cons:
Typically low on hitpoints like most Japanese plane
Not particularly fast BnZ plane
Faced with delays in development of the Kawasaki Ki-64 fighter, the Imperial Japanese Army was open in 1942 to alternative fighter designs that might reach combat units more quickly. Kawasaki proposed the Ki-88, a design inspired by the Bell P-39 Airacobra fighter then in service with the United States Army Air Forces.

Kawasaki began design work on the Ki-88 in August 1942. The Ki-88 was to have a 1,117-kW (1,500-hp) Kawasaki Ha-140 engine behind its cockpit, driving a tractor propeller through an extension shaft. It was to mount a 37-mm cannon in its propeller shaft and two 20-mm cannon in its lower nose.
When design work had progressed far enough to allow it, Kawasaki built a full-scale mock-up of the Ki-88, which bore a strong resemblance to the P-39. After inspection of the mockup, the Japanese calculated a maximum speed for the aircraft of 600 km/hr (373 mph) at an altitude of 6,000 m (19,685 feet). This was only slightly faster than the Kawasaki Ki-61 Hien fighter, which already was in production. As a result, Kawasaki discontinued design work on the Ki-88 less than a year after beginning it.