Lavochkin LaGG-3
LaGG-3
Totals
330000
價格
230
生命值
3386 公斤
重量
145
傷害
Speed
1244.6
飛行速度
560 公里/小時
海平面上的最高速度
560 公里/小時
最佳高度下的最高速度
900 公尺
理想高度
650 公里/小時
最大俯衝速度
100.6 公尺/秒
爬升率
140 公里/小時
失速速度
306.3 公里/小時
理想飛行速度
Mobility
86.1
操控性
9.6 秒
迴轉 360 度的平均時間
150 °/秒
翻滾率
1339.3
機動性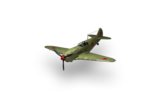 在戰前時期以木材建造的高速戰鬥機設計。使用於各個前線一直到戰爭結束。

引擎
| 階級 | 引擎 | 引擎輸出, 匹馬力 / 推力 | 類型 | 重量, 公斤 | 價格, |
| --- | --- | --- | --- | --- | --- |
| V | M-105P | 1050 | 水冷式 | 600 | 29700 |
| VI | NAME_MODULE_M-106PV_SPEC_TOP_LAGG-3_1 | 1350 | 水冷式 | 610 | 49200 |
| VI | M-106PV | 1350 | 水冷式 | 610 | 49200 |
| VI | VK-105PF2 | 1280 | 水冷式 | 620 | 43100 |

機體
| 階級 | 機體 | 生命值 | 重量, 公斤 | 價格, |
| --- | --- | --- | --- | --- |
| V | LaGG-3 | 230 | 2636 | 48900 |

裝於螺旋槳的武器
| 階級 | 機槍 | 口徑 | 槍口初速, 公尺/秒 | 傷害 | 射擊速率, 發/分鐘 | 重量, 公斤 | 價格, |
| --- | --- | --- | --- | --- | --- | --- | --- |
| VI | 23 mm VYa-23 (螺) | 23 | 1520 | 110 | 390 | 90 | 44550 |
| VI | WEAPON_NAME_G23MM-VYA-23-M_SPEC_TOP_LAGG-3_1 | 23 | 1520 | 110 | 390 | 90 | 44550 |

斷續器上的機槍
| 階級 | 機槍 | 口徑 | 槍口初速, 公尺/秒 | 傷害 | 射擊速率, 發/分鐘 | 重量, 公斤 | 價格, |
| --- | --- | --- | --- | --- | --- | --- | --- |
| IV | WEAPON_NAME_G12MM-B-S_SPEC_TOP_LAGG-3_1 | 12.7 | 1040 | 47 | 800 | 60 | 12500 |
Compatible Equipment
Compatible Consumables
Pros and Cons
Pros:
Adequate firepower, especially against lower tiers or stock enemies
Great maneuverability while speed is maintained
Cons:
Low hitpoints mean it can't take much punishment
Cannon overheat faster than guns, slowing firerate if you are not careful
Poor high altitude performance
Performance
The LaGG-3 was a prewar wooden design based on the high speed racing aircraft of the 30s and it shows in the flight characteristics. The LaGG is incredibly maneuverable and has adequate firepower with it's cannon, but learning the quirks of flying this machine might be a struggle for some. Pay close attention to your speed as getting too slow can mean a sharp reduction in maneuvering and loss of control. While this is true for all aircraft it is especially important in the LaGG-3. Use your speed and firepower to overwhelm enemies, then outcircle them once you're in close but never let yourself get slow. Like almost all Russian fighters it performs best at lower altitudes.
History for this plane not found