Supermarine Spitfire I
Spitfire I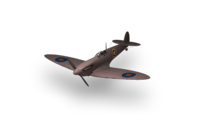 Totals
329000
價格
200
生命值
2732 公斤
重量
212
傷害
Speed
1226.1
飛行速度
580 公里/小時
海平面上的最高速度
580 公里/小時
最佳高度下的最高速度
1200 公尺
理想高度
680 公里/小時
最大俯衝速度
114 公尺/秒
爬升率
120 公里/小時
失速速度
272 公里/小時
理想飛行速度
Mobility
86.1
操控性
8.7 秒
迴轉 360 度的平均時間
100 °/秒
翻滾率
1449
機動性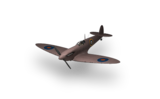 於 1938 年三月首飛。於不列顛戰役期間廣泛地使用。

引擎
| 階級 | 引擎 | 引擎輸出, 匹馬力 / 推力 | 類型 | 重量, 公斤 | 價格, |
| --- | --- | --- | --- | --- | --- |
| V | Merlin III | 1050 | 水冷式 | 719 | 41500 |
| V | Merlin II | 1030 | 水冷式 | 717 | 39500 |
| VI | Merlin XX | 1480 | 水冷式 | 730 | 63000 |
| VI | NAME_MODULE_MERLIN-XX_SPEC_TOP_SPITFIRE-I_1 | 1480 | 水冷式 | 730 | 63000 |

機體
| 階級 | 機體 | 生命值 | 重量, 公斤 | 價格, |
| --- | --- | --- | --- | --- |
| V | Spitfire II | 210 | 1800 | 46500 |
| V | NAME_MODULE_SPITFIRE-II_PLANER_SPEC_TOP_SPITFIRE-I_1 | 210 | 1800 | 46500 |

裝於機翼的武器
| 階級 | 機槍 | 口徑 | 槍口初速, 公尺/秒 | 傷害 | 射擊速率, 發/分鐘 | 重量, 公斤 | 價格, |
| --- | --- | --- | --- | --- | --- | --- | --- |
| IV | .303 Browning Mk.II (翼) | 7.7 | 960 | 25 | 600 | 30 | 4600 |

裝於機翼的武器
| 階級 | 機槍 | 口徑 | 槍口初速, 公尺/秒 | 傷害 | 射擊速率, 發/分鐘 | 重量, 公斤 | 價格, |
| --- | --- | --- | --- | --- | --- | --- | --- |
| IV | .303 Browning Mk.II (翼) | 7.7 | 960 | 25 | 600 | 30 | 4600 |
| VI | WEAPON_NAME_G20MM-HISPANO-MK-2-K_SPEC_TOP_SPITFIRE-I_1 | 20 | 1360 | 90 | 400 | 90 | 33000 |
Compatible Equipment
Compatible Consumables
Pros and Cons
Pros:
High rate of fire, causing large amounts of damage at close range
Cons:
Short reach of fire when using MGs only
Fragile wings which can be easily destroyed
Performance
The Spitfire I is an excellent hybrid aircraft. With the ability to use both BnZ and TnB tactics, it can counter most threats easily. It's widely suggested to equip 8 Browning machine guns on the Spitfire I, as the increased manoeuvrability for the tier more than counters the loss of firepower.

Remember however this is not a purely BnZ aircraft, and requires the support of allied aircraft to win a aerial engagement. However it is very simple to compliment and support BnZ aircraft in their roles while flying the spitfire I.
Early Research
Initially research the Merlin III engine
Next research the Spitfire II airframe
Research the final two engines before researching the Spitfire V

It is suggested that you use the following equipment:
Reinforced Covering II
Improved Reflector Sight
Aircraft Polish I
History for this plane not found