Supermarine Spitfire V DB 605
Spit.V DB605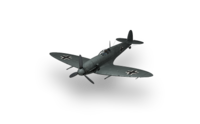 Totals
3450
價格
240
生命值
2805 公斤
重量
311.3
傷害
Speed
1359.5
飛行速度
600 公里/小時
海平面上的最高速度
600 公里/小時
最佳高度下的最高速度
2000 公尺
理想高度
720 公里/小時
最大俯衝速度
116.9 公尺/秒
爬升率
120 公里/小時
失速速度
323 公里/小時
理想飛行速度
Mobility
86.1
操控性
8.6 秒
迴轉 360 度的平均時間
100 °/秒
翻滾率
1459.3
機動性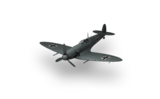 在檢測於德國所擄獲的 Spitfire 期間,一架飛機被裝上了德國 DB 605 引擎。於盟軍空襲中炸毀。

引擎
| 階級 | 引擎 | 引擎輸出, 匹馬力 / 推力 | 類型 | 重量, 公斤 | 價格, |
| --- | --- | --- | --- | --- | --- |
| VI | DB 605 A-1 | 1475 | 水冷式 | 730 | 55000 |

機體
| 階級 | 機體 | 生命值 | 重量, 公斤 | 價格, |
| --- | --- | --- | --- | --- |
| VI | Spitfire Mk.Vb | 240 | 1775 | 65000 |

裝於機翼的武器
| 階級 | 機槍 | 口徑 | 槍口初速, 公尺/秒 | 傷害 | 射擊速率, 發/分鐘 | 重量, 公斤 | 價格, |
| --- | --- | --- | --- | --- | --- | --- | --- |
| IV | 7.69 mm Browning Mk.II (翼) | 7.7 | 960 | 25 | 600 | 30 | 4600 |

裝於機翼的武器
| 階級 | 機槍 | 口徑 | 槍口初速, 公尺/秒 | 傷害 | 射擊速率, 發/分鐘 | 重量, 公斤 | 價格, |
| --- | --- | --- | --- | --- | --- | --- | --- |
| VI | WEAPON_NAME_G20MM-HISPANO-MK-2-GER-PR-K_SPEC_TOP_SPITFIRE-V-DB-605_1 | 20 | 1360 | 90 | 400 | 90 | 33000 |
Compatible Equipment
Compatible Consumables
In November 1942 a Spitfire VB EN830 NX-X of 131 Squadron made a forced landing in a turnip field at Dielament Manor, Trinity, Jersey, under German occupation at the time. This aircraft was repairable and started being test flown in German markings and colours at the Luftwaffe's central research facilities at Erprobungsstelle Rechlin. There it was proposed that the Spitfire's Merlin engine should be replaced by a Daimler-Benz DB 605A inverted Vee-12 engine; the Spitfire was sent to Echterdingen, south of Stuttgart, where Daimler-Benz operated a flight testing division.
When the Merlin engine was removed it was discovered that the fuselage cross section was virtually identical to that of the engine nacelle of a Messerschmitt Bf-110G. Consequently a new engine support structure was built onto the Spitfire's fuselage and the DB 605 engine and cowling panels added. A propeller unit and supercharger air intake from a Bf 109 G completed the installation.
Other changes made were to replace the Spitfire instruments with German types, and to change the 12-volt electrical system to the German 24-volt type. In this form the Daimler-Benz Spitfire started flying in early 1944. It was popular with German pilots and was flown regularly until destroyed in a USAAF bombing raid on 14 August 1944.