Mitsubishi A6M2 Zero
A6M2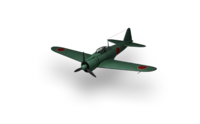 Totals
324000
價格
170
生命值
2560 公斤
重量
201.6
傷害
Speed
1127.4
飛行速度
500 公里/小時
海平面上的最高速度
500 公里/小時
最佳高度下的最高速度
800 公尺
理想高度
580 公里/小時
最大俯衝速度
101.9 公尺/秒
爬升率
90 公里/小時
失速速度
256 公里/小時
理想飛行速度
Mobility
86.5
操控性
8 秒
迴轉 360 度的平均時間
100 °/秒
翻滾率
1556.6
機動性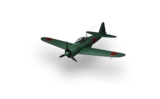 在太平洋戰爭早期,A6M 是世界上最優秀的艦載機,並為日本帶來了制空權。

引擎
| 階級 | 引擎 | 引擎輸出, 匹馬力 / 推力 | 類型 | 重量, 公斤 | 價格, |
| --- | --- | --- | --- | --- | --- |
| IV | Sakae 12 | 925 | 空冷式 | 540 | 24000 |
| V | Sakae 21 | 1130 | 空冷式 | 570 | 33500 |
| VI | Sakae 31a | 1210 | 空冷式 | 540 | 42700 |

機體
| 階級 | 機體 | 生命值 | 重量, 公斤 | 價格, |
| --- | --- | --- | --- | --- |
| IV | A6M2 Model 11 | 170 | 1780 | 23000 |
| V | NAME_MODULE_A6M2-21_PLANER_SPEC_TOP_A6M2_1 | 180 | 1840 | 44500 |

斷續器上的機槍
| 階級 | 機槍 | 口徑 | 槍口初速, 公尺/秒 | 傷害 | 射擊速率, 發/分鐘 | 重量, 公斤 | 價格, |
| --- | --- | --- | --- | --- | --- | --- | --- |
| III | 7.7 mm Type 97 Model 2 (續) | 7.7 | 960 | 26 | 800 | 30 | 4500 |

裝於機翼的武器
| 階級 | 機槍 | 口徑 | 槍口初速, 公尺/秒 | 傷害 | 射擊速率, 發/分鐘 | 重量, 公斤 | 價格, |
| --- | --- | --- | --- | --- | --- | --- | --- |
| V | 20 mm Type 99-1 Model 1 (翼) | 20 | 1200 | 65 | 360 | 90 | 21000 |
| VI | WEAPON_NAME_G20MM-TYPE-99-1-M3-K_SPEC_TOP_A6M2_1 | 20 | 1200 | 75 | 360 | 90 | 26000 |
Compatible Equipment
Compatible Consumables
Pros and Cons
Pros:
Cons:
Poor high altitude performance makes it vulnerable to diving attacks
One of the slowest planes in its tier
While the Navy was testing the first two prototypes of A6M1, they suggested that the third be fitted with the 700 kW (940 hp) Nakajima Sakae 12 engine instead. Mitsubishi had its own engine of this class in the form of the Kinsei, so they were somewhat reluctant to use the Sakae. Nevertheless, when the first A6M2 was completed in January 1940, the Sakae's extra power pushed the performance of the Zero well past the original specifications.
The new version was so promising that the Navy had 15 built and shipped to China before they had completed testing. They arrived in Manchuria in July 1940, and first saw combat over Chungking in August. There they proved to be completely untouchable by the Polikarpov I-16s and I-153s that had been such a problem for the A5Ms currently in service.
Success of A6M2 made Navy immediately order the A6M2 into production as the Type 0 Carrier Fighter, Model 11. Reports of the Zero's performance filtered back to the US slowly. There they were dismissed by most military officials, who felt it was impossible for the Japanese to build such an aircraft.
After the delivery of only 65 aircraft by November 1940, a further change was worked into the production lines, which introduced folding wingtips to allow them to fit on aircraft carriers. The resulting Model 21 would become one of the most produced versions early in the war. A feature was the improved range with 520lt wing tank and 320lt drop tank. When the lines switched to updated models, 740 Model 21s had been completed by Mitsubishi, and another 800 by Nakajima.