Secondary Armament

A ship's
secondary armament
typically consists of a series of guns mounted along the sides of the superstructure that are smaller than the main battery. They are commonly found on battleships as well as a few heavy cruisers. In World of Warships, secondary battery guns are not controlled by the player; instead, they fire automatically at ship(s) that enter their range, assisting in the destruction of enemy vessels. They are generally short-ranged weapons that are highly inaccurate, though their range and accuracy can be buffed through a variety of upgrades and skills.
Mechanics

When an enemy ship gets within a specific range — displayed under the Artillery tab in the ship details in Port — the secondary battery guns that can engage will automatically turn to fire at that enemy ship. Because they are not player-controlled, secondary battery guns are highly inaccurate and misses are more prominent than hits.
If there are multiple targets on one side of a ship, the nearest target will be automatically selected. Captains can hold CTRL and left click with their mouse to to focus an enemy target for their secondary battery; this will order the guns to focus that target regardless of range. Unlike anti-aircraft guns, selecting a focus target for the secondary battery provides no bonuses of any type. (The commander skill Manual Fire Control for Secondary Armament changes this mechanic. See below for more information.)
If there are targets on both sides of a ship, the guns on each side will engage the nearest target. Only one target can be manually selected, regardless of which side of the ship they are on.
Shell Types
Like main battery guns, secondary battery guns can fire both high explosive or armor piercing rounds. The choice of which round is fired is not up to the player; instead, it is fixed
High Explosive (HE)
Most players prefer secondary guns that fire HE shells due to their ability to start fires. Their high rate of fire and number of shells means that fires can happen relatively often, especially against larger enemy capital ships. Any and all captain skills and flags that affect fire chance improve the fire chance of secondary guns as well.
Armor-Piercing (AP)
On the other hand, some secondaries fire AP shells. This has a benefit and a side effect. On the plus side, the shells do more damage and can citadel some ships if they show broadside; on the other hand, AP shells cannot light fires, and have difficulty dealing with an angled target. The gun description will tell you if the shell is AP or not.
Improvements
There are three ways to increase the effectiveness and accuracy of a ship's secondary guns: commander skills, signal flags, and upgrades.
Commander Skills
There are five commander skills that affect secondary guns and improve their performance.
Signal Flags
There are three
signal flags
that improve secondary performance.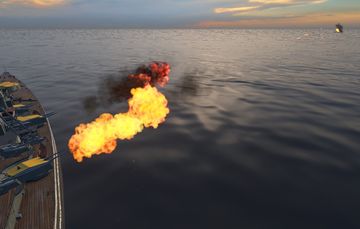 Mike Yankee Soxisix () adds 5% to a ship's secondary battery range, and decreases the dispersion and reload time by -5%.
Victor Lima () adds a +1% chance of causing a fire for shells with a caliber above 160mm, and a +0.5% chance of causing a fire for shells with a caliber below 160mm. Most secondary guns are 155mm and below, so the majority will see a .5% increase in fire chance.
India X-Ray () also adds a +1% chance of causing a fire for shells with a caliber above 160mm, and a +0.5% chance of causing a fire for shells with a caliber below 160mm. However, this comes at a price, adding a +5% chance to the risk of the ship's magazine detonating.
Upgrades
There are four upgrades that affect the secondary battery.

All of these effects are cumulative. For example: combining Manual Fire Control for Secondary Armament with Secondary Battery Modification 2 on a Tier VIII ship that equips a Mike Yankee Soxisix signal will reduce the dispersion of secondary battery shells by 85%.