Community Contributors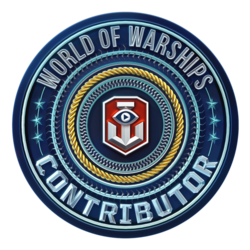 Community Contributors are players who assist and help other players of World of Warships, such as showing off their love for the game over their Twitch stream or by posting YouTube videos, running a fan site or Facebook page providing helpful answers, writing guides, running in-game events in our contest area, etc. They are basically players who voluntarily dedicate time and energy towards their love for World of Warships and in doing so, improve the online community experience for others!
Qualifications
Must be over 18 years of age.
Must have a genuine interest in Wargaming games and products.
Contributor must behave and create content in compliance with our Terms of Service, End-User Legal Agreement, Official Game Rules.
Contributor's content must have the potential to reach and influence the audience (in other words, Contributor must produce quality content).
Contributor must have a genuine interest in helping us build a healthy community around our games by sharing constructive feedback.
Contributor must be actively involved in at least 1 community oriented channel such as Forums, Facebook, YouTube, Twitter, Twitch.
Current Community Contributors by Server
Frequently Asked Questions
Do Community Contributors represent Wargaming?

The Community Contributors are trusted members of the community that Wargaming works with very closely with by sharing info with them as well as help them in their projects. Their opinions and stances remain totally their own and not those of Wargaming.

How does Wargaming select those who become Community Contributors?

Each case will be considered individually. However, a Community Contributor should have at least 3 months of (continuous) community contribution and interaction with Wargaming.net players via different channels such as: forum, fan site, YouTube, Twitter, Facebook etc. Additionally, Contributors should have a good forum conduct for no less than half a year. No medium to major offenses are allowed.

Do Community Contributors receive any payment from Wargaming?

Nope. Those recognized as Community Contributors work with their respective server community staff to further fuel their hobby and audience, but there is no payment involved.

Can I recommend someone to become the World of Warships Community Contributor?

Of course! However Contributors will always be selected by the Community team.

What comes with being a Community Contributor?

Within a region's community, players will automatically have a "Community Contributor" rank placed next to their name on the forum in blue. Additionally, those recognized will occasionally receive: social media promotion on Wargaming's main Facebook/Twitter/website, early access to certain game content, items to giveaway to their readers/viewers for selected contests and events.

So how can I apply to be a Community Contributor?

Players can apply to be a community contributor on the local forums by posting an application in the respective contributor recruitment threads. Please note that these may not always be open and make sure to read the requirements carefully before you apply!

Cool! Are there already any Community Contributors?

Yes! Some of you may have already noticed streams and community members getting mentioned on the official World of Warships Facebook to bring more exposure to their videos, contests, streams or guides. Other community contributors have been given access to new ships coming out in the upcoming patches to share with the player base.

What is a Privateer?

Ummm...
Information on the website