Update 0.6.10.1
Special Achievements, New Collection
Holiday achievements, items and presents are available from the release of Update 0.6.10.1 until the next update.
We've created a set of achievements and a new collection based on the year's events, both the successful ones and the ones we needed to work on. Reflect on World of Warships' many changes: A new economy, "Operations" mode, the Royal Navy tech tree, the "The Hunt for Bismarck" Campaign, and more! Reminisce about recent updates and earn hidden achievements in battle! You'll need to find and earn the achievements in different battle types, and by playing all types and tiers of ships. You'll get an item from the new collection with each achievement you earn dedicated to a certain event. Complete the collection by finding all the achievements!
You can only earn collection items by fulfilling holiday achievements or via special Anniversary Containers. You can earn an achievement several times per day, but you get a reward only for the first time it's earned. After you receive your first achievement (or your first World of Warships Anniversary Container), you'll get access to a WoWS anniversary-themed collection, with 16 items divided into four sub-collections based on various stages of project development during 2016 and 2017.
If you're missing a collection item, you can decide to exchange a set number of "Duplicate" items for a chosen item. The exchange rate of Duplicates to unique items for the Collection is 2:1. After completing the collection, all Duplicates remaining on your account are exchanged for Credits at the rate of one Duplicate = 15,000 Credits.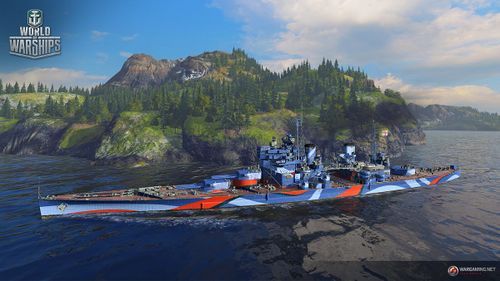 Earn a special permanent camo for completing each of the four sub-collections, and it's mountable on Kiev, Charles Martel, Z-23, and New Orleans. Complete the entire Anniversary Collection and you'll get an achievement, a flag and a permanent camo for HMS Monarch.
This camo is identical for all the ships and offers:
+ 50% to the Commander XP
+50% to Free XP
-3% to detectability
+4% to maximum dispersion of shells fired by an enemy attacking your ship
Gifts
Don't worry; we didn't forget your Anniversary presents! Holiday achievements, items and presents are available from the release of Update 0.6.10.1 until the next update.
From September 14-28
Mission 1
Play at least one battle on any Tier I-IX ship in your Port!
Reward:
All players with 1,000+ battles in World of Warships get:

10x World of Warships Anniversary camouflage
10x of each special Signal Flags: Dragon Flag (🚫), Wyvern (🚫), Red Dragon (🚫), Ouroboros (🚫), and Hydra (🚫). Earned for every 1,000 battles played, for a maximum of up to 150 signals).
From September 15-18
Mission 2
Win one Random, Co-op or Scenario battle in any ship Tier IV+.
Reward:
1 Day of Premium Account
25x World of Warships Anniversary camouflage

Mission 3
Play one battle with a Tier X ship.
Reward: 1x Supercontainer
(You can earn a Supercontainer once per ship, with the possibility of earning a reward on each Tier X ship you have.)
Other Changes
Fixed occasional inability to sell Bellerophon, Orion, and Iron Duke after Update 0.6.10.
Developers, supertesters, special contributors and other players who currently own the ship test two versions of premium German Tier VIII Carrier Graf Zeppelin.
Players will enter the St. Petersburg Port by default when they log in.
Changed appearance of "Black Rock" Commemorative Flag.