Dunkirk Collection

The "Dunkirk"
collection
was available during the
"Operation Dynamo"
event between 19 July and 2 August 2017.

The Dunkirk evacuation was one of the biggest battles of World War II, in which ground, naval, and air forces were fullyl involved. Within a few days — from late may into early June 1940 — more than 330,000 British and French troops were evacuated from northern France. To save them, Allied forces had to sacrifice all equipment and most of their armament. Near Dunkirk, 2,472 guns and nearly 65,000 vehicles of the British Expeditionary Force and Frency Army were abandoned. For the evacuation, the British Admiralty called upon over 800 British, French, Dutch, and Belgian warships and civilian vessels.
This included approximately fifty destroyers, dozens of minesweepers, trawlers, passenger steamships, yachts, fishing boats, salvage ships, and other vessels. One in four vessels were destroyed by Luftwaffe and Kriegsmarine attacks, Wehrmacht artillery strikes, and mine barriers. Over the course of the nine days of the evacuation, 145 British and 156 German aircraft were shot down in battles for air supremacy in the north of France. Prime Minister Winston Churchill famously noted that "wars are not won by evacuations". However, as a result of the Miracle of Dunkirk, the British Army was saved and able to fight against the Axis powers on new battlefields, and the evacuated French troops formed the basis of the Free French Forces.
Four years later, the Allies returned to France in triumph. The experience gained in organizing the large-scale troop transportation at Dunkirk was used during the Normandy landings in 1944. Later, Vice-Admiral Bertram Ramsay and Captain William Tennant — who were responsible for the evacuation in 1940 — became key figures on D-Day.
Collection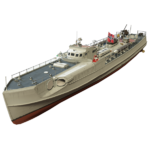 Torpedo Boat S 26 (Germany)
The lead ship of the S 26 - S 29 series that was replicated in the next Kriegsmarine torpedo boats until 1945. The German boats were distinguished by their large size and low silhouette. They had a long operational range and were intended for attacking superior enemy forces in the dark. Three diesel engines with a total capacity of 6,000 horsepower provided a maximum speed of up to 39 knots. S 26 was equipped with 533 mm torpedo tubes, 20 millimeter Rheinmetall C/30 automatic cannons, and two 7.92 millimeter MG 34 machine guns. The next German S 30 series boats had two 20 millimeter automatic guns.
S 26 entered service on 21 May 1940, when torpedo boats were raiding near Dunkirk. On the night of 31 May, she participated in successful attacks on the French destroyers
Sirocco
and
Cyclone
. On 19 August 1941, she was sunk by Soviet aircraft in the Danube's mouth.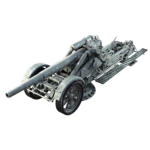 M 18 L/31 210 mm Mortar (Germany)
The biggest heavy gun of the Wehrmacht field artillery that was adopted in 1939. It was produced by the Krupp firm until the end of the war. Capable of firing once every two minutes with high-explosive 113 kilogram shells that could be delivered over 18.7 kilometers, flying at a speed of 565 meters per second. The gun weighed 16.7 tons when loaded. The crew manually rotated the gun carriage, mounted on the base plates, through 360 degrees, providing all-around fire. Three M18 gun batteries formed independent batallions in corps and army artillery.
The mortars of the 782nd Motor Artillery Regiment of XIV Division located near Calais were acting to the west of Dunkirk, and the 785th Motor Artillery Regiment of XXVI Division near Nieuwpoort, to the east. The Wehrmacht's heavy gun fire made the Allied troops' evacuation very difficult.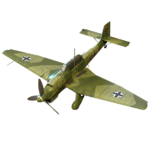 Ju 87 B-2 Dive Bomber (Germany)
The most common — at the beginning of the war — modification of the famous dive bomber, with an increased horsepower of 1,200 and capable of carrying a 1,000 kg bomb. Its production started in 1939. In 1940, despite a small 600 kilometer operational range and low maximum speed of 326 kilometers per hour, this special-purpose close-air support aircraft proved itself to be a highly-effective "air artillery".
During the evacuation of Allied troops, 87 aircraft of the 2nd and 77th Dive Bomber Squadrons of the VIII Aviation Corps were flying above the English Channel. They carried out up to 12 raids on Dunkirk per day. The total number of sunk transport and warships — including 6 British and 3 French destroyers — was around 250. Fighters and anti-aircraft artillery in the port managed to destroy 11 Ju 87 bombers.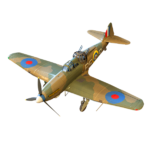 Boulton Paul Defiant Mk I Fighter (United Kingdom)
Two-seat fighter with 7.7 millimeter Browning machine guns in a rotating air gunner turret behind the pilot's cockpit. It was designed according to pre-war traditions, for destroying long-range bombers that were moving unescorted in close formation. Maneuvering engagements were not a task of Defiant. It was to cooperate with the classic Hurricane fighters, and had a similar look and characteristics: its takeoff weight was 3,900 kilograms; its engine power was 1,030 horsepower, and its maximum speed was 498 kilometers per hour.
Defiant Mk. I commenced operations in December 1939. In the battle of Dunkirk, 18 aircraft of the 264th Fighter Division were active. They were able to shoot down bombers, but they didn't stand a chance against the Me 109E, so most of the aircraft were destroyed.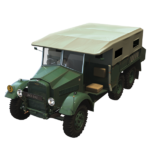 Morris Commercial CDSW Artillery Tractor (United Kingdom)
The Multipurpose Morris CDSW tractor was a first-generation 1.5-ton British army truck. It was brought into service in 1935, had a 6x4 wheel arrangement, and a 3.5 liter engine with 60 horsepower.
In the late 1930s, the CDSW was replaced by more modern models. As an artillery tractor, the Morris CDSW was used by the British Expeditionary Force for transportation of 18-pound field guns and 40 millimeter Bofors automatic AA guns. Most vehicles were lost in France in the summer of 1940.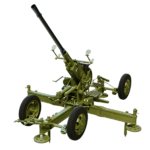 The Bofors 40mm QF Mk III Gun (United Kingdom)
Production of these guns, under the Swedish manufacturer's license, started in the middle of 1939. During the war, they were the basis of short range air defense of the British army. Weighing 2.5 tons, QF Mk III had a rate of fire of 80-90 rounds per minute, and a 1,200 meter height of engagement. It was loaded from quad shell magazines.
Near Dunkirk, from 28 May, the Bofors guns were the only defense of the 51st Light Anti-Aircraft Regiment against the Luftwaffe. The Commander of the 2nd Anti-Aircraft Brigade got the order wrong and gave directions to bring out of operation more than a hundred 94 millimeter AA guns and evacuate troops. In 1940, in France, the British Army lost 101 QF Mk III guns.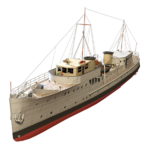 Aronia Motor Yacht (United Kingdom)
In 1929, the
Aronia
— a 65-meter steel yacht — was built in Copenhagen at the request of an English billionaire. The luxurious interior was just as refined as saloons on the transatlantic liner
Normandie
. Two diesel engines provided a speed of 30 knots. At the beginning of the war,
Aronia
was mobilized and participated in the Dunkirk evacuation. During the war, this high-speed vessel performed covert trips to Sweden to deliver strategic cargo: ball bearings that were essential for aircraft engines and tank production. In 1945 the yacht was returned to her owner and used as intended for a while. In the late 1950s, Winston Churchill cruised around the Mediterranean Sea aboard her.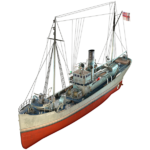 John Cattling Trawler (United Kingdom)
Between 1916 and 1919, more than 500 dual-purpose steam vessels were built to standard trawler designs in England. During the First World War, they were involved in patrolling, countermining, and anti-submarine operations. In peacetime, they were disarmed and returned to private ownership. With the beginning of World War II, many of these trawlers were mobilized again, including
John Cattling
, which became a minesweeper due to her characteristics: 276 tons displacement, 30 meters long, 7.2 meters wide, with a top speed of 10 knots. On 29 May 1940, near the Dunkirk pierhead, the British destroyer
Grenade
was hit by two bombs. Flooding and on fire, she began to drift towards the harbor entrance, threatening to sink there and block it.
John Cattling
was able to take
Grenade
and pull her into the outer harbor where the destroyer later exploded.
Cattling
served as a minesweeper until the end of the war; she was then returned to her owners and remained in service until 1957.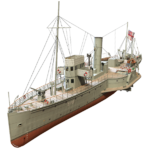 Medway Queen Steamship (United Kingdom)
This paddle-driven steamship was built in 1924 and was intended for passenger cruises along the Thames River.
Medway Queen
's displacement is 134 tons, with an overall length of 55 meters, a width of 7 meters, and a top speed of 13 knots. At the beginning of the war, she was mobilized and equipped with mine-sweeping equipment, a 76 millimeter AA gun, and two machine guns. The steamship crossed the English Channel seven times and was taking soldiers aboard right from the beaches. This river ship carried more than 7,000 people back to England, and her anti-aircraft gunners shot down at least one German plane. Those rescued by her gave
Medway Queen
the title "The Heroine of Dunkirk". After the war, the steamship returned to her routine, becoming a marina nightclub in 1966. Beginning in 1978, several attempts to preserve the ship were made, but only in 2006 was the
Medway Queen Preservation Society
able to raise enough funds for her restoration. Work was finished in 2013, and now "The Heroine of Dunkirk" rests on the banks of the River Medway in Kent County.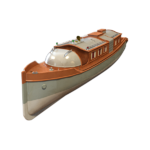 35-foo Motorboat (United Kingdom)
Motorboats of this type were used as pinnaces of heavy cruisers and battleships of His Majesty's Navy, and as crew boats on naval bases. During the Dunkirk evacuations, all floating craft that could reach France were mobilized on the Thames and the English side of the Strait of Dover. These motorboats were typically 10.5 meters long and could run at a speed of 20 knots. They served well, carrying soldiers form unimproved shoreline and beaches to larger transport ships.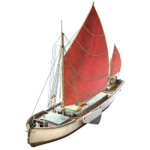 Thames Wherry (United Kingdom)
These small boats were 25 meters long and around 6 meters wide. Since the 18th century, they carried various cargo along the Thames River and coastal passages along the coastline of England. Wherries were so popular that, since 1860, annual sailing championships had been organized for them. In 1940, 30 wherries with other floating craft were sent to Dunkirk for the evacuation of troops. 18 or them managed to survive.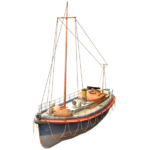 Watson-Class Salvage Tug (United Kingdom)
Starting in 1824, these small ships were built by demand of the Royal National institute responsible for rescuing those in distress near the English coast. The
Watson
-class vessels were built between 1926 and 1933, and served until 1972. This wooden motorboat was 14 meters long and 4 meters wide. She was equipped with two gasoline motors, which provided for a top speed of 7 knots. In 1940, these ships were sent from salvage stations in the southern counties of England to Dunkirk, some of them with their civilian crews. During the evacuation, they carried soldiers from beaches to larger transport ships that could not approach the shoreline due to their deep draught.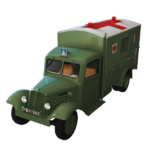 Renault AGC-3 Ambulance (France)
This was a heavy ambulance lorry built on the basis of the 1.5-ton Renault AGC. It was designed by order of the French Ministry of War, and its production started in 1940. The vehicle had a 2.4-liter engine that produced 44 horsepower and could carry up to five seriously injured men.
The French army experienced a severe shortage of heavy ambulance lorries, so 3,000 vehicles of this model were produced. Though the Renault AGC-3 did not begin production until after the war started, it was extensively used during the campaign of 1940.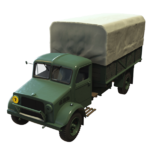 Bedford OYD Truck (United Kingdom)
At the beginning of World War II, Bedford started production of simplified lorries with a rear wheel drive layout — based on the pre-war O series — for the purposes of the armed forces. The readily recognizable OY series vehicles featured a long wheelbase, and were equipped with 3.5-liter engines that produced 72 horsepower, allowing for a payload of 3 tons.
The OYD open lorry with a general purpose body was the most common vehicle in the British army. It was used for carrying cargo and troops. During the war, the Bedford OY became one of the most common British army vehicles. Its production continued till 1945, and the total number of delivered vehicles was over 70,000.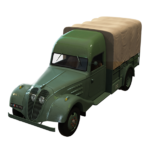 Peugeot DK5J Truck (France)
The Peugeot DK5J light covered truck was produced by order of the military department of France until the end of 1939. It was based on the Peugeot 402 and adopted the original cabin design of its predecessor. The vehicle — with a payload of 1.2 tons — had a 2-liter engine providing an output of 45 horsepower
The Peugeot DK5J was mainly used for carrying small supplies of food and ammunition in the rear and front lines. It was well received in the French army due to its easy maintenance and good suspension.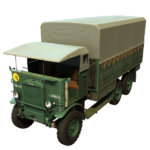 Leyland Retriever Truck (United Kingdom)
The Leyland Retriever was a standard 3-ton cab-over six-wheeler. This was a first-generation army vehicle, production of which started in 1933 by order of the U.K. military department. This Retriever model with a 6x4 wheel layout was equipped with a 6-liter engine producing 73 horsepower, and was distinguished by its conservative construction and utilitarian design.
Most standard first-generation six-wheelers were lost in France in the summer of 1940. Though the Leyland Retriever had become outdated by that time, its upgraded version was still produced until 1944.
Rewards
Completing the collection provided the following rewards:
Flag

| Icon | Name | Notes |
| --- | --- | --- |
| | The Dunkirk Evacuation Flag | "In late May through early June 1940, during the operation code-named 'Dynamo', the British managed to evacuate over 330,000 Allied troops surrounded near Dunkirk over the course of a few days. Thus the British professional army was preserved, and the struggle against Nazi Germany continued." |
Unique Commander
Nation
Commander Icon
and Name
Unique Traits

Jack Dunkirk
Black Swan with 10 skill points
Jack of All Trades reduces cooldown on all consumables by -10% (normally -5%).
Smoke Screen Expert increases radius of smoke screen by +30% (normally +20%).
Expert Marksman improves turret rotation speed by +3.0 deg/s for guns with a caliber of up to 139 mm and 1.0 deg/s for guns with a caliber above 139 mm (normally +2.5 and 0.7, respectively).