Kyushu J7W3
J7W3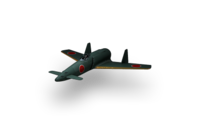 Totals
6000000
Price
600
Survivability
5780 kg
Weight
1453.1
Damage
Speed
848.8
Airspeed
900 km/h
Top Speed at Sea Level
900 km/h
Top Speed at Best Altitude
1600 m
Optimum Altitude
950 km/h
Maximum Dive Speed
67.5 m/s
Rate of Climb
120 km/h
Stall Speed
475 km/h
Optimum Airspeed
Mobility
85.4
Controllability
10.3 s
Average Time to Turn 360 deg
110 °/s
Rate of Roll
849.9
Maneuverability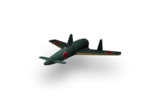 Blueprint of a further development of the J7W. The project was discontinued due to the surrender of Japan.
Compatible Equipment




















Compatible Consumables
























The Kyūshū J7W Shinden (震電, "Magnificent Lightning") fighter was a World War II Japanese propeller-driven aircraft prototype that was built in a canard design. The wings were attached to the tail section and stabilizers were on the front. The propeller was also in the rear, in a pusher configuration.
Developed by the Imperial Japanese Navy (IJN) as a short-range, land-based interceptor, the J7W was a response to B-29 Superfortress raids on the Japanese home islands. For interception missions, the J7W was to be armed with four forward-firing 30 mm cannons in the nose.
The Shinden was expected to be a highly maneuverable interceptor, but only two prototypes were finished before the end of war. A jet engine–powered version was considered, but never even reached the drawing board.