Focke-Wulf Fw 190 A-8/R2
Fw 190 A-8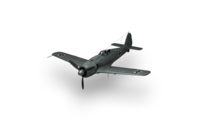 Totals
6400
Price
360
Survivability
4449 kg
Weight
709.6
Damage
Speed
681.3
Airspeed
640 km/h
Top Speed at Sea Level
640 km/h
Top Speed at Best Altitude
1400 m
Optimum Altitude
820 km/h
Maximum Dive Speed
53.2 m/s
Rate of Climb
180 km/h
Stall Speed
438 km/h
Optimum Airspeed
Mobility
73.6
Controllability
13.3 s
Average Time to Turn 360 deg
160 °/s
Rate of Roll
571.6
Maneuverability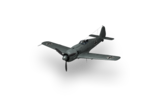 Version of the most widely-manufactured modification of the Fw 190 featuring more powerful wing-mounted weapons. Saw mass production.
Compatible Equipment




















Compatible Consumables
























The sturdy and versatile Focke-Wulf Fw 190A mounted a radial air-cooled BMW801 engine, and received continual upgrades to engine output and combat strength after first entering service in 1941. Deployed in spring 1944, the A-8 series was armed with four 20 mm MG-151/20E cannons and two 13 mm MG-131 machine guns. It featured a firing alignment device, wireless radio and Morane antenna along with a methanol-water injector and tank for extra power. The A-8 was produced from 1944 to the end of the war, during which time German aircraft production peaked, making it the most numerous model produced. One version of the A-8, the A-8/R2 was designed as a bomber interceptor and had 2 of its wing-mounted 20mm cannons replaced with the more powerful 30 mm MK-108 cannon. The A-8/R2 also featured extra armor plating on the fuselage sides and 30mm armored canopy glass to protect the pilot against the defensive guns carried by B-17 and B-24 bombers. A common tactic of these heavy fighters was to attack bombers from the front or rear, maintaining a wedge formation and approaching from 10 degrees elevation, firing their devastating 30mm cannons at close range. This tactic often left the 190s vulnerable, and special groups of Bf 109s were tasked to fly escort while the 190s attacked the bombers. Fw 190 pilots faced the guns of Allied bombers and thier escorting P-51s in their dauntless efforts to defend their homeland.