Ilyushin IL-1
IL-1

Totals
3800
Price
450
Survivability
5176 kg
Weight
254
Damage
Speed
535
Airspeed
555 km/h
Top Speed at Sea Level
555 km/h
Top Speed at Best Altitude
800 m
Optimum Altitude
650 km/h
Maximum Dive Speed
53.5 m/s
Rate of Climb
120 km/h
Stall Speed
270 km/h
Optimum Airspeed
Mobility
80.6
Controllability
10.8 s
Average Time to Turn 360 deg
100 °/s
Rate of Roll
752.4
Maneuverability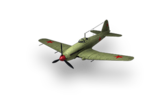 Designed as an armored low- and mid-altitude fighter capable of engaging enemy aircraft in a maneuvering combat. The project was discontinued due to the achievement of air superiority by the Soviet Air Force in 1944.
Compatible Equipment




















Compatible Consumables
























The Ilyushin Il-1 (Cyrillic Илью́шин Ил-1) was a Soviet fighter aircraft developed during World War II by the Ilyushin design bureau. It was designed in 1943 as an armored fighter for use at low and medium altitudes against the latest German fighters, but by the time it made its first flight in 1944, the Soviets had already achieved air superiority and it was therefore redundant. Only one example was built, but the parallel two-seat attack version led to the successful Ilyushin Il-10.