McDonnell XF-85 Goblin
XF-85

Totals
15000
Price
350
Survivability
2700 kg
Weight
342.7
Damage
Speed
908
Airspeed
900 km/h
Top Speed at Sea Level
900 km/h
Top Speed at Best Altitude
2500 m
Optimum Altitude
950 km/h
Maximum Dive Speed
75 m/s
Rate of Climb
200 km/h
Stall Speed
525 km/h
Optimum Airspeed
Mobility
86.8
Controllability
10.3 s
Average Time to Turn 360 deg
140 °/s
Rate of Roll
862.2
Maneuverability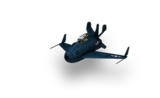 Developed as a parasite fighter designed to be carried by a heavy bomber and defend the latter against enemy attacks. It underwent trials in 1948–1949, but never entered service. Two prototypes were handed over to museums.

VIII
Specifications:

Engine Power

, hp

Type
Weight

, kg

VIII
J34-WE-22

VIII
Specifications:

Survivability
Weight

, kg

VIII
XF-85

VIII
Specifications:

Caliber
Muzzle Velocity

, m/s

Damage
Rate of Fire

, rounds/min

Weight

, kg

VIII
4x12.7 mm M3
Compatible Equipment
















Compatible Consumables
























The McDonnell XF-85 Goblin is an American prototype fighter aircraft conceived during World War II by McDonnell Aircraft. It was intended to deploy from the bomb bay of the giant Convair B-36 bomber as a parasite fighter. The XF-85's intended role was to defend bombers from hostile interceptor aircraft, a need demonstrated during World War II. McDonnell built two prototypes before the Air Force (USAAF) terminated the program.
The XF-85 was a response to a USAAF requirement for a fighter to be carried within the Northrop XB-35 and B-36, then under development. This was to address the limited range of existing interceptor aircraft compared to the greater range of new bomber designs. The XF-85 was a diminutive jet aircraft featuring a distinctive egg-shaped fuselage and a forked-tail stabilizer design. The prototypes were built and underwent testing and evaluation in 1948. Flight tests showed promise in the design, but the aircraft's performance was inferior to the jet fighters it would have faced in combat, and there were difficulties in docking. The XF-85 was swiftly canceled, and the prototypes were thereafter relegated to museum exhibits. The 1947 successor to the USAAF, the United States Air Force (USAF), continued to examine the concept of parasite aircraft under Project MX-106 "Tip Tow", Project FICON and Project "Tom-Tom" following the cancellation.